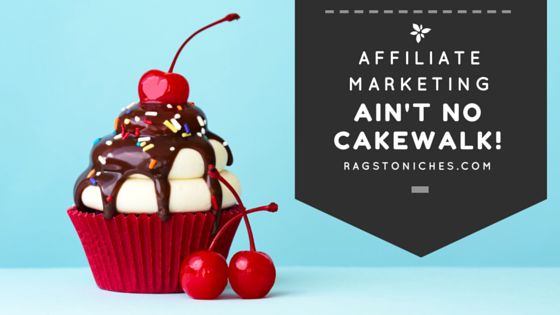 Affiliate marketing has got somewhat a bad reputation amongst many people- yet it's actually bigger than ever.
I feel there is a lot of misunderstanding about what affiliate marketing really is…
Is Affiliate marketing a scam?
Well… no it's not.  But if you're hoping to get into it and become rich tomorrow, that's not going to happen.
If you're someone coming into this, that thinks they're going to make hundreds of thousands of dollars in the first year – you will be bitterly disappointed and very much likely give up.
What is Affiliate marketing?
Simply put – an affiliate marketer is the middle man between the seller and the consumer.
The affiliate directs people to a product or service that the customer will be able to purchase.
If they do purchase something, the affiliate receives a commission, (there is often a window of time where this must happen in order to get paid).
Many sites than you find online will have links to various other sites, goods, deals or services – and often these will be affiliate links – that means that if you purchase anything after clicking through using these links, the affiliate gains a commission.
There is nothing dodgy or weird about this, you don't pay more for clicking through an affiliate link, there is nothing negative that will occur.
An affiliate simply receives a payment for sending a customer the sellers way – if a purchase is made.
Affiliate marketing has existed for many years, but it has expanded so much online that almost any product you can think of is likely to have an affiliate program attached to it.
So, what's the problem?
The problem does not lie with the affiliate marketing model itself, but rather the marketers that try and pedal it as some kind of get rich scheme.
There are lots of "make money online," products out there that will promise you'll become rich online using affiliate marketing, if you'd just purchase their course or membership.
Some of these courses can run into the thousands of dollars – whether you pay a small amount or a giant sum, there are a great deal of scams out there.
Affiliate marketing is something people can become successful at and make a full time living from it – but it's no get rich scheme.
A majority of people that try their hand at affiliate marketing, will not make a penny!
This is largely due to getting the wrong information, signing up to courses that just won't work/give you terrible advice, or resorting to  black hat techniques to speed the whole process up.
Black Hat VS White Hat…
Black hat techniques worked well in the past to rank quickly in the search engines, because Google was not yet sophisticated enough to detect them.
While there are some methods that do still work for now, many are deemed risky and not worth messing with.
– whereas others fail to work at all any more and could harshly impact your business.
Google continues to evolve all the time and it will get more sophisticated as time goes on – while some marketers constantly battle this and find loopholes, others play the long game and reject black hat methods.
Whatever methods marketers adopt to get to the top of the search engines or drive traffic to their websites – the common goal is to make money… some do this honestly, but many do not.
Bullshit Reviews
Another reason that affiliate marketers can have such a bad rep is because there are groups of individuals who will give glowing five star reviews to complete scams.
They are fishing for sales – they will just write positive review after review of products they have no idea about and don't care about, all they care about is making a quick sale.
This makes it very difficult for people looking to be able to make an accurate decision about a product, because half the reviews out there will be dishonest.
On the flip side, other marketers are judged for giving bad reviews of products also and giving negative reviews can ruffle a lot of feathers – this can put some people off from speaking out.
Relentless Upsells…
It's common place now with internet marketing products that as soon as you purchase a product, you'll be sucked into their never ending sales funnel.
Actually, this is now the norm.
There will be a low-cost offer, that's the hook – but that product on it's own will be insufficient for learning what you need to.
So, there comes upsell no.1…
You now feel cheated because it seems as though this next product is REALLY the one you need to have.
So, you purchase that product.  But then comes upsell no.2...  and so on!
From there on you may have to deal with a whole bunch of other upsells and a crazy amount of money – even then, there will generally be a high ticket option that only a minority will purchase.
So, a majority are always left thinking there is something missing.  Once you go through this sort of experience, it's no surprise that you may want to throw in the towel!
Affiliate Programs Themselves…
Even if you decide you want to get into affiliate marketing, you could have potential problems with the affiliate networks themselves!
Problems with scam affiiliate networks can include…
Having your account closed down as you reach the payment threshold.
Asking for payment to join, (it should be free).
Delayed payouts, (e.g. faking "technical issues.")
Make sure to do your research and only sign up to reputable affiliate networks.
For example, some well known reputable sources would be…
….to name but a few.
Do your research before signing up to a network.
Affiliate Marketing Ain't No Cakewalk!
Many people walk into affiliate marketing thinking it will be easy, they will quickly discover that it is not.
If you're relying on your SEO efforts to get you to the top of the search engines, it can take weeks or months to see the true result of your efforts.
With everyone competing for the top results in Google, it's no wonder that some people resort to black hat methods to do it.
But generally, most people will give up before they see any success.
With gritty determination, once you begin to see results – it pushes you to carry on.
Of course, there are tonnes of other methods you can employ to generate sales or producing traffic to your site aside from SEO…
Some of these may include….
paid traffic methods
Social media
list building, (email)
Ebooks, (driving traffic to your site from self publishing on amazon).
Guest Posting
Solo Ads, (paying an established internet marketer send an email you've written to their email list).
And this is just for starters…
So, just because one method hasn't worked, it doesn't mean that another won't.
The important thing is that you need to keep track of what is working and what isn't and keep testing!
If you find something that is really working — keep doing that!!
Finally… Some Good Points About Affiliate Marketing:
Ok, so this post has been a bit negative as far as affiliate marketing goes.
The gist of it is, there are a tonne of people who are scammers in the affiliate marketing world…
And to top it all off, it's not very easy at all to really start making a significant income, (even though many marketers want you to think it is – so you buy their program for $1000 – or whatever the going price is that week!)
But hold up…   Was anything worth having that EASY to obtain?
So, rather than leaving this post on a dull note, I'd like to point out some great things about affiliate marketing too.
Location independence…  (hey, you can do this anywhere in the world, all you need in an internet connection).
You don't need your own products and can choose from thousands upon thousands to promote.
Owning your own business is never going to be a walk in the park – BUT owning your own business has to be one of the greatest things in the world.
You can set your own work hours to suit you.
You don't have to deal with customer service, sending out products in the mail or do face to face sales with affiliate marketing… lots of good points!
With some products, you can make up to 100% commission!
Some pretty reasonable points – don't you think?
So, Affiliate marketing is not a scam…
There are millions of products you can promote via affiliate marketing and millions of dollars that's made promoting them every year.
BUT there are lots of scam artists in the affiliate marketing sphere, so you just need to be aware of that.
Nope, it's not easy – but it's not as hard as it seems, with the right guidance.
Do you want to check out where I first learnt all about affiliate marketing?  I recommend this online training community!
It's the best online training platform for getting you started making money online – with a very supportive community who all help each other out.
What is your experience so far with affiliate marketing?
Do you think most people understand what it's about?
Leave me a comment and let me know :).
All the best,