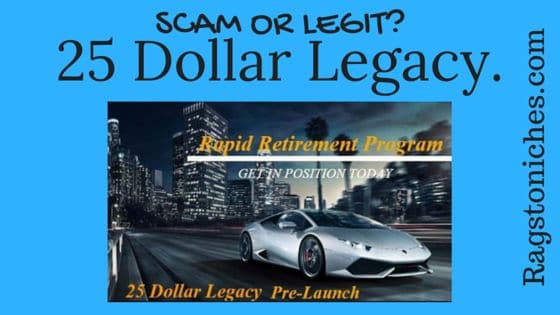 25 Dollar Legacy is a multi-level marketing business – also known as an MLM.  If you found this review, you must be wondering whether 25 dollar legacy is a scam – or legit?  Is it safe to sign up, or should you steer clear?
Let's take a look…
25 Dollar Legacy Review In Brief
Product: 25 Dollar Legacy
Creator: Ramon Escalera
Sign up: $25, $45 or $169.90 per month.
Overall Rating: 10/100
The overall appearance and set up of 25 dollar legacy appears more pyramid scheme than MLM  – due to any lack of attempt to actually promote their products on offer and pure focus on recruitment.
While you may make some money on this program, these types of schemes tend to come and go in a flash – and a majority of people will not make any money.
With no training available, recruiting others is no piece of cake either.   Ideally, some ground knowledge in internet marketing would help as far as getting referrals.
>> Fed up of scams online?  Try this instead!
MLM: Lovers Vs Haters
The MLM business model has a vocal loyal following of  many.  Even some of those who make zero money seem to get into the mindset that it's a wonderful business model and the answer they've been searching for.
The reality is, with an MLM business, very few people become successful.  Ultimately, the vast majority of people who sign up to an MLM will not make a profit.
Many internet marketers brand ALL MLM's as pyramid schemes in disguise – as the core intention of many seems only to recruit others on to the program and nothing to do with any products they're meant to be promoting.
Generally the business cannot sustain itself by merely selling products – but is only successful on the back of recruiting others.
While I'm not a great fan of the MLM model and am aware at just how dire the statistics are in terms of success – I believe some programs out there are considerably better than others.
So, What About $25 Dollar Legacy?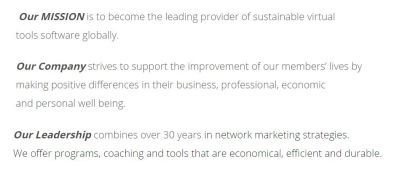 Well, as you can see in the image above, they provide social media tools – or this is the "product" idea behind the business – in attempt to set it apart from a blatant Pyramid scheme.
They say they'll provide three fantastic tools…
Social Auto Poster.
Personal Webinar Room.
Unlimited Cpanel.
But – in order to promote any of these products and the program itself, you need to pay first.
First level entry is $25 per month.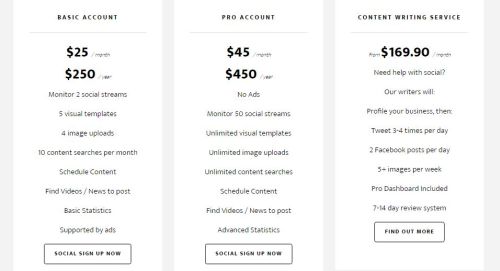 The sign up packages available are highlighted in the image above.
So, if you actually take a look at what's available here, you can see that, (at the most basic level) $25 per month for this is pretty expensive.
If you look online for other social auto poster tools, you'll find there are several that blow this out of the water value wise.
For example, take a look at massplanner.com – which starts at just $9.95 per month and you are able to organise 12 social media accounts – as well as have a 5 day free trial.
So, you can automate and schedule posts to 12 different social media accounts.
However, having over priced products is pretty typical of an MLM program.
They will generally take a product that's usually, (not always) substandard and chuck a massive price tag on it.
So, I guess they just have to hope that 1) no one cares about the products and are just interested in it as a recruitment scheme or 2) don't research other available products out there to see how they compare.
No Trial, No Refunds…
You cannot trial these products to see if they're any good and to make matters worse, no refund is available.
So, if you change your mind then it will be tough luck for you.
If they were so confident about their products, would they not provide a refund option?
How 25 dollar legacy Works..
When you sign up to the basic program and pay your $25 you will be placed at the top of the matrix – from here, you get 3 to sign up to beneath you, each of those referrals gets 3 to sign up beneath them.
Following this, there are two further matrices of 5 x 3 and 10 x 3 – in these cases you'd have either 5 or 10 referrals beneath you and your referrals 5 or 10 beneath them.
Obviously the bigger the matrix – the more earning potential.  So the 10 x 3 matrix would be the highest earner.
You can see this further explained in the video below.
Promoting 25 Dollar Legacy:
There is a whole host of flashy banners that you can use to promote this program once you've signed up.
The only thing is… none of them mention any of these amazing social media tools that they're meant to be so proud of.
I thought they wanted to be the "leading provider of sustainable virtual tools software globally?" 
Well, the banners tell a different story – as none of their tools are mentioned as any incentive to sign up.
The reason for this, of course, is that these tools have nothing to do with the program.  This is a recruitment program – plain and simple.
Legitimate Products Vs Smokescreen Products.
There are thousands of MLM'S out there and some of them do have legitimate products behind them that they promote openly and these may be part of their overall identity.
For many others, however, these products are just a smokescreen – a vague attempt at avoiding being shut down for being a pyramid scheme.
Now, at least these software tools are something – far better than what was on offer on another program I reviewed very recently, (phoenix power rising).
Nevertheless, their tools on offer do not seem connected at all to this program, nor is anyone encouraged to promote these tools – merely to join, sign up and make money.
PROS VS CONS
PROS
 There are some form of product – even though it's clear they're not the point of the program and they are not promoted.
CONS
No opportunity to promote their products – just about recruiting.
You have to pay before you can promote them.
If you do sign up – no refunds are available.
As far as I could see, there is no training available.
Referring people to sign up for any opportunity – especially when they have to pay up front with no promise of getting the money back and no refunds, won't be easy.
Once you're done hassling friends and family, (who won't appreciate it) – what then?
If you have your own website and some internet marketing experience, you'll have a better chance at getting sign ups.  Similarly, if you've had some success in the MLM sphere before, then you'll know what it entails.
However, if you are looking for a decent MLM, look elsewhere – look for an MLM that actually has some decent products, training and support available.
Conclusion:  Is 25 Dollar Legacy A Scam or Legit?
I'm not sure if 25 dollar legacy is an outright scam – but I do think the way they're promoting this business is dishonest.
The products involved are irrelevant to the overall system and there also appears to be no training or support available.
As is the case with any MLM program, it's especially difficult to make money if you don't already have some related experience and know the best ways to get referrals.
However, the best MLM's will have some kind of tangible products attached to them that you can promote and sell in their own right  – as well as access to training and support from a community.
Many people already feel that MLM programs are pyramid schemes, so trying to convince anyone that this one isn't…Would be difficult.  Mainly as, there is little to suggest otherwise!
Generally, these sorts of schemes collapse very quickly, so only time will tell how long this one will last.
MLM Vs Affiliate Marketing:
I've met many people who – after having a tough deal with an MLM or two – turned to affiliate marketing instead.
In a nutshell, this is where you can promote other peoples products and earn a commission for products you sell.
There are thousands of opportunities available as far as choice of products to promote – there is also no need to recruit people, so you can work independently.
if you're interested in learning how to become an affiliate marketer, this is where I started.  It's a good place to start and free to try it out.
Have you been involved in an MLM before?  Let me know in the comments!
All the best…