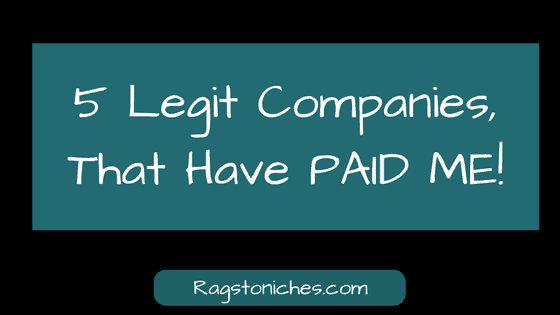 5 Legit Online Companies, That Have Paid Me Recently!
When first learn about how you can make money from affiliate marketing, the great thing is that you quickly realise that you could potentially earn from an unlimited number of affiliate programs, promoting a variety of products and services.
I thought it would be useful for some of you new to making money online and affiliate marketing, to see some of the ways I may make some extra cash each month.
The Amazon Affiliate Program
I'm an affiliate for several Amazon stores, but primarily Amazon USA and Amazon UK.
I use this program on a couple of my other websites, which – truth be known, I have certainly neglected recently.
But another good thing about affiliate marketing, is you can STILL earn commissions LONG after the initial work has been put in.
So, even though I haven't worked much on those sites all year, I still make money from them each month.

Merch By Amazon
Merch by Amazon is my newest little side hustle online and this isn't affiliate marketing!
This opportunity led me into the world of pint-on-demand.  While I've not made very much at all here, (yet) the potential is huge.
Merch by Amazon allows you to upload tshirt designs on to the Amazon platform and Amazon do the rest of the work, (printing, shipping and customer service).
You earn a commission per shirt you sell, depending on how high you price your shit. If your tee is priced at $19.99, you will earn around $7 commission.
At the moment, most of mine are priced way too low, because my intention right now is to tier up to the next level, (I'm currently allowed 25 designs live and I need to sell 25 shirts to get to the 100 tier).
I think once I can upload 100 designs, the fun will really begin.
However, I made my first few sales with Merch within the very first month of joining – and those sales are growing steadily.
Considering it took me three months to make any money with affiliate marketing, this was certainly a quick route into profit.
If you'd like to read more about Merch, you might want to check out this post.
So far, we're just over two weeks into the month and here are my sales so far…
9 shirts sold so far this month and still a couple of weeks to go.  I could have definitely made more if my shirts were priced higher and I'm certainly going to up my prices soon.
My best selling shirt there is actually priced at $15.99 and I get a much better royalty for that.
At $12.99, you only get $1.24 in commission, which is not good.  At any rate, I've made just over $28 in the last couple of weeks and I'm really happy with my progress.
While it may not sound impressive, you have to consider the potential….  I made the designs very quickly, (I'm not a designer) and I did nothing else with the shirts online at all – no advertising, no social sharing.
I'm just relying on keywords and ranking well on Amazon.  So, it's one of the most passive forms of income I've come across to date.
Just imagine when you have hundreds of thousands of designs uploaded and are making a passive income every day, without any extra work at all.
Right now, I only have 25 designs swimming around in a sea of thousands and thousands of other designs… and yet, they're still selling.
Still, I do think it's helped me to have a background knowledge in keywords and affiliate marketing and I first learnt all about that here.
ETSY
ETSY is another affiliate program that I joined for one of my other websites, but a program that offers something more distinct from the Amazon affiliate program.
For one thing, with Amazon, you need to make a sale within 24 hours to make a sale.
Whereas, with ETSY, a cookie is set when someone clicks your affiliate link and they have 30 days in which to return and make a sale.
What I love about ETSY, is it's great for finding unique items.  If you're in more of a product based, artistic, decorative, or fashion based niche – then this could be a good one for you.
Signing up to ETSY is simple to do through AWIN, an affiliate network.
Additionally, I have also made money directly from the AWIN affiliate program itself this month, (to my own surprise, I hadn't been actively promoting it!)
Either way, both of these programs have been a nice additional extra income. It all adds up.
Clickbank
Clickbank is a large online market place for digital products.  I've talked about a fair amount and wrote an article about it over here.
While there are a LOT of junk products on Clickbank that I wouldn't recommend, there are definitely still some good products on there.
I haven't had a browse on there recently actually, so it should be worth me going back and trying to weed out the good from the bad.
In any case, I do regularly make commissions from Clickbank and you should be able to find a reasonable product to promote in a wide range of niches.

SWAGBUCKS
The only survey-related site that I ever regularly recommend, (out of those I've reviewed so far!) and one of the only sites like this that I continue to use myself – Is Swagbucks!
Do I spend my time answering their surveys?  Absolutely not.
But I do use their search engine to redeem points, as well as use them regularly for cashback offers.
Cashback offers provide you with some of the most points on Swagbucks.
They also have an affiliate program, although I haven't found that particularly profitable so far, because 10% from what someone earns on Swagbucks, still isn't going to add up to much!
There is also a proportion of people who just barely end up using it, or just forget about it.
That being said, at the time of writing I do have at least 156 referrals on Swagbucks and will earn 10% of what they earn for lifetime of their membership.
As the referrals grow, so does the potential for commission – so, over time it can get a lot better and there is no glass ceiling… you can keep on building up your referrals for as long as you're building your website.
I get all my Swagbucks redeemed into Amazon vouchers.  As you can see below, last month I redeemed £30 worth of Amazon vouchers, (around $40).
You can read my full Swagbucks review here.
---
So, there is just a glimpse into just five legit online companies, that pay me each month.
Can you see how these little income streams can start to build up over time?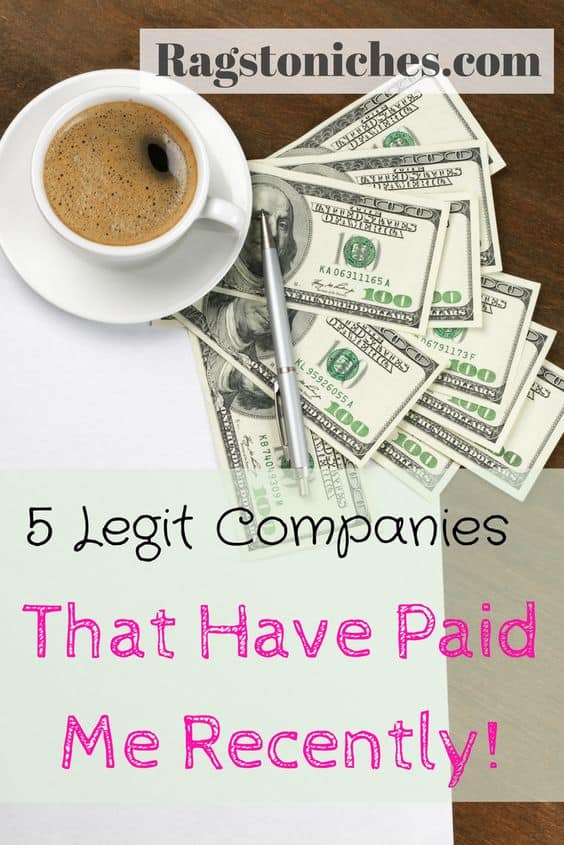 The difficulty is, keeping up the all the affiliate programs you join and checking in on them now and again.
Just this month, I'd checked into an affiliate program I'd completely forgotten about and saw I had $12 credit, I'd been earning mini commissions for a few months and had no idea.
There are several affiliate accounts I have literally never logged into…  there could be money just sitting there waiting.  But that's always a nice surprise.
If you're super organised, (more organised than me) you should have a spreadsheet with all your affiliate account details.
That reminds me…. I should really do that now.
So, what are your favourite income streams?  Leave me a comment below!
All the best,