Today I wanted to do a CashPirate app review – another App I hadn't even heard of at all until this week & yet it's been around some time.
It's actually been around for years, but is CashPirate legit?
The Google Play store is absolutely rammed with these sort of Apps right now.
The App store has been LESS so since 2019, as many of them were withdrawn.
As an IOS user myself, I've taken to downloading some of these Apps on my chromebook now to check them out!
I have been particularly interested in recent years, with Apps that have the potential to make you money – or even to help you win or save money too.
I feel there is the potential there that SOME day, there could be an App that could help people make some decent extra money… But at the time of writing, there isn't one.
Yes, there are Apps that can help you make a very small amount of money. But this usually requires hours of your time and effort, just to make the odd $5.
So….. let's get to the point — Can Cash Pirate make you money??!?!
Cash Pirate – Key Pointers.
What is it – An app where you can complete offers for points & exchange for gift cards. It also has a bit of a multi-level-marketing aspect to it.
How much can you make – a small amount of money, pocket money.
Is it legit – Yes, although I wonder how many people latch on to it before of their referral program, (I will explain further down).
If you want to make $100's online every month – or more – Apps won't work. Learn how to make more here.
What Is CashPirate App?
So, this is a free app that you can download on Google play and on average it seems to have some pretty good feedback.
Especially for an App like this, were frankly the reviews can be pretty terrible.
More on the feedback later!
First I wanted to check out what it was like and so, I downloaded it.
I was a bit surprised by the initial screen I came across.
Plain black and white it was stark to say the least, I'm not sure what I was expecting to see – but considering it has some good reviews and lots of downloads, maybe I was thinking there was something more appealing.
The first thing you have to do, before anything else, is to agree to their T&Cs and then you get to see a bit more what is on offer.
Cash Pirate Main Screen:
So, there isn't much going on – you can see exactly what I saw on the image above.
I was kind of wondering why there wasn't much to it.
But then, considering many of the Apps I review tend to have glitch issues, maybe the simplistic design could help with this.
The simpler the App… The less likely there is to actually go wrong!?
That was my initial thoughts on it, but I may be completely wrong.
Maybe they were just going for something cheap and simple to put together and that's that.
The main thing I noticed was that completing offers was the main thing going on here, that's how you make coins and can make money.
I also noticed that you can refer friends, but I had to go to the FAQ section to really see what that was about and how that could earn me money…. (more on that in a moment)
I went to check out the offer section first, (see image below).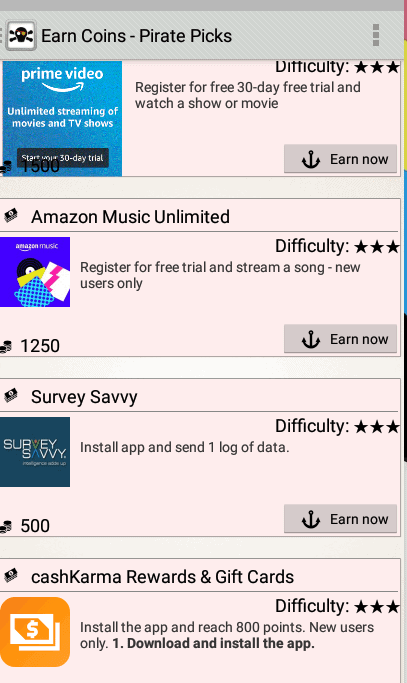 Offers tend to involve things like….
signing up to a free trial
downloading a game, (and often reaching a certain level)
joining another website, (like a survey panel)
joining a casino site/app
Having joined a lot of Apps like this, they usually have many of the same offers.
When you decide to take up an offer, make sure you carefully follow the instructions.
Even getting the instructions wrong by one step, can mean you will not get your points.
The amount of points you get per offer taken up varies.
From what I could see – offers went for as low as 20 coins, to as much as 5,000+ coins.
Obviously, the higher the coins you go for, the quicker you cash out.
Although the highest value offers, may also require you to make a deposit.
It tends to be the lowest paid offers that are the simplest to do and totally free.
So, for example; some of the lowest paying offers may simply require you to download a game and register – not even play it.
Usually when you get a high paying offer, you do get any money you pay back in coins.
So, let's say you have to make a $10 deposit to get a certain amount of coins, many offers I've done give you that amount back at least in coin value.
The offers are pretty much all that's going on at CashPirate…… So, kind of basic.
But we should talk about how much the coins are actually worth.
CashPirate Cashing Out:
So, a nice thing about this App is that you can get paid out via PayPal and also at a low amount.
You can actually set goals, so you can set your goal to earn a certain amount to redeem via PayPal.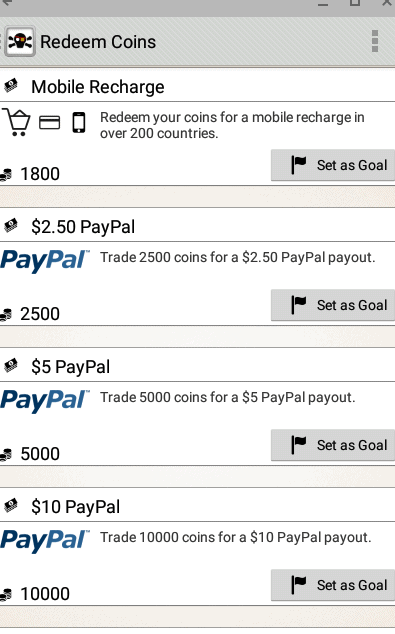 The lowest US goal you could set was for $2.50 via PayPal and that = 2,500 coins.
Expectedly then…….
$5 – 5,000 coins
$10 – $10000 coins
$25 – 25,000 coins
You can also change the currency to different options as well, depending on your location.
So, for the UK – I'd need 3250 for £2.50.
Or for £5 I'd need 6500.
I decided to set a £5 goal. As some of the offers did run into the thousands, I figured it's not so hard to make that.
Then again, it would still take a bit of time and effort…. And for £5, I'm not so sure that's worth my time.
Getting Paid For Referrals With CashPirate:
Once I read about their affiliate program, I wondered whether this may have made the App more popular.
Unusually, it wasn't a typical referral program because, you get rewarded not only for your referrals earnings – but also for THEIR referrals earnings.
Therefore, this makes the affiliate program have more of an MLM (multi-level-marketing) structure.
While it may sound appealing, in practice I'm unsure it works out that way for many people.
Mainly because you'd still need TONNES of referrals, (that are active) to actually make any money and…
most people are not good at getting tonnes of referrals…. unless they have an interested audience via a popular blog/social media network.YouTube and so on…
most people who join Apps like this just don't remain active. Many don't even get STARTED! So, earning 10% of what they earn isn't going to be much when they don't earn anything….
So, how it works is….
You get 10% of your new referrals earnings. You also get 5% of all THEIR referrals earnings – from the people they invite.
Your referral also will get a 50% bonus on their first 1000 coins if they sign up through you.
This is a good incentive because it basically encourages people to join via a referral – and also to actually take action and get to 1000 coins.
Interested in reward site referral programs? – try these 7.
What Do Other People Say about CashPirate App?
Cash Pirate has over 87,000 ratings and has managed to maintain an average rating of 4.4 stars.
That's a pretty impressive feat.
Some people have complained that they've been banned – but that will always happen and some people don't actually realise when they break the rules.
But someone mentioned how it was a good app for people wanting to make a bit of extra money in developing Countries…
Many people commented that they'd been able to complete the offers and receive their money without any problems.
PROS VS CONS
PROS
A variety of offers.
low cash out.
interesting referral program, with some incentive to your referral.
PayPal cash-out option.
Free to join
Easy to use.
CONS
Basic layout/App
Not very much going on – just offers.
Despite the two tiered referral program, most won't earn much from it.
It would still take quite a lot of time to reach cash-out, unless you're doing high paying offers.
Not glitchy, the simplicity perhaps helped the ease of use.
Concluding Thoughts: Is CashPirate Worth It?
There are some things I liked about this App, but really I'd like a bit more going on – to make it fun to use and to have something that would make people actually want to return.
If you're someone who likes downloading Apps and would like to be rewarded for it, (and you don't want any bells and whistles) then this is a simple way to go about it.
However, if you're looking to make money with Apps, this isn't going to make you much.
Although, no Apps that I've found will make much. In the future I hope!
It seems like there are just SOOOOOO many Apps like this, that it gets really boring.
I'd like some of these Apps to do something a bit different and to incorporate different ways to make money online.
Like some of the best reward sites manage to do.
I was just left feeling ……….. Meh……….
As Apps go, this has some better feedback than many though.
It's free to download, so feel free to check it out for yourself.
Beyond Apps Online………… Can You Make More?
Yes, course you can.
As I say all the time, if you want to make more money online – (and I mean more like hundreds, or even thousands per month)…
Then you have to look beyond reward sites and apps.
If you can put the effort into something long term, you really can make money but, you have to be patient & dedicated.
Look here… to see some of the ways I've tried to make money online!
If you'd like to learn how to build something that can make you money long term, I recommend the free training here.
So, that's my CashPirate review for today….. Have you tried it yourself? Let me know in the comments! 🙂