CB Passive Income 4.0 Review!
Last year in March, I wrote a review of this same product, but the version 3.0.
Patric Chan goes to the effort to update the program regularly and so, I thought I'd just go over this updated system and let you know what is different about it and what I think of it.
Unfortunately, on the main page and in the video, there are several moments where he still only refers to the 3.0. System, I'm unsure if that's still due to be updated.
In any case, there is a small difference between them, which I will go into in a moment.
Product: CB Passive Income 4.0
Cost: $47 per month, or $97 one off fee. Plus optional upsells.
Verdict: Legit – but I don't recommend it to those new online.
Some people may give this program a considerably lower rating, some much higher…
But, I have my own reasons for believing that this could be a reasonable opportunity for certain people, who already have a little bit of knowledge in the internet marketing space.
Some people may call it a scam – I don't think it's a scam, but I don't think it's a good program to join if you're new online, nor for anyone thinking this would be an easy road to making money.
I will explain why as we go on…
For a newbie friendly zone, start here.
What Is CB passive income 4.0 about?
The concept of this program is straight forward to understand.
You will be given a personal link to a webpage that contains a free offer – all you need to do, is drive traffic to that link and hope that plenty of your traffic signs up for the free offer.
Once they've entered their details on the webpage, they automatically go on to Patirc Chans email list.
But that person is now linked to your affiliate link – so, if anyone that you direct to Patric Chan buys certain products, you will receive a commission.
So, essentially, your one task is to direct traffic to a free offer and Patric does the rest.
What Training Is Included?
It may look like there is a tonne of training once you're in the members area, but actually it's fairly basic and does not go into enough depth often.
For example, there is a large section of YouTube tutorials, that could be quite useful for people with limited experience there.
But plenty of the training also doesn't feel relevant for this program in particular, it feels like it's just been thrown in to bulk it out.
What people need really, is a step-by-step approach and more in depth information about exactly what to do and which traffic sources are likely to be the best to focus on.
He also includes training in areas such as:
SOLO Ads,
virtual reports,
guest blogging,
stumbleupon,
twitter,
commenting on blogs,
google + and more….
Anyone relatively new to internet marketing, or blogging in general, will know that one of the hardest parts to making money online, is generating enough traffic.
So, doing that yourself, especially if you're brand new to the game, will likely be very difficult.
Also, once these people give their details to patric, they are on his list – but they do not know who he is at all, Patric is a stranger to them.
People are incredibly unlikely to purchase from someone that they don't know and trust.
One way you'd avoid this problem, would be if you already had a list and an audience, in which case you could promote the free offer to a list who already trust you and you'll be more likely to get sales.
This would not be possible for a newbie who have no list though.
For most people, if you're suddenly getting sales emails, from someone you don't know, you're unlikely to buy from them.
On the other hand, if that person has already been introduced to you and recommended by someone you do already know, then your level of trust will be far higher.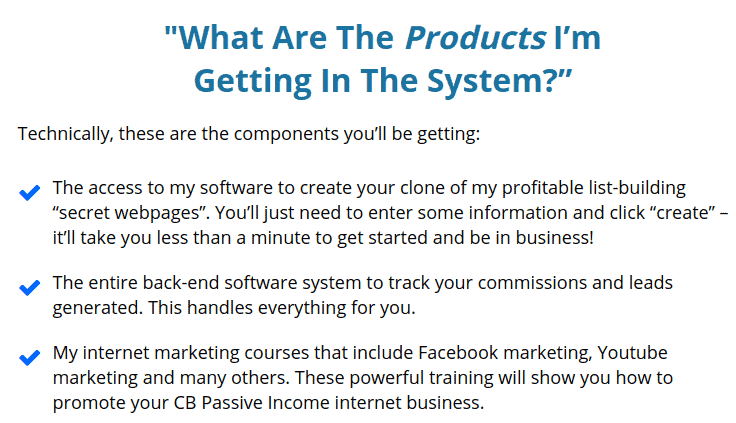 Some people have had hundreds of referrals, without a single sale in months- what about you? 
How Much Does Patric Chan Promote?
Something that concerned me, is that Patric doesn't state exactly how often he will be promoting these products to your referrals.
Surely, this is a pretty big deal? What if one month, he promoted 5 offers and the next only 1?
You'd think you'd want some assurance of some regular offers sent.
But also, you need to be concerned that Patric claims all clickbank products are good quality and that only legitimate products are allowed on Clickbank.
Therefore, he's happy to promote any clickbank products confidently to his list.
This is laughable, because it's so untrue.
There are tonnes of blatant scams on clickbank, as well as very poor quality products and little done to stop it or take those programs down.
That is because, some of the best selling programs on Clickbank are considered scams.
It seems to me, that Patric is largely trying to target people who have no idea about clickbank and are probably brand new online.
Related article: Is clickbank a scam?
What's new about CB Passive Income 4.0?
Well, this version will now be optimised for mobile use, as there has been such a massive increase in that area.
That's a good move, as mobile friendly pages are not going to convert well at all.
Additionally, they've added a "Facebook click-to-optin," element.
You may have noticed how you can often login to websites now, via clicking a Facebook or Twitter button, which eliminates the need for you to add your details.
So, rather than having to opt-in to the Patric Chan email list by typing in your email address, you can now also simply opt in with a click of a button, via Facebook.
The main benefit is, you're not losing out on mobile traffic and additionally that it's easier to opt in and so hopefully that could lead to more conversions.
While those are reasonable additional perks, there are not any significant updates.
The price remains the same, $47 per month, or a one off time fee of $97.  I see no reason why you wouldn't just go for the one time payment.

Pros Vs Cons
PROS
Initial cost is pretty low and reasonable value, if you go for the one-off payment of under $100.
There is a 60 day money back guarantee, so you can still check it out and if it doesn't work for you, feel good that you can at least get your money returned
The offer you're directing people to is a freebie and a decent one, so you can hope for a good conversion rate.
You could end up with a pretty hands off source of passive income, if you manage to find a reasonable traffic source that translates into paying customers,
CONS
Your referrals are unlikely to convert well, which means you will need to be sending a huge amount of traffic to Patric, to really make a reasonable profit from it.
It's not passive – unless you're a master of traffic generation, or already have a large list.  If not, you're going to be working hard to make sales.
Many people will turn to paid traffic, which can be incredibly expensive and dangerous to go into with limited experience – you can lose a lot of money, very quickly.
Plenty of negative feedback, (do you have a gripe about passive income 4.0? Please let me know in the comments).
You have no control over your list at all, unless you go for the higher price.  Patric knows most people will quit this program, but he will benefit from any leads you send him before you do quit – and forever thereafter.
This program has been running for a long time, while the freebie offers can change, just how many people are trying to direct people to these very same offers?
I personally found myself directed to Patrics offer via links over several different sites before, including Quora and Facebook – as well as, via other people's lists I'm subscribed to.
Patric boasts on his main page that his pages are highly converting, with some offers converting at 50% or more.
However, many members who joined, don't seem to have experienced that level of conversion.
Lastly, even though this program has been going a long time, there are still limited positive testimonials – the main testimonial on the sales video was the same one there from at least last year and others on the site seem pretty underwhelming.
I just feel that, if it was so straightforward to make money with CB passive income, more people would want to talk about their success.
Additional Thoughts:
Patric is a well established and successful online marketer and he's helped many people make their first money online, via various products.
One of his products I reviewed recently, I really liked called "blogging guru blueprint" – which unfortunately did have some issues, but plenty of good content.
With this program though, there is a lot of mixed feedback and what I've noticed is that the people who seem to have done OK, are not beginners.
Generally, they are more experienced marketers looking to create an additional income stream and are already knowledgeable about traffic generation and how to make it profit for them.
So, although Patirc talks a lot about being newbie friendly, I don't think it is.
Going into a program like this, you will just end up way over your head if you don't know what you're doing – and could potentially spend a lot of money on paid traffic, that doesn't convert.
I don't feel this program goes into enough detail and provides enough step-by-step guidance to people who don't have any internet marketing knowledge.
Also, I think in the long term, it's far better to learn the basics and build up your knowledge and skill set from the beginning.
For example, learning the basics involving SEO, how to start a website, email marketing, social media marketing, setting up an autoresponder and various other things that are straightforward to learn, but incredibly beneficial to you long term.
Useful post: How to make your first affiliate sale online.
Why start off in a position where someone else holds all the power?
You want to be in control of your own business from the start, there's little you're going to learn about building your own business, by having someone else do it for you.
And what is to stop Patric Chan closing this down at any stage? I don't see how you can rely on this as a long term plan.
If you want to check it out for yourself, you can do so here.
If you've had any experience with this program yourself, whether good or bad, I would love to know. Leave me a comment below!
All the best,