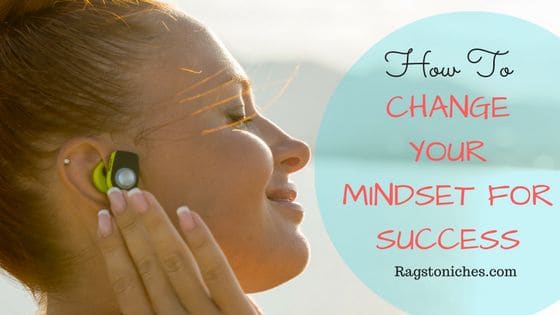 Have you often wondered what sets successful people apart from the average joe?
Lots of people may claim part of it is luck or perhaps talent or determination.
I've come to believe there is a particular mindset involved in successful people – but is it possible to change your mindset for success?
For me, I know the answer to that is yes.  Maybe I always had that ability deep inside, but I'd lost it.
Then one day, after quite a long period of illness and a couple of hospital visits due to ill health, I decided…. that I was going to get physically fit.
I'm not sure where the decision came from, I had tried to get fit before and given up.
But for some reason a flick was switched this time – I became driven.
After I started achieving my goals in that area, I suddenly realised the power I had to change my own destiny in many more ways.
I just had to take action and see it through.
If I was able to be motivated and focused on this, what else could I do?  
I realised very strongly for the first time in my life how I had the power to really change my life for the better.
I could see that so much was completely within my grasp, I just had to take action and make it happen.
What happened was, my confidence grew and I also started to enjoy things that I never would have thought of before, I became more adventurous.
I'd also been afraid of failing before, whereas although the fear had still been there in the background, I kept pushing it aside and going for the next goal and the next…
I used to feel that stuff just happened to me, I didn't take responsibility for a lot of things that would happen in life.
I was quite superstitious, at some point I believed in destiny or luck – I think I thought if I hung around long enough, success would fall in my lap.
I had dreams and aspirations, but did not have the mindset, motivation, determination or organisation to see them through.
So, I'm inclined to feel, that mindset for success can be taught.
It's not just something you need to have been born with.
We are capable of switching our thought processes and actions by deciding to do so…
Even if it completely goes against the grain of what we are used to, or what is comfortable to us.
But to get into the right mindset for success, I think there are some steps you need to take to ensure that you can get yourself into the zone.  
There are certainly behaviours we can adopt to put us in the greatest position for being positive and productive – so what sorts of things should we be doing?
Below are some of the things I feel you need to do to develop the correct mindset for success.
What do you think?  Take a look…
---
We all have deep seated fears and often, these can be the very things standing in the way between being successful and not.
What are your fears?  What is holding you back?
Write down your fears and look at them with perspective – is there any reason at all that these fears should really be holding you back?
Are you afraid of failure?
If you are, don't you think that by not actively trying to make your life better and follow your dreams, you're failing more than anything else?
Try and look at failure as a stepping stone.
Most successful people will fail multiple times over, it's how they learn from those fails that makes the difference and it's the ability to bounce back and try again when things go wrong.
As we come closer to success, more often that not our fears will become bigger – there is more for us to lose, more for us to gain.
But this is when we really need to step up.  Feel those fears, but do not let them stand in your way.
Start Waking Up Early – And Exercise.
It's often said that you should do your hardest activity of the day first thing in the morning.
By doing this, the rest of the day feels like a breeze by comparison.
If you can't deal with the idea of exercising, (and I mean, even as much a 20 min brisk walk) then waking up early and completing a task you'd normally put off,  will also improve your mood.
However, exercise is a great way to get started.
As much as you may hate it – get it out of the way first thing and it will feel like it never happened!
It gets all those feel good endorphin's going in your brain and once it's done, you're left feeling great and ready to take on the day.
Speaking as a former exercise-phobic, becoming physically fit can change your life and will make you more confident in all areas of your life.
Be The Best You, That You Can Be.
Start every day with the intention of being the BEST you.
That is, the very best version of yourself.
You don't want to be like anyone else, you can't be anyone else and you don't need to compare yourself with anyone else.
You know what you are capable of, work on improving yourself to being the best you that you can be.  No excuses.
Become A Master At Organization & Goal Planning.
Make the absolute best use of your time by carefully planning out your day in advance.  Set goals for the next week, month and some key goals for your year.
Having a key list to follow means you're less likely to be distracted by time-draining activities and you will be mentally prepared for the steps you need to take.
Having specific time goals in mind will motivate you to get more done.
Challenge Your Inner-Critic.
We all have those negative voices of doubt or criticism rise up in our minds, some of us more than others.
Way too often we may tell ourselves that we can't do something – we need to slam back a "WHY NOT?" in return.
Every time a negative thought comes into your mind telling you that you can't do it, you need to challenge those thoughts in a positive way.
Have Complete Belief In Your Dreams.
Although it can be hard sometimes to not have doubts, (everyone does) try your best to have absolute steadfast belief in your dream becoming a reality.
See it in your minds eye, visualise it and go after it 100% believing that this dream will become a reality.
Try as much as you can to brush off doubts as they arise, push away negative thoughts and stay away from negative people that try and tell you that you won't succeed.
Take Decisive Action – Every Day.
If you want something, you have to work for it.
Take decisive action every day towards your dream being a reality.
Too often, people don't pursue a dream because they aren't prepared to put in the effort required.
How much do you want this?
If you don't start taking action now…what is your life going to be like in the future?
Don't you think it's worth putting in the time to change your life now, rather than look back with regret?  START TODAY!
Many successful people swear by having a vision board.
Yep, it may seem a little airy fairy, but I believe it can help to see what you want every day in visual form.
Many of us are visual thinkers and there will be many times that we need some extra motivation and a boost, to remind us what all this hard work is for!
A vision board, is essentially a board filled with what you want your life to be in the future – a photo of the house of your dreams, countries you want to visit, the car you've always wanted and so on.
If you have it nearby you during the day, where ever you are working, this can act as a visual motivator whenever you need it.
Don't fill your body with junk.
If you're a junk food junkie, this will not be an easy task, but you don't have to radically transform your eating or drinking habits overnight.
Start writing down what you're eating and take small steps to improve what you're taking in each week.
Eating junk will make you feel sluggish and depressed, if you're not getting enough vitamins and minerals in your diet, you're not going to be working to your best ability.
Likewise, if you're drinking too much alcohol, you're going to find it hard to feel motivated the next morning.
Try getting stuck into work with a terrible hangover!
More often than not, if I drink too much, the next day is wasted and I get nothing done.
That reality alone gave me the desire to cut down.
Take some time and space by yourself to think about what you're grateful for in your life.
Keep remembering everything positive in your life, don't forget to acknowledge the small things that you wouldn't normally think about and often taken for granted.
By practising mindfulness, we pay attention to the present moment and accept the thoughts, feelings and bodily sensations we are having at that time, in a non-judgemental way.
Too often, we live in the past or future in our minds.  We rush by our current reality to get eagerly to the next, without acknowledging these present moments that pass us by.
These present moments are our life, we should appreciate and cherish these moments as they happen by taking the time to really live in the present.
One way we can improve our ability to be mindful is through meditation and learning to meditate at home is simple, there are plenty of books or audio CDs that teach you the basics.
---
These are definitely some of the core practices and behaviours that I have tried to adopt in my own life.
Have I left anything out that you'd like to add?
I also strongly suggest you make the most of your mornings, by creating a special morning routine – read this post for more info.
Joining a group of like-minded people can help!
If you're struggling to figure out how you'd like to make your dreams a reality, there's an online community that not only changed my life, but taught me how I could start building websites & monetize them.
You can check out what it's all about here!
All the best…