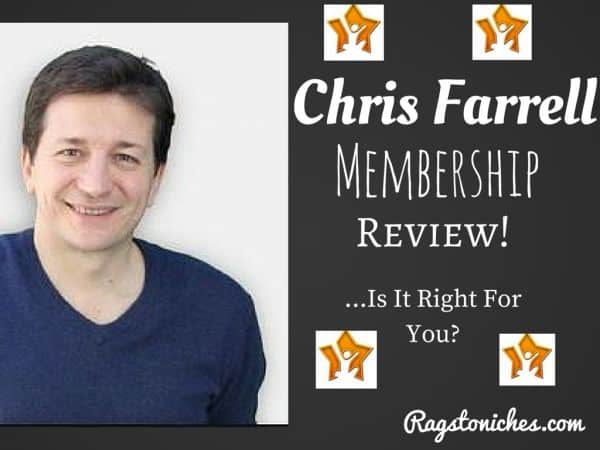 What is the "Chris Farrell membership" and will it be worth your while joining?
Can you really make money following this training?
Who is this program for and what are the positives and negatives of signing up?
I will try and answer these questions and more, in this in depth Chris Farrell Membership review.
Review In Brief!
Product: Chris Farrell Membership
Product Owner: Chris Farrell
Price: $37 a month. $297 a yearly option.
Overall Verdict:  Legit – but not for everyone.
Mini Review: The Chris Farrell membership is one of the most highly regarded platforms in the internet marketing industry and contains some decent training regarding how you could potentially make money online.
However, some of it is a little outdated and Chris could do with adding some additional material.
That said; it is newbie friendly and well put together, (if you're brand new online).
What is the "Chris Farrell Membership," & Who Is Chris?
Chris Farrell was born and bred in London, England but now lives in California with his wife and four dogs.
Chris began his internet marketing career in 2008, with very minimal knowledge of the
internet or how to make money online.
He gradually learnt how to make an online income – he scaled up his business quickly and became incredibly successful.
In just two years, he had his first "million dollar day," where he made a million dollars in 24 hours. An amazing feat.
While I don't like internet marketers bragging on about their earnings, in this case it didn't feel wrong that he mentioned it.
Certainly, upon arrival to the main sales page, you can see right away that this is a quality course.
It is very well put together and the videos themselves, look highly professional.
This program is well known as one of the best internet marketing courses out there for newbies online and the training is step-by-step, simple to understand.
When You Join Chris Farrell Membership:
On arrival, you need to first go to the getting started section, which has a selection of short videos to watch.
Be prepared – If you have any knowledge of building websites or internet marketing whatsoever, you will find this slow going.
The great thing is, that Chris is incredibly likeable and engaging to listen to.
He is a fantastic teacher and I found myself listening to his videos step by step, despite the fact that he wasn't telling me anything I didn't already know.
His videos are very short indeed.
This is ideal if you have a short attention span and I'm sure it's meant to counteract that feeling of "overwhelm" that you can feel when you first start learning about internet marketing.
However, if you're like me and like to get fully stuck into a course, you will find yourself watching one video after another.
In fact, I watched thirty Chris Farrell videos in one day, (ok, I did feel a little crazy overloaded by that stage, but I was trying to get to the meat of the course).
Chris's key steps to making money online are as follows –
1) find a profitable niche.
2) build a list of email addresses of people interested in that niche.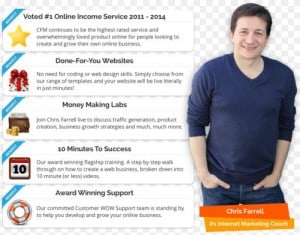 3) promote products to that list.
In a nutshell – this is what this course is about:
building an email list and selling to that list.
If you are brand new to making money on the internet and have an interest in email marketing, this course will certainly take you by the hand and teach you what to do, step-by-step.
However, if you're interested in learning other skills such as –
blogging, niche websites, SEO, keyword research and learning how to generate free, organic traffic to your site…
Then you'll be better off going for a membership program like this – which covers these areas in considerable depth.
Likewise, if have any experience whatsoever making money online already, then you will get more value for money by joining a more advanced program. 
However, after signing up to the Chris Farrell membership for the purpose of writing this review, I can see how it could be beneficial to people who really want to learn the basics.
In addition, there is a 30 day money back guarantee, so you can always get a refund if you check it out and don't think it's for you.
 Click Here For Membership Details.
Chris Also Has Some Great Videos Explaining The Basics…
For example:
WordPress wealth
5 skills you need to know
Video made easy
Profitable niche
And many more.
I would have personally found some of these videos very useful when I was brand new into this.
Watching some of those videos would have saved many hours struggling to work out what I was doing.
For those who have never used WordPress or other blogging platforms, WordPress wealth would be very useful.
You will be left in the dark as far as advanced techniques though…
So even if you join Chris Farrell as a newbie hoping to learn all the skills you need, moving on to a more advanced program later on would be needed later anyway.
So, the get started section – gives a brief explanation of the course, a tour of the site and an opportunity to introduce yourself in the comment section.
From here, you progress on to 10 minutes to success.
Chris Farrel's 10 Minutes To Success?…
To get a sense of just how slow the pace is, (and this may suit you, but I just wanted to
spell it out here…).
I went through all six getting started videos and two of the first videos in "10 minutes to success," before any action was needed to be taken at all.
….and the only action that was required at this stage was……..
…..to create a notepad document of important information, (login details and the like!)
So, essentially, after watching nine videos, all you have actually created is a notepad doc.
I'm not saying this is bad, necessarily, but if you're eager to take massive action quickly, you may find yourself getting a little frustrated
It's quite ironic that 10 minutes to success by itself consists of 30 videos that are meant to take 30 days to complete —
More like 30 days to success, except at the end of that 30 days, you won't even have your own website up and running.
By The End Of 10 minutes To Success:
You will have:
A 3 page website "trial" website, (pages made for you).
A niche, (also chosen for you at this stage).
Email Opt in set up and tested.
If after this you also have very minimal skills online.
You'd then need to go and find the relevant courses elsewhere on Chris Farrell membership that show you how to navigate wordpress/create graphics/generate traffic and create videos and so on.
THEN you can actually get started on your real website.
The reason that Chris initially wants you to create this pretend website, is to take you by the hand and literally show you how the core aspect of your website will work.
He wants to show you how it's done, without getting bogged down with all the other details you will need to learn.
It requires no previous knowledge of anything whatsoever to start at Chris Farrell Membership, which will certainly help those of you that are brand new and have limited computer skills.
But for people who already know how to use WordPress and create a website, (or who already have a website) this exercise will likely feel like a waste of time.
To me, it would make more sense for each person to slowly build their own website from scratch, rather than create a trial one first, simply as a test.
I understand Chris really wanting to make it simple and avoiding that feeling of overwhelm and avoid information overload- but this is a little overkill in my opinion.
On the other hand, if you enjoy taking baby steps and are brand new to all this, then you may love it.
Chris Farrell is, thankfully, easy to listen to, whether you find it a bit slow going or no
Chris's enthusiasm and passion for this business comes across as genuine and engaging.
Plus, if you do find it slow going, you can always do as I did and watch a tonne in one go…. but have plenty of coffee to hand.
SEO & Traffic Generation?
There is a whole course about generating traffic to your website, called "I love traffic," and he covers how to generate three types of traffic:  Free, paid and borrowed.
He covers things such as:
Generating traffic from Facebook,
Facebook comments,
Paid Facebook ads,
Video marketing,
Guest blogging, (although it's all pretty basic stuff).
Chris barely touches on SEO techniques or keyword research–
which is a shame, as this is how so many marketers manage to generate a lot of free, organic traffic to their sites this way.
There is a question though, how you'd go about ranking a small, 3 page website in google highly in any case.
As Google does not like these types of mini and potentially spammy looking websites.
Instead, Google now loves authority sites, with what it considers to be high quality content that is engaging and helpful.
So, since Chris cannot rely on organic traffic from the search engines, it appears that he focuses on other ways to generate traffic instead.
If you want to learn about how to generate free traffic, learn simple-to-understand SEO techniques and Keyword research, then  I recommend you trial out this program first.
Pros VS Cons: 
PROS
Newbie Friendly:  The Chris Farrell membership couldn't be more newbie friendly, if you're brand new online, you may really enjoy the simplicity.
Mini-Courses:  The mini-courses available such as, 5 skills you need to know, WordPress wealth and profitable niche provide very clear explanations and step-by-step guidance for newbies that really need help from the ground up.
Support Forum:  An online forum where you can get some level of support, but it appears quite limited and it's too cluttered – the info needs to be separated into more categories, which would make it easier to navigate.  Nevertheless, there is help at hand should you get stuck.
Weekly Trial Offer:  $4.95 for the first week and a week is certainly long enough to figure out if this is the right membership for you.  Chris provides a 30 day money back guarantee if you decide the course isn't worth your while.
CONS
Not for intermediate marketers:  If you have any internet marketing knowledge or any knowledge as far as building websites – this program is not for you.
How about SEO?  Chris barely mentions the importance of keyword research or SEO!?  But perhaps because Chris already knows that tying to rank a 3 page website highly in the Google search will be very difficult using these methods.
Niche competition?  Chris doesn't talk about assessing competition within your niche, perhaps he doesn't think this is important, as his traffic methods are not relying on organic traffic from the google search, (unless you count video, where there is some info about how well videos rank in google).
Easy Video Suite purchase:  In order to follow along with Chris's video made easy course, you need to purchase easy video suite for $147 dollars, while this is at a discounted price, it's a lot more money to have to pay when there is plenty of free software online available where his students could learn the basics.
Wondering if this program is too basic for you?
If you're curious about the Chris Farrell membership and are not sure if it's too basic, you could always check it out and feel safe in the knowledge that there is a 30 day money back guarantee.
Check out Chris talking about the membership below:
You will get a good idea fairly quickly, regarding whether it's something you want to commit to long term.
Chris Farrell Membership Review Conclusion:
The Chris Farrell membership is a great program for you if you're brand new to internet marketing and have very limited computer skills, or if you have a particular interest in email marketing.
Chris has succeeded in creating some engaging content, easy to follow video tutorials and step-by-step instructions how to get started.
However, you may well find yourself realising that there is a lot more you want to learn and Chris does not go into advanced techniques, so it is limited in that capacity.
Alternatively, If you'd prefer to check out a program that you can trial for free, (and is also beginner friendly): check out this place.
I hope you enjoyed my Chris Farrell Membership review – do you have any experience of this program?  I'd love to know, so leave me a comment below!
if you do sign up, do let me know how you get on.
All the best… 🙂