Clear Voice Surveys Review: Legit?  Or A Waste Of Your Time?
Website: https://www.clearvoicesurveys.com 
Money Making Opportunity:  Pocket money.
Payment:  Amazon gift card/payoneer.
Cost: Free
Overall Rating: Below average as far as survey sites go.
If you're fed up of earning pennies, you could be learning how to start a legitimate online business from home here.
What Is Clear Voice Surveys About?
Clear Voice Surveys is a paid survey company webiste based in the USA.  The website got started in 2006.
As with all paid surveys, the information you provide can give businesses vital insights that can improve their business.
Companies are willing to pay a small amount of money for your opinion about various topics, products and services.
While this site is based in the USA, anyone can sign up worldwide, you must be 18+ to sign up.
In addition to paid surveys, there are some opportunities to earn via product testing and movie previews.
The Sign Up Process With Clear Voice Surveys:
I signed up from the UK, I just had to give some basic info and got that done in a minute or so.
The first thing I was confronted with after that was the following message:
It says that the first way you should go about earning, is to refer your friends to sign up.
For each friend you get to sign up, you can earn $0.50 for each member… but only for a maximum of 10!!  So, that's not very exciting is it?
There are many better referral programs out there, but really you want something that is more long term than a one-off payment.
For example; Swagbucks offers 10% of what your referrals earn, for the lifetime of their membership.
In any case, once I'd confirmed my membership, I was congratulated and shown the video below:
One of the things they mention in this video is completing the profile surveys.
They say, the more thorough you are with the information you give, the greater the ability they have to match you with surveys that will fit.
I found this interesting, because one of the biggest complaints against Clear Voice surveys, (which I will elaborate on in a moment) is the constant inability to qualify for surveys.
Basically, this is when you're asked a number of questions – perhaps over several minutes, before being told you do not qualify for the survey and being chucked off.
I have joined dozens of these survey sites in the past and they always say that this profile survey will help you qualify for more surveys.
But I am strongly dubious about that, because it seems to make zero difference.
There are 10 different "profile," surveys you need to complete to help get you matched.
Do you think these have helped match you to surveys?  Or do you still have a high disqualification rate?
Complaints Against Clear Voice Surveys:
I found a lot of negative feedback against Clear voice surveys.  The negative seemed to revolve around the same things each time.
Disqualified from surveys relentlessly… this really does happen with every survey site on the web.  However, some do appear better than others.
Suddenly not getting surveys when you're close to cashing out.
Closing your account when you're close to cashing out, (again, this is quite common.  Sometimes, just a few inconsistent answers can be enough for survey-companies to chuck you out.
Points can disappear after a year if not redeemed, which really seems unfair if you've been putting months and months of effort in.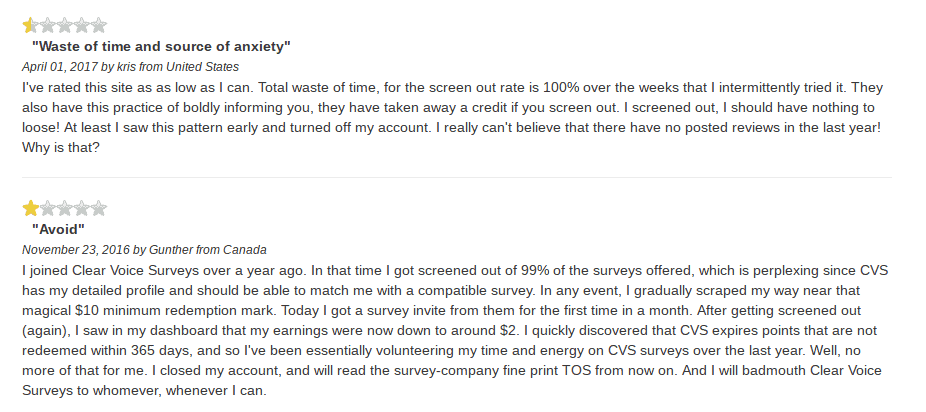 (image source – Survey Police).
Is This A Money Making Opportunity?
Well no, not seriously.  But they aren't really claiming it is.  You can see how much you get for these surveys openly.
If you really want to put the time into completing surveys, you'd still get far below the minimum wage if you put in a full working day.
Filling in surveys is not a legitimate way to quit the 9-5 or anything like that.
So, if you're trying to earn real money online then, no, this isn't how to do it.
But I also know people who are just trying to make a little extra pocket change and they don't care about that.
Even so, if you're going to put your time into doing paid surveys at all, then this isn't one I'd recommend going for!
Plenty of sites online now pay via paypal – but Clear Voice surveys don't have that option.  For cash, you need to be with Payoneer.
The other alternative is payment via Amazon giftcard – which is fine, but you do need to reach a $10 threshold to withdraw and some people have claimed has taken them a year to reach!
Generally, you will earn less than $1 per survey and that could take 15minutes or more, (if you actually qualify).
PROS VS CONS 
PROS
Quick and free to sign up.
You can sign up worldwide.
You won't have to wait long for payment – it can be instant, or up to a week.
CONS
People have complained of being unable to complete surveys, (being disqualified).
Complaints of accounts being frozen close to payout threshold.
A limited number of payout options.
No Paypal option available and limited gift cards.
Clear Voice Surveys Review Conclusion: Is This A Scam?
From what I can see, Clear Voice Surveys is a legitimate survey site – with a lot of very mixed reviews.
There is enough negative feedback out there that I wouldn't recommend it, but many of the complaints are things that would be true for most survey sites out there.
Many people who join, don't realise the low income potential at first.
There are websites out there that tell you that you can earn a full time wage from completing surveys – so, sometimes this is what people are hoping for!
You cannot make anything substantial income just from completing surveys online, if anything it's just a little bit of pocket money.
For a list of legitimate online companies that have paid me recently, see this post.
Have you had any experience with Clear Voice Surveys?  Share your experience below!
All the best,