I decided to bring you this Englightly App Review today, after recently discovering it on the App store.
I did think it was brand new at first, as the App told me I was one of the first people trying it!!
However, after finding a review written in 2017…I see that it's not so new after all.
But perhaps they are just working on building up their users now in 2019.
I just hope it's not being left to slowly vanish, because it's an App with a lot of promise!
If you're outside of the UK and looking for similar Apps, you may want to try this post.
Do you have any experience with Enlightly? Let me know in the comments!
Interested In Paid Surveys? Get A £3 Bonus For Trying This Panel!
How Does Englightly App Work?
Simply download via the App Store, (I'm unsure if it will be coming to android/Google Play).
Initially, it will ask you for your name and email and for you to accept their T&Cs – which you can read through.
They let you know that any answers you give during your surveys, will be 100% anonymous and you can always skip things that you're not willing to answer.
If you switch on notifications for this App, it will also alert you if any new questions become available.
There were 8 questions for me to answer initially, as soon as I first logged in.
These are pretty much trial questions – although you get a teeny amount for doing them.
Enlightly App – The First Questions:
Unlike typical survey Apps, this was different!
It asked me kind of unusual questions – asking me to rank certain things in order, to tick how many cats were in a picture, to fill out the next word in a sequence.
This was a tutorial, so as yet I'm unsure if this is how it's going to be all the time.
Some of these questions also seemed a lot like they were testing to check you were really reading the questions.
I'm presuming future questions are going to be quite different – but I really like how quick it is.
The App was smooth and fast, with no glitches.
After the initial tutorial questions, I was ask to confirm my mobile number and had to input a code that was sent to me via text.
The next section I was offered was, "just for fun," so I don't think I'd get paid for this.
These questions WERE more generic profiling type questions….
Things like: how many people over 18 lived in my household, where was I born, how many children do I have.
However, these were just profiling questions that you typically will find on most survey panels when you begin and were not paid questions.
Unfortunately, once I'd completed this, there were no further questions! 🙁
Want Paid Surveys? Try These Ten Panels!
How Much Money Can You Make With Enlightly?
After my initial questions, it told me that I was 2% complete on the first goal.
The first goal would be 50 questions answered for £2.50
Or, if you get to 100 questions, you can get £7.50.
Considering how quickly I could get through these questions so far, I didn't think this was bad at all!
The issue I have right now, is that I'm not sure how many, or how many questions are going to be offered.
….. If any! Am I ever going to get to 100 questions?!?
However, you do need to reach £5 before you can actually withdraw – so you wouldn't be able to withdraw initially at that £2.50 mark, even if you got there.
Therefore, I'm unsure why it's a mission. Maybe they're planning on making the initial payout £2.50?
Whatever the case, once you have reached the payout threshold, you can withdraw via PayPal.
What Do Other People Say?
Well, I thought this was a new App… But it would appear I am wrong about that!
Because, one of the reviews I saw was from 2017!
I also noticed that Enlightly last posted on their Facebook page in 2017, so I'm unsure if this App is just getting back to business….
Or if it's just sinking and will fade away.
Understandably, the reviews are a bit average right now at 3.4 stars on average via the App Store and this is going to be because – people haven't been getting many questions.
I hope that Enlighty are still working on growing the App right now, because I like the concept of it and would happily recommend it if enough questions were available.
Some people are really positive about the App, saying the questions are super quick, interesting and that the App isn't glitchy like many others.
In of the reviews from 2017, they said they'd already made £15.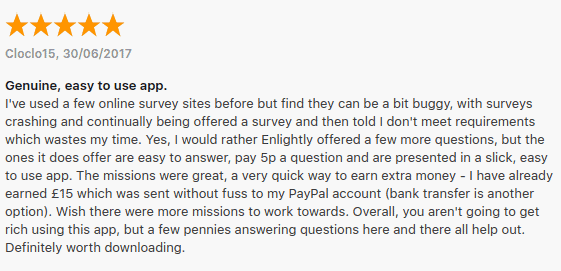 I agree with the above review, saying that this App, (if more questions come rolling in) will be better than most Survey Panels, because it looks like they don't disqualify you here.
You just answer the questions honestly and it looks like there is no screening out and no long-winded surveys you must complete.
PROS VS CONS:
PROS
Simple/free to sign up.
Super simple/fuss free design.
Easy to navigate.
No screening out.
Simple questions to answer.
More enjoyable than a regular survey panel.
Low payout threshold of £5.
Payment via PayPal.
Pays pretty well for answering some simple questions.
CONS
Not enough questions – more please!
Only PayPal cash out at the moment, (apparently they are including a just giving, charity option soon.
Enlightly App Review Conclusion – Is It Legit? Is It Worth It?
This entirely depends.
If I start getting regular questions, then yes, I will keep this App installed and continue to use it.
But, of course, if there aren't enough questions and I can't even cash out, then it will be a waste of time.
I will update this review when I have had some more experience with it– for right now, I'm going to put it in the "average," pile….
Simply because, I don't know if there will be more questions coming – or if this App will just disappear.
If I find that I am able to cash out my earnings within a reasonable amount of time, I will increase the review rating!
There is a lot to like about this App though.
The best part it, it's so quick and you won't go crazy trying to qualify for the surveys – you just answer the questions and that's it!
Consequently, as long as you are sent questions, it will be far easier to earn money with this, rather than traditional survey panels where you constantly don't qualify.
Do you have any experience with the Enlightly App? Let me know in the comments!
Beyond Survey Panels And Apps – How I Make Money Online.
At this point in time, any ways that appear to be a super easy way to make money with your phone, or online…. are going to be small time opportunities!
A way to make a little bit extra here and there – but pocket money, at best!
If you want to make more, you have to think long term and be prepared to make some extra effort.
I wrote a post here, about 40 different ways that you could start making money online, (both small & bigger opportunities).
I check out many Apps and platforms, for the purposes of review. But, for the most part, I don't stick with long term!
I prefer to focus on things that will generate passive income in the long term… so that I'm not always exchanging my time for money!
One way I do this, is via having a website. One post that I write today, could pay me multiple times over in the future.
How? Primarily from paid advertising and affiliate marketing in my case.
With affiliate marketing, I can earn commissions from products and services that I recommend.
With paid advertising, I just get paid for having Ads on my website – the more visitors you have to your website, the more money you can make.
If you'd like to understand how you can make money from a website – you can start learning for free here!
All the best,