Evergreen Affiliate Profits Review

Hi all, I checked out this product by Kristie Chiles, (+ Vick Carty & Dexter Paglinawan) yesterday and thought it has some reasonable information for the price, albeit short and sweet.
I think it would suit either a complete newbie who is looking to get their feet wet and make their first few dollars online, or someone who is more experienced, but who is looking to delve into YouTube marketing.
If you have an interest in the Dog niche too – that's would definitely be a bonus, as this program is completely based on the dog niche.
About Kristie's Story:
Kristie was in her 50's when she got into internet marketing, (now 59) and it was out of desperation that she attempted it.
She was  in a job she hated and going through a painful divorce at the time that got her interested.
However, at first she really struggled to make any money at all and I think that's something that everyone who has started in internet marketing can relate to.
It wasn't till she finally got some one on one coaching that things finally clicked into place for her and she started to make some money.
What Is Evergreen Affiliate Profits About?
The video below you can also find on the Evergreen Affiliate Profits sales page, it outlines Kristie's story and the product really well:
So, to put it very simply, the PDF that you purchase will tell you the following:
How to sign up to one of the highest paying affiliate programs in the dog niche.
How to earn recurring affiliate commissions from this program – with no website and with free traffic, (directing visitors to a FREE course they can download).
How you can simply set up very simple YouTube videos, with no need to show your face and start earning commissions.
So, the main product is very simple, it's short and to the point – but would have some useful info for those interested in going down this route.
The front end product is a PDF and it's not a long document – BUT it does tell you the basics of what you need to know to implement the system she suggests.
If you're considering going into the dog niche, or if you're just starting out and don't know what niche to choose – you could go for something like this and it would be an easy way to stat seeing some initial sales and actually see how even simple videos on YouTube can potentially make you some sales.
The affiliate program they point you to pays out high commissions and is one of the rare affiliate programs out there that still pays you for subsequent sales too.
Video marketing can be a quicker route to making sales online – while I primarily write blog posts, creating YouTube videos or embedding others into your posts also really helps with ranking higher in google.
Video marketing is far less competitive than content marketing, because far less people are willing to create videos, so going into video marketing is a good idea.
Even though I'm not in the dog niche myself and not planning to be, I still got a couple of ideas from reading through the PDF and it certainly made me think harder about the power of video marketing.
What I like about this product too, is it's not based on the make money online niche – so it's a way for you to see how you can make money from affiliate marketing in other niches away from that.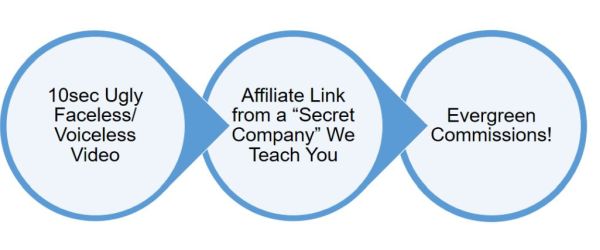 However, for more in depth training, there are some upsells with this product.
While I don't love upsells generally, I tend to think they are ok as long as they don't take away from the value of the initial product.
Well, in this case it's a bit of both – because I do think I complete newbie would could definitely cold have benefited from one of these upsells, included in the core product – which would have added more value in my opinion.
However, since the price of the initial product is low, it's understandable that upsells will be part of the package if you want more in depth training.
If you're not interested however, you could just click through these – you do actually have the option of purchasing them later on if you choose!
Possible Upsells:
I will just go over the few upsells that you're taken to directly to after you purchase.
There are also downsells offered at the time as you click through, these are a one-off and go back to the original price once you reach their dashboard.
Upsells include…
An over-the-shoulder video course – basically it is a visual accompaniment to the PDF and may suit you if you're a more visual learner, to really see how it's done, (I think this product should have been included in the main price).
Then there is a done-for-you shortcut, with keywords and done for you video topics, which would save time if you really want to go into this niche. (Followed by downsell).
You're offered masterclass studies and two one on one coaching sessions.  (Followed by downsell).
These are are all optional additions.

Upon arrival to the actual product, there is a nice landing page and you're given the chance to join their Facebook group, which would be a good opportunity to bounce ideas around with other people trying out some of the same tactics.
You also have the options of purchasing any of the additional upsells that you'd just seen before arriving.
From here, you can download the PDF, which is just a simply put together document with the straight info you need to get started.
The only thing that will be missing here is the actual step-by-step info how to go about actually creating the video and uploading it to YouTube – which, if you've never done before, could be confusing.
However, she suggests what free software you can use to create your video and what to write in your description, how to make your title stand out and so on.
Evergreen Affiliate Profits Review: Conclusion.
This is a very simple, low ticket product that would be suitable for anyone that may be keen on going into the dog niche.
It may also be for you if you struggle to write content and would like to see if you can make commissions from straight video marketing – which you can do without a website.
If you're interested in more of a step-by-step approach and are more nervous starting out with limited experience, there are the direct upsells to consider, if you feel you need extra guidance.
If you're keen to check it out – you can visit Evergreen Affiliate Profits here!
Are you interested in video/YouTube marketing – has anything held you back?
Let me know in the comments!
All the best….

Want To See Where I got Started Online?  Check Out This Review 🙂