I've been familiar with Houzz for sometime, as a have a small blog in the home decor space. 
Which is actually kind of weird in itself, because I'm terrible at actually getting around to decorating my own home!
But, I still just really love actually looking at and appreciating amazing design.
As I've many times stated, it was this niche blog in the home-decor space that I neglected for several years, (and still do) but which still makes some affiliate sales.
So, I've been recently interested in new affiliate programs to join, as I have primarily been with Amazon and Etsy for that website since the very beginning.
I also recently joined another program that I thought would compliment my others called magiclinks – this one has tonnes of different affiliate programs under one roof… and you don't even need a website to apply!
Tip – My Top Rated Affiliate Marketing Training!
In my Houzz affiliate program review, I'll discuss the following:
Niche Ideas For The Home Decor Space.
What Is Houzz About?
What Is The Houzz Affiliate Program?
Other Related Affiliate Programs.
PROS VS CONS
Can You Make Money With The Houzz Affiliate Program?
Useful Affiliate Marketing Training!

Niche Ideas For The Home Decor Space:
You may initially think that this area has to be over saturated, but that's not the case.
Just think about the infinitie amount of keywords you can target when it comes to products, types of furniture, accessories styles, tips, advice…  and so on..  It just goes on and on.
There are so many variations of keywords in the home decor space and many that are low competition too!
However, if you're starting a niche blog, you'll have a better chance of ranking more quickly if you focus in on one particular style, area of the home, or topic.
So, maybe you have a niche blog focusing on shabby chic, Scandinavian, or Farmhouse; for example!
I had a quick look in my Jaxxy Keyword tool and found tonnes of low competition keywords for "Shabby Chic…"
Many were quite low traffic, but they were low competition and it really doesn't matter because all these keywords add up… 
There are so many different low-competition keyword combinations on offer!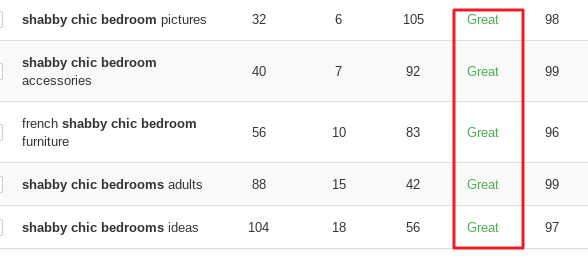 If you don't have a keyword tool, you can get 30 free searches here to come up with some ideas and save them.
You won't struggling to come up with content ideas in the home decor related space and it's great because people researching this stuff, are keen to buy too.
This is also a great area for Pinterest, as people use it to make decisions about what to purchase.
Even if they don't click your Pin image right then and go to your affiliate link, they can share it with others and save it to come back to later when they have made a decision.
It's also a very good way for NEW bloggers to gain traffic, before Google has shown any interest yet!
What Is Houzz About?
Houzz houses some amazing interior design ideas that you can browse on their website.
But their primariy aim is to match home owners who would like design work done, with the relevant professionals required to make those wishes come true.
When you join the Houzz community, you can link up with people locally to you that can make your home design dreams come true.
If you visit the Houzz website, they're packed full of attractive images.  You can browse their website purely by photography, by going to the tab at the top of their post saying: "Photos,"
You can then browse the photos via different categories – such as kids bedroom/nursery, kitchen, dining, home and office and every other room and outdoor space you can envisage, (even – "home bar!").
Having kids myself and being interested in fun and quirky design, I went straight for the kids section.
They have some really cute designs:
You can also browse directly via…
Products,
Professionals,
Stories, (which actually seems to bea link to blog posts).
Advice, (seek all sorts of design and DIY advice via their forum; as well as before & after stories).
All in all, if you're planning on doing any sort of decorating, renovation, or design work – Houzz is a great source of inspiration, advice and way to connect with professionals.
What Is The Houzz Affiliate Program?
By joining Houzz as an affiliate and linking to them within your blog posts, you can earn a commission on any sales made.

I have seen this program in a couple of different locations – Vigilinks and Shareasale.  Both of which will have different T&Cs;.  
Personally, I'm already with Shareasale, so that's the route I'm going to look at today.
Before you join Houzz, you first have to join Shareasale, which is the affiliate network that houses this program, (and many others!).
I wrote a review of the Shareasale platform here, (and explain how you can sign up!).
In any case, once you're accepted via Shareasale, simply do a search in their merchant section for Houzz.  
Houzz will show up right away and you can click to *join,* see below.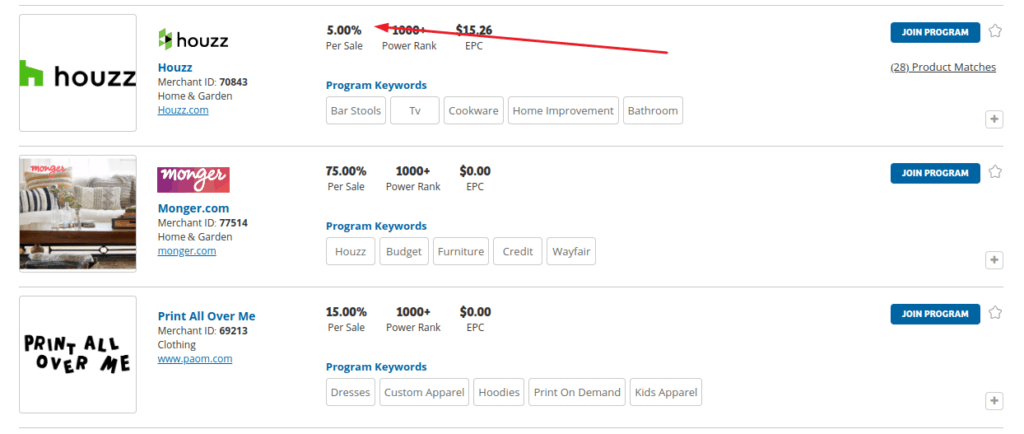 When you click join, you have the option of explaining how you will promote their program.
This is a good place for you to *sell,* your website to them and explain how Houzz is a good match for your blog/website.
If you have a good amount of traffic, you could mention this and you could mention ways you may promote them.
For example; you may say you're going to promotes via email marketing, blog posts, and social media marketing.
They have a 30 day cookie in place on this program – which means that a prospective customer has up to 30 days to make a purchase after clicking on your link, (for you to get a commission).
If you do make a sale – you will make 5% of the total sale amount each time. 
5% isn't too bad – especially as you imagine the sales generated from this sort of website are going to be high value.
How long it takes to be accpeted on to a program really varies from program to program – I have sometimes waited weeks and practucally given up waiting and other times it's been only within a day or two.
Once you have been accepted, you can simply login into shareasale, search for Houzz and click to "get links."
This is where you can create affiliate links to particular pages on the Houzz website. 
Whenever your reader clicks on the link in your blog posts and makes a purchase within 30 days, you will make a commission!
Other related programs on Shareasale + beyond?
If you're in the home decor related niche, you may want to look at other affiliate programs on Shareasale, (or otherwise) that could compliment Houzz.
There are not a great deal of home decor related affiliate programs with a HIGH power rank on Shareasale.
The lower the number of the power rank, the more affiliate sales are coming in.
So, for example; WAYFAIR, which I mention below, happens to be one of Shareasale's best ranked programs, (ranked at number 7!). 
So, that would definitely be a good option. 
By contrast though, Houzz has a power rank of 1000+ – which suggests the affiliate program perhaps won't be very profitable on its own.
The two companies below have a much higher power rank than Houzz.
– WAYFAIR, (7% commission per sale, power rank 7!).
– JYSK, (2% commission per sale, power rank 366!).
Beyond Shareasale, I would certainly recommend Amazon because, althuogh their commissions can be on the low side, they're highly converting and a well-known and trusted brand.
Plus, people really visit Amazon to make a purchase, rather than just go for a browse.
PLUS.…  Even if they do have a bit of a browse and decide to purchase something completely unrelated to furniture or interior design, you STILL make a commission.
Read more about the Amazon program here.
PROS VS CONS of the Houzz affiliate program:
PROS 
Simple/free to join with Shareasale.
5% commissions on all sales.
30 day cookie.
loads of products and pages to link to.
Plenty of affiliate tools via Shareasale.
CONS
Perhaps more a platform to do research and inspiration, rather than actual sales! 
This could make the sales you get few and far between and perhaps would rely on a lot of traffic to generate any sales.
Low power rank, which suggests not many affiliates are making money from this program.
Can you make money with the Houzz affiliate program?
Well, there is certainly some potential to make some money with this.
However, since their power rank is not very good, I wouldn't suggest using this as your main affiliate program.
To me, it looks more like a platform for people to get ideas and inspiration and less for direct sales — although, they do at least have that 30 day cookie, which will give you some time.
It's probably best to combine this with other more successful programs, such as Wayfair and Amazon and have the Houzz program as a complimentary one.
As the saying goes – don't put all your eggs in one basket! 🙂