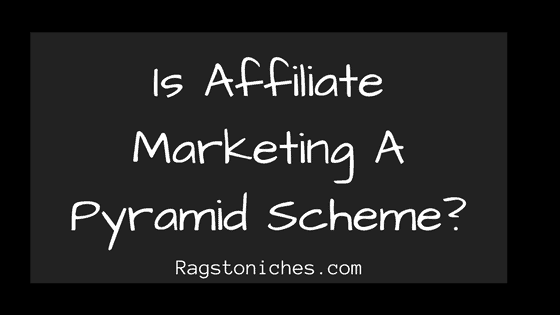 Is Affiliate Marketing A Pyramid Scheme?
While this is an unusual question, it is still one that frequently pops up, so I thought I would address it.
With new people coming online all the time, and the vast number of scams that are on the net, it's no wonder that affiliate marketing itself is brought into question.
Most commonly, I see a comparison drawn between multi-level-marketing and pyramid schemes, but less so with Affiliate Marketing.
However, there have been some scams that claim to be using affiliate marketing, when they've been more comparable to an pyramid scheme.
I will explain how in a moment.
In order to explain how affiliate marketing is not a pyramid scheme, it's important to understand what both these things are individually.
What Is Affiliate Marketing?
Affiliate marketing is where you promote and sell other peoples products or services online, for a commission.
You are the middleman between product and consumer. Normally, (but not always) you'll have a website and an email list and you will promote other people products to your visitors.
Normally you'll have access to affiliate links, which you'll use to link people to products or services and which are solely individual to you.
This will allow you to track and monitor your sales.
If a customer clicks through from your affiliate link to the product/service and buys something, you then earn a commission.
Often there will be a window of opportunity where you can earn a commission – in some cases a sale has to be made within 24 hours, (such as with the Amazon program), in other cases it'll be 30 days.
In some cases, you can also earn recurring commissions. Normally, this will be when you're promoting something like a membership program, where you can get recurring commissions each month.
Thousands and thousands of products now have an affiliate program attached to them and that is just growing over time.
You can choose to promote whatever you like and whatever is a good fit for your niche.
For further info about Affiliate marketing, check out these posts:
What is a Pyramid Scheme?
Traditionally, a Pyramid scheme starts with the creator recruiting people into the scheme for a fee.
The people he recruits will then also bring more people in, who also pay a fee and a percentage that fee will also be passed up to the upper levels.
This continues on and money filters up to the top of the pyramid. In most cases, there is no product or service on offer, just money being exchanged.
The more people that are recruited into the scheme, the lower the return.
Eventually it gets to the point where the recruits do not make a return on their investment and this leads to the Pyramid scheme collapsing.
A huge majority of people who invest into Pyramid schemes, do not make a profit.
What's Wrong With Pyramid Schemes?
Pyramid schemes are illegal in many countries. They're designed to mislead investors into believing they'll make big returns for their investment and that it will be easy money.
While a minority may well make money from their investment – the mass majority will not.
It's predicted that as much as 90% of investors into a pyramid scheme will lose their money.
People on the lower levels are simply used to fund the people at the top and make them more money.
Pyramid Schemes And The MLM Connection:
Pyramid schemes have been regularly compared to multi-level-marketing schemes (MLMs) – and some MLM's have also been revealed to be pyramid schemes over time.
If it can be proved that the product or service on offer within an MLM is secondary to recruiting others into the business, or that the products/services are only being sold to people within the scheme, then the MLM will be at risk of being closed down.
MLM's are criticised for the payment structures they have in place, which encourages people to recruit a downline of people into the business and profit from a percentage of the sales their recruits make.
So, you can see that without a strong core product or service involved, some MLM's can quickly begin to look like Pyramid schemes.
Many MLM's have been criticised for making unrealistic promises to bring people into the business.
Focusing on selling the dream of financial freedom and independence and ignoring the reality, that a majority of anyone joining an MLM will not be successful.
Mostly they're criticised for largely pushing recruits to bring more people into the business to make money, rather than the sales of products or services.
Affiliate Marketing And Pyramid Schemes:
There are some affiliate marketing scams out there, that could be more comparable to pyramid schemes.
For example, there are programs whereby you need to pay money in order to have any access to an affiliate program and then you need to merely sell the product you just purchased, in order to make money.
So, all you have then achieved is purchased a program showing you how to sell and empty product, with no real value attached.
The difference in this case though, is that there is no downline being created, you will just be earning a commission for your sales.
There may be recurring commissions, but you wouldn't be benefiting from your recruits sales – or else that starts to look more like an MLM, (or a pyramid scheme if there are no tangible products or services).
Still there are certainly affiliate programs, which will generally make unrealistic claims about how much money you can earn, that will be not selling a tangible product.
There are also cases where there is a basic, smoke-screen product on offer, of limited value, that they use for their affiliates to sell.
But really, what they're selling is the opportunity to sell a meaningless product and get others into the fold, who will do the same and so on and so on…
In order to avoid falling for these scams, pay attention to a few things before you purchase a product related to affiliate marketing.
SCAM WARNINGS…
How much information do they give you about the product?
Scam products give you very limited information about the product itself. The focus will generally be on how much money you'll make, not about what you'll be taught.
No free trial, you can't check out what the program is about before you buy it.
You might be offered a money back guarantee, but you won't be able to check out the program first.
Now, there are plenty of programs that do not offer trials and are certainly not scams so don't take this as a sure sign, but when a program ALSO gives you very vague information about it on top, then have a rethink!
They'll often claim you can make a lot of money quickly and/or on autopilot.
Fake affiliate marketing training want to tap into the get-rich-quick market mentality, those are the types of people they are targeting.
They pray on those desperate for money and wanting to make it quickly, which is why making big money is normally mentioned.
Fake looking testimonials.
There are very often fake testimonial photos or videos, which will show people claiming how much money they've made.
Testimonial videos can be bought on fivver.com for $5 now and you can normally spot the actors by doing a quick search.
If you want to start earning money from a website and learning more about affiliate marketing – check out this post first.
Conclusion: Is Affiliate Marketing A Pyramid Scheme?
While there are definitely affiliate marketing scams that could be comparable to a pyramid scheme, affiliate marketing in itself is completely unrelated.
A majority of businesses and products these days have an affiliate program attached to them, which just means that other people can promote their business or product and earn a commission.
Where the scams come into play, it is when product creators try and sell affiliate marketing as a get-rich-quick scheme.
Affiliate marketing is not difficult to understand or to learn, but it does take time to learn and it takes time to make your first sale, let alone earn a reasonable income from.
What it boils down to is traffic, you need a lot of people viewing your offer in order to make enough sales. You also need a reasonable level of conversion.
If you only have 1 person to purchase something per 10,000 views, you're not going to make very much money, unless you have a huge amount of traffic.
So, being able to generate a decent amount of traffic and being able to convert that traffic into sales at a good rate, will be your ultimate goal.
There are thousands of legitimate affiliate programs out there, in most niches you can imagine.
If you want to get legitimate training, without all the hype and false promises, this is where I started.
You will be able to learn the basics of how to get started in any niche you choose.
Have you been a victim of a pyramid scheme before?
Let me know in the comments!
All the best,