Appjobber provides the general public the ability to complete micro jobs via an App and receive a small financial reward for doing so.
The mico jobs could involve activities such as, visiting a local store and taking a photo of a certain shelf, or taking images from outside and inside the store.
But is Appjobber legit? Will they pay and is this App going to be worth your time?!
I decided to write this Appjobber review today, to give you an overview and explain that, you may have limited options available depending on your location.
If you really want to make 100's or 1000's of extra dollars a month, Apps don't work. Learn how to make more here.
What Is Appjobber About?

There are two reasons you may be interested in Appjobber… either as a business, or as someone looking to get paid for mico-job work.
As a business, you can find out all sorts of important metrics to help your business run better and generate higher profits.
As a micro job worker, you get to complete easy tasks, that some find quite enjoyable and get paid a small amount for doing so.
Once you download the App and allow it to find your current location, you can view all details of jobs in your current, or surrounding areas.
How many jobs you get to see is going to completely depend on where you are in the world and your location.
For example; there does not seem to be much available at all in the UK right now!
When I searched in London as an example; (our capital city after all….) there was not much available and after clicking on them, they all seemed to be for one business – Motorola.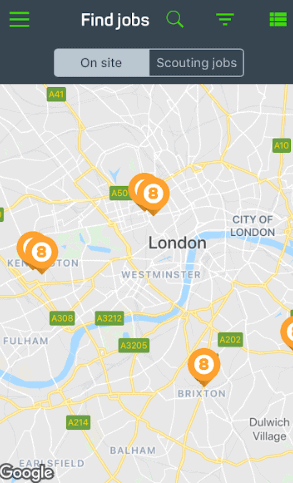 If you do managed to find a job you like, highlighted with those orange pool-like no.8 balls, you need to carefully read the instructions and accept the job if you wanted.
The job available was to go to a Carphone Warehouse, (mobile phone store) and search for Motorola smartphones, where you need to take photos of where the smartphones are placed.
You also need to give some additional info regarding that and do a mystery shopping type task.
Which I imagine would be something like, asking a member of staff for some information and reporting back on that experience.
In any case, you'd get paid £8 for that, (around $10) which is way more than you'd get from something like, survey sites, (for the most part.
But the problem here is, there was barely anything available at all.
Really, there should be some explanation regarding locations and who this App is really worth downloading for.
As the App creators are based in Germany – I am guessing that the most tasks available are going to be based there.
How Long Does It Take To Get Paid?
Another issue I discovered, was regarding payment.
They say on their website, that it could take 2-4 WEEKS for your job to be reviewed by the client, approved and then you paid.
So, by the time you actually get paid, you've more than likely forgotten all about it.
Where Can You Find Jobs?
Appjobber says you can complete jobs in Europe – in fact they say, all over Europe.
You need to complete jobs in the same currency as you however – with the exception of Switzerland.
What Are Scouting Jobs?
On the App, there is the option for search for jobs via your location on the map, or look at scouting jobs.
Scouting jobs will not be location dependent. They may involve collecting info in a particular area, or could just be a survey.
These are an additional thing that you could do, if there were other jobs nearby.
How Much Money Will You Get Per Job?
How much you get varies on the task, the complexity, how long it will take you and many other factors.
Appjobber say you won't get less than 1 Euro a job, (I imagine less than a pound as well, in the UK).
Personally I saw jobs posted for £5 and £8, (5.62 EURO, 8.99 EURO).
You can get paid via PayPal – or straight into your bank account.
What Do Other People Say About Appjobber?
Appjobber is available on both IOS Appstore and Google Play.
On Google right now, it has ove 3k reviews, but only three stars.

As to be expected, many comments are in German.
Someone commented that the App was nice – but there were not enough jobs.
Appjobber replied to say that the App was new in the UK and would get better/more jobs added at the time…………… But that resposne was written in 2015!!!
So, it looks as though they still haven't managed to scale it to the UK.
Some others, (not in the UK) complained that tasks only available in big citties.
Although, this makes sense of course – Appjobber gets paid for helping businesses in this way.
…And the businesses more likely to want to be part of it, if they're in a large town or city, with plenty of people willing to participate.
Some more negative comments include…
That there aren't many jobs in the UK, (that was 2015 – but now in 2019, not many at all).
That a lot of the descriptions were in German – I didn't notice this on the App, so maybe this has changed.
That the app uses too much data.
That the app crashes frequently.
That payment can be very slow.
On the App store, there are only a few reviews and they're all from a long time ago.
Are you getting many jobs on AppJobber? Let me know in the comments!
Pros Vs Cons:
PROS
Some reasonable paying micro jobs, if you can get them.
Available across Europe,
You can get paid via PayPal, or into your bank.
Free & easy to get started.
CONS
Seems to be limited jobs available – particularly in the UK!
Payment can take a really long time to register.
Some have complained about glitches.
Is AppJobber Legit….. Nice Work, If You Can Get It?
This sort of App isn't unique – there are many others out there like it, such as field agent and StreetBees.
By the look of it, some of the jobs pay OK for a small amount of work, (that is, if the jobs are actually close to you, otherwise you have to take travel costs out of your profit!).
The problem with this App is, there don't seem to be enough jobs and not for some time.
There are limited recent reviews, (none on Google Play since 2018) and very few at all for the App Store – all several years old.
I'm not sure this App will be getting better any time soon!
If you're interested in other apps, check out these 14 that could make you money.
Ultimately, you're only going to make a small amount with Apps! If you want to make a bigger income long-term, check out the training here.
All the best,