Apps are providing one of the newest ways that people have started to make and save money online. 
It's great for convenience, as most of us are attached to our smartphones like they're an extension of our body.
Who can brave a long commute, without the distraction of their trusty smartphone friend?  But what about AppNana?
Is AppNana legit, or just a waste of your time?
Today, I will be doing a quick review of this App – if you're interested in Apps, I wrote a post recently outlining 14 apps that could make you money.
From what I have found with Apps so far though, is they can be fine for a little pocket change or cashback, but they're not going to make you anything very substantial.
If you'd like to make money online in the long term and are ready to put in some hard work: this is where you can learn.
In any case, I downloaded this app and had a look at what was on offer.
AppNana – Review In Brief:
Website: AppNana.com
Business: phone app, earn gift cards
Money making opportunity: pocket money
Verdict: Legit… but I don't recommend it.
What Is AppNana & How Do You Earn
This is a free to download app, (available on IOS and android) from anywhere worldwide.
It is very similar to many apps out there today, where you need to perform certain tasks for points, that you can save up and exchange those points for giftcards.
However, you will needto accumulate a lot of points in order to pay out much at all.
How many really points you need, will depend on where you are located and what reward you're going for.
For example; in the US – you would need 90,000 nanas to withdraw $5!
In the UK, you need 90,000 Nanas. That's a whole lotta Nanas!
You will get over 10,000 as a sign up bonus incentive and you're also meant to receive a 400 nana bonus boost every day you login.
That being said, there have been some complaints from people not receiving their bonus.
>>If you'd like $5 just for signing up – check out this Place.
What Tasks Do You Do For Cash?
So, how many Nana points do you get for things?
The way you earn here are by downloading Apps, such as game apps and casino offers.
Most of these are games that you're meant to be testing and they will have strict guidelines for each app, explaining what you need to do in order to receive your reward.
When I joined the app – there were some of the things available to me, (these may be totally different depending on your location).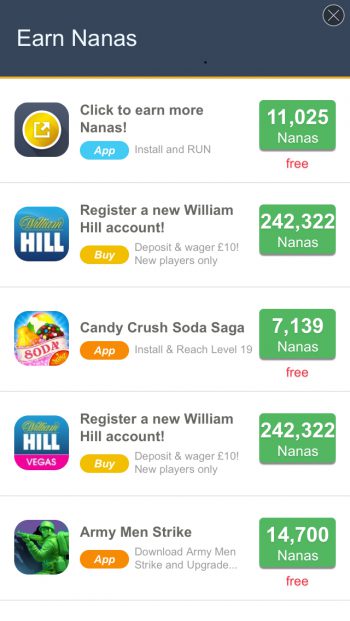 For me, there wasn't much there available.
A handful of games, a few casino offers.  Unusually, an online colouring book app.
For the most part, you will be required to play the game to a certain level, or for a certain amount of time.
If you fail to do this, you will not recieve your points.
A lot of people have complained to App Nana that they are not getting their points.
Intuitively, I feel that most of these complaints could be due to people not completing the instructions correctly.
In addition to game apps, there will various other things that could pop up – such as casino offers.
What apps you can download and what are actually available, will depend on what country your from.
This can be frustrating for many people, where there may be a limited amount they can do for points.
Are there many apps available to download in your country?  Leave me a comment below!
What Rewards Can You Get?
As you can see from the image above – this company offers the following rewards:
Amazon
Itunes
Google Play
Xbox gift cards
I personally enjoy getting Amazon giftcards from these types of apps or sites.  It's useful to save up for things like, birthday gifts.
AppNana Referral Program:
App Nana seems to have a regular referral program for anyone and then an elevated one that you can apply for.
With the regular one, anyone can use it.  You simply share your invitation code anywhere you like and who ever signs up using it will earn you 2,500 nanas.
Which, when you consider that you need 90,000 nanas for $5, it's not very much at all?!
However, if you have a popular YouTube channel, social media following, or blog/website – you can apply to become an affiliate for AppNana.
That means you will promote them and earn a commission for people that sign up – they don't say on their affiliate sign up page how much that will be.
Sometimes however, affiliate programs can lead to a lot of people to promote it, even when they don't think it's very good.
This is far more likely when a free-to-use program/app or service is available Wordwide… Because, understandably, many people are around the world desperate enough for money that they will try and make anything they can.
If you see below, they claim that most of their qualified affiliates are making $300 a day and that will entice a lot of people to get involved.
I have to say, I am dubious about that claim.
I would hazard a guess that the very top 1% of their affiliates could be making that …but that a majority are not making anything like that.
While I could apply for this referral program, I haven't been impressed enough by it to really actively promote it.
I only promote things that I genuinely feel are worth your effort in some way.
For me, not only is there just not enough here – the pay is too low for what you have to do.
When you look at what else is available and the amount you earn… referring people earns you more than most of the apps you have to download!
There can then start being an issue where more people are referring other people to sign up for the app, than actually using it themselves!
AppNana Feedback Online:
App Nana have an average of 4.5 stars on google play, which is all well and good.
Over half a million people have voted…  BUT….  there again, I am not convinced that positive feedback is genuine!
I saw some people  adding their referral codes to their reviews.
So, were those reviews really legit… or were they just trying to get referrals?  Hmm…
There are also some recurring complaints that are worth mentioning.
People complain they don't always recieve their "nana," points.
It takes forever to make enough points to cashout, (pretty common though, you won't earn much)
Too hard to earn points
Many comments simply claiming it's fake & a scam… although, many not really explaining why they say that.  I imagine the nana points are not coming through.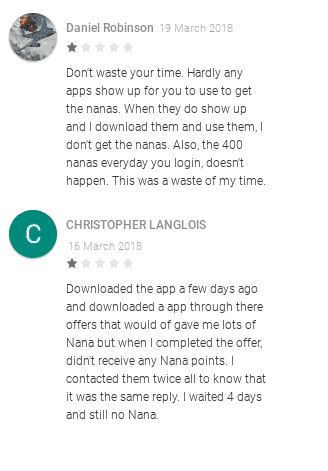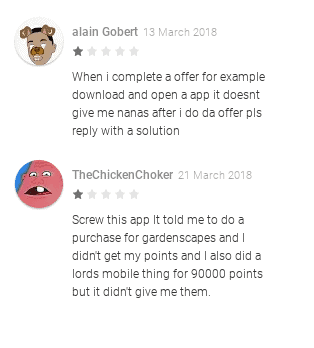 PROS VS CONS
PROS
Variety of payout options.
Wordwide availability.
Low payout threshold.
Potential to earn through their referral program.
CONS
Very slow to earn enough points to get anything!
Lack of offers and apps available to earn from.
People claim they don't always recieve their nana points.
You can earn more for referring people than some of the nanas you get for offers and apps.  I believe this leads people to be on a recruiting mission and they may have zero intention of using the app.
Do I Recommend AppNana – Can You Really Make Money Here?
No, I don't recommend this app at this time.
There isn't much here available to make money and I feel that their affiliate program is being potentially abused by people who are desperate to make money.
This App is open to countries that have next to no apps available to download, (if reviews are to be believed).
This will be encouraging certain countries to do the only thing they CAN do to make money with the app, which is refer people to the app for 2,500 nanas!
Hey, I may be wrong here.  But this is what my intuition is.
I don't think this App should be available in countries where there are not reasonable amounts of ways to earn points.
There really isn't enough in the UK as it is.  I wouldn't bother having this downloaded for what is available.  Hey, maybe it will get better.
But it's a thumbs down from me right now!
Let me know what YOU think about App Nana in the comments.
Beyond Apps Online
I wouldn't really waste time on a make-money type app unless there was some entertainment factor involved that you enjoy.
For example;I use receipt hog. I recommend it because I use it myself.
Do I think it's worth it for the money?  Probably not!  But I enjoy it.
They do NOT have any affiliate program, but I still mention it over other apps that do… because it's fun.
I also enjoy swagbucks and I USE it for cashback and searching the web.
They DO have a referral program, but I recommend them because I use them myself and enjoy the site.
But I wouldnt spend all my time trying to make money from apps, it's just a waste of time.
Several years ago, I learnt how to set up websites and earn from those in a variety of ways.
The good news is, it's something you can grow and grow over time and has led me to making thousands of dollars so far and growing all the time.
CLICK HERE FOR THE EXACT TRAINING I FOLLOWED! 🙂
Let me know your favourite ways to make money online.  I'm always interested in peoples suggestions for new apps or sites online.
All the best,