Is Bizrate Rewards Legit, Or Is This Another Scam Survey Site?
If you found this review, you've likely been wondering whether Bizrate rewards is a legitimate way to make a little bit of extra cash online?
Or you've run into a problem with them and are wondering if other people have too?
I have reviewed many websites very similar to Bizrate Rewards and some are significantly better than others.  Is this one worth your time?  Let's find out.
>> Tired of making pocket change online?  MAKE MORE HERE!
What Is Bizrate Rewards?
Bizrate rewards a standard survey-style rewards website.
That means, that companies pay Bizrate rewards, to collect data for them in the form of survey answers.
The information that is gathered, can help them improve their business.
By understanding their customers behaviour, likes, dislikes, income, opinions and so on; this can help them shape their company and improve profits.
At Bizrate Rewards, you fill out surveys that you qualify for; (which can be an issue, I will come back to that in a moment).
You collect points each time you complete a survey, and you can then eventually redeem them for a giftcard, (such as an Amazon giftcard).
All sounds simple right?  Well, if it was quite that simple; a lot more people would stick to doing paid online surveys.
Just standard paid survey sites are not something that I usually recommend.
This is because, you get paid really badly for the work you put in and will regularly not even qualify to take the surveys to begin with.
Which means one 20 minute surveys, could actually turn into far, far longer.
Mainly because, you can get thrown off any survey part-way through for not qualifying and you won't be rewarded.
This is because every company that puts out a survey, will be looking for a very particular demographic.
These surveys will say something like:  "we've reached our quota," or simply, "sorry, you do not qualify for this survey."
Then, you'll have wasted time answering questions and be back to square one
You then just have to hope that you qualify for the next survey.  But there may not be any more available for several days!
In the case of Bizrate rewards, they also have a lot of complaints against them and I will discuss that further as we go on.
>> My favourite rewards site online is Swagbucks.
How Do You Get Started With Bizrate Rewards?
Sign up With Your Email Address:
Once you've reached the main website, You simply sign up with your email address and set up your profile, by answering some simple questions.
Completing your profile makes it easier for them to match surveys to you, because you won't qualify for them all.
You will not get a username or password, because unfortunately their is no dashboard at Bizrate Rewards, (unlike sites like Swagbucks, or Prize Rebel) you are emailed surveys directly into your inbox.
Wait For Your Email Invite:
You need to wait for a survey to be sent to you.  If you manage to complete a survey, there will be a direct link at the end of the survey, where you can collect your points.
In order to receive any emails at all, you need to make sure you complete your profile questionnaire in full.
Sometimes people make the mistake of not completing it and then wonder why they haven't been sent any surveys.
Once you have reached a minimum of 5,000 points, you will be able exchange these points into a gift card of your choice.  This will be in the form of a gift code, which will be emailed to you.
How Much Will You Make?
Like with all survey sites, you will not be rewarded much for your time.
So, unless you really enjoy completing surveys in your down time, this probably isn't a good option for you.
You only get sent 2-3 surveys per week and – and unless you're quick – the quota will be fulfilled and you won't be able to complete the survey.
This is an incredibly low amount of surveys to have available.
People have reported that you usually only get 50 points for a survey.
Since you need 5000 points to redeem a $5.00 voucher…  how long would it take you to cash out?  Let's work it out.
If you're sent 3 surveys per week, you'd probably make around 150 points a week.
Therefore, it would take you more than 33 weeks to claim back $5.00.  
That's a sobering thought, isn't it?
Bizrate rewards to claim that you can make anything from 50 to 5,000 points PER survey.
But this claim seems highly deceptive, according to reports.  I highly doubt anyone will make 5,000 points from a single survey.
Have you ever made 5,000 points from a single survey at Bizrate Rewards? Leave me a comment below.
The Bizrate Rewards App:
Bizrate had an app, but this closed in December 2016.  Multiple users had problems with it, so it wasn't surprising.
They mentioned the App would be closing via their Facebook page: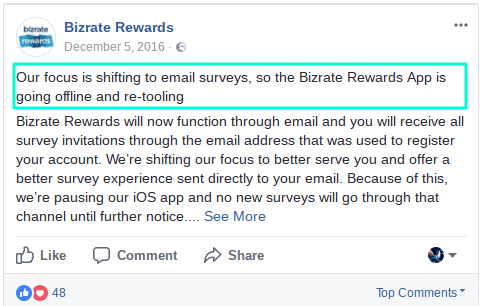 But I was surprised to see that, this was their last Facebook post to date.  That could be a sign that things are not going so well over at Bizrate Rewards.
Bizrate Rewards Complaints:
Bizrate Rewards have had a number of complaints made against them.
One of the most common complaints, surrounds Bizrate Rewards using dishonest marketing tactics and deception.
For example; many people have complained they've been tricked into taking a survey by Bizrate rewards, after making a purchase online.
They say they're offered $100 to complete a survey, but that's not actually what you get.
Don't be fooled by claims like that online; you'll never get paid $100 for completing one survey.
Once they have completed this survey however, they realise that the reward is not actually $100 at all, but a yearly magazine subscription.
But that's not all!
The bigger joke is; that to claim this magazine subscription, you also need to pay $2 per magazine for handling!
They also ask you for your credit card details and you will be charged for further subscriptions, unless you cancel within an allotted time!
This is all in the small print, so you won't know this unless you check and it's not surprising that a lot of people have felt cheated by this.
Bizrate rewards posted a video on this magazine subscription and how you can cancel:
You're also not told at any point prior to completing the survey, that this $100 rewards has anything to do with magazines.
This certainly sounds extremely deceptive and it's no wonder there have been various complaints about this online.
PROS VS CONS
PROS
Simple to join.
Free to sign up.
CONS
According to reports, most surveys offer 50 points per survey – and you need 5,000 to redeem a $5 voucher.
You only get sent 2-3 surveys per week.
Their App closed in December 2016 – many people complained it was faulty.  So, that's one less way you can earn points.
You cannot redeem points until you click on the "redeem link," and unless this link works correctly at the time, you won't receive your points.
Many surveys appear to reach Quota quickly, so you have to be speedy to get the survey.
Many people cannot complete surveys, as they do not qualify.
Claim you can earn $100 from a survey, but it's just a deceptive ploy.
It takes a long time to earn enough points to redeem.
Some have claimed they have stopped receiving surveys, once they get close to being able to redeem points.
So, Is Bizrate Rewards Awards Legit, Or A Scam?
Thousands of people have been paid by Bizrate Rewards and if you put the time into completing the surveys, you can eventually earn a small amount with them.
While Bizrate Rewards is not a scam in entirety, I do find that some of their sales tactics are certainly misleading and deceptive.
In addition, the earning potential looks ridiculously low.
All survey sites have a low-income potential, that's just the nature of them, but this appears one of the lowest I've seen.
As far as the income goes though, you know you need 5,000 points to make $5.00.
So, you can quickly discover how many surveys you need to take, in order to reach that target.
So, it's really up to you whether you want to make the effort.
It's the survey-related companies that claim you can earn thousands from taking surveys, that are the real scammers in the industry.
Unfortunately their are plenty of those.  I am constantly getting people trying to comment on my blog with links to scam survey websites!
Some of them really make big money and so do people promoting them.
As survey sites go though, I just feel Bizrate Rewards has too much negative feedback for me to recommend it.
Therefore, it's gets a big thumbs down from me right now.
The thing with these sites is, they're free to join, (never, ever pay to join a survey reward site!).  So, there isn't a big risk signing up.
Just do not opt into a survey site that tries to take your credit card details, or ones that claim you can make thousands a month from just taking surveys – because you can't.
The biggest downside from joining survey sites that I've found, it there can be a big increase in email spam.
I sign up with a separate email address, that I will only use to sign up to these sites.
Beyond Survey Sites – Making More Money Online?
If you're fed up of making pocket change online from online survey sites and are really looking for a long term opportunity, there is something you could do.
I used to spend many hours a day entering competitions and Sweepstakes to try and win money and prizes… I did pretty well actually, but it wasn't something I could rely on long term.
I quickly realised that paid surveys were also a waste of time, if I wanted to make any real money.
Now days, I make the most online from creating websites, which you can earn from in a variety of ways.  Whether from sponsored posts, affiliate marketing, or paid advertising.
The good thing is, anyone can learn, it's great for beginners and you don't need any technical knowledge, (I know I didn't!).
If you're interested in working to start an online business, that could bring you in a part-time, or even full-time income eventually – Start learning for FREE here!
You don't start making money overnight, but it is something you can grow massively over time and will pay off in the future.
Do you have any experience with Bizrate Rewards?  Let me know in the comments below!  I'd love to hear from you.
All the best,