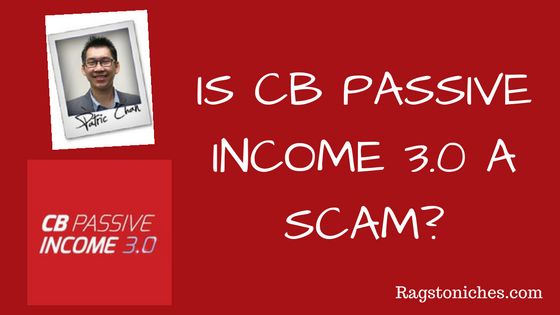 Do you want to generate a super income from a business that you can easily run on autopilot? Hey, doesn't everyone?  Sadly – this is not a a simple passive system that runs on autopilot.
So, is CB Passive income 3.0 a scam?
Or does this program still hold some value?  Lets find out, in my CB passive income 3.0 review.
Product: CB Passive Income 3.0
Creator: Patric Chan
Price: $47 monthly, or a $97 one off price. Plus upsells.
Overall Ranking: 60/100
Update 2017 – CB Passive Income 4 Review here
---
What is CB Passive Income 3.0 about?
This program was developed by Patric Chan, who is a well known internet marketer and the author of a couple of books including: "wake up millionaire."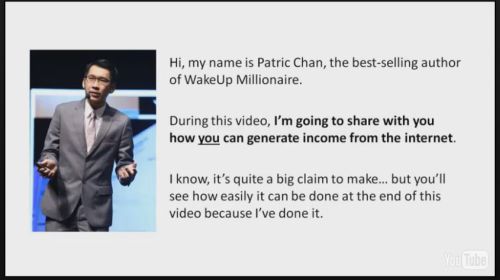 The idea behind the program is that you can create a business that runs for you on autopilot and whereby you have to learn next to nothing about internet marketing.
The only aspect you really need to learn, regards traffic generation.
You will need to drive traffic, (visitors) to a squeeze page, which will present them with an appealing offer for a free product, (a free report or ebook) – in return for their email address.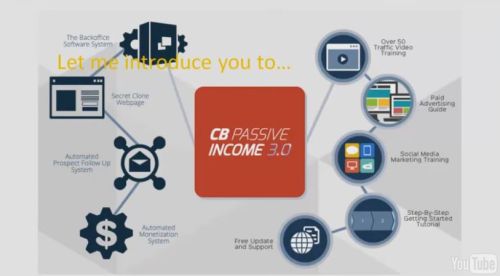 I will always be sceptical of any program that claims to give you an "autopilot" business….because it never is the case.
The word "autopilot," is just a pull for people who really want to make money online, but don't have the technical know-how to get started, who maybe feel they don't have time to learn either and just want something they can essentially set up and forget about.
That's not to say that a business can never be passive or practically run on autopilot, that is possible.  But it would also take years of dedicated hard work and won't be something that just falls into your lap by buying a program.
Unless you're completely outsourcing people to generate traffic to your site, (and that it itself would take considerable work to manage anyway) you will be doing plenty of work after you sign up to this program!
How Does This System Work?
Put simply, you're given a pre-created squeeze page ready to go and you must drive traffic, (paid or otherwise) to this squeeze page that will collect email addresses in exchange for a freebie.
Patric then adds your subscribers to a list and sends them sales motivated emails.  If one of your subscribers buys a product from Patric, you earn a commission.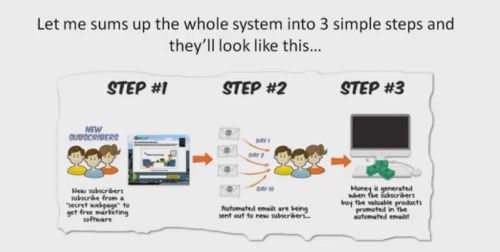 You never have to contact these subscribers yourself, you don't interact with them, you don't have to build up a relationship with them.
The ONLY thing you have to do, is drive traffic to your squeeze page.  That is the catch though, because generating traffic can be the hardest task for any newbie marketer.
(if you have some experience already, then this could be more of a worthwhile product).
The problem is, you can't gain free traffic from Google, unless you're going to create blog posts and direct them via the blog post to the squeeze page – as a single page duplicate website is not going to rank.
But if you start writing blog posts and learning SEO, (search engine optimization) in order to gain free traffic from Google then hold on… the autopilot factor is flying swiftly out of the window…
You could pay for content to be written, but this would also be a large expense.
If you want to start going to all that trouble, then you may as well go the whole hog and just start your own website from scratch, rather than relying on this model, where you will have limited control and be at the mercy of Patric Chan.
Your alternative traffic generation methods could include social media, paid ads – solo ads seems a popular option but can get very expensive very quickly – video marketing and general hustling.
Trying to master a couple of these methods would take work and time. You may well discover that your leads do not convert into sales either… this has been a common complaint.
You will also have very limited control over your business and I feel this is one of the biggest downfalls.
What About If You're Already Experienced?
So, you may be thinking "so what?  I already know all about traffic generation, I could just add this system as additional income stream.."
Well, if you're already experienced enough that you can create your own content, have some SEO knowledge, paid traffic experience and so on, then you don't really need this program.
You can promote any products you like, you have total freedom to promote what you like and build your own list…
However, you could add this in addition to doing all those things anyway, if you wanted to and perhaps you could accumulate some additional income.
You may feel that Patric has the somehow has the edge when it comes to email marketing – maybe you think that he will convert people where you have failed previously.
Well, it would be far more beneficial to you to learn about all this stuff for yourself long term – not to mention more profitable!
(psst… You can actually start learning online for free.)
Plus, there have been multiple complaints of these emails not converting well anyway, or limited emails being sent and so forth.
Ultimately, your aim should be to build a list of  subscribers who like you and trust you…it's well known that cold traffic does not convert well and you certainly won't be building any relationship with your list using this method!
The Training:

There is surprisingly an extensive array of video marketing training to help you get started generating traffic to your squeeze page.
One way to generate traffic, is by using Solo Ads.
This is where you can advertise on another internet marketers mailing list.  This is probably one of the most successful methods you can use, because the leads you generate will be well targeted.
You'll also be going through someone else's list, where trust has already been built up.  People want to buy from people they know and trust!
The problem with solo ads is that they can end up being very expensive and until you try it, you can't be sure that your leads will convert into sales.
Other methods covered include:
An issue here is, if you're not relying on any organic free traffic, you will be on the constant hustle.
This will be very time consuming and will certainly not be automated an passive… unless you outsource the traffic generation aspect too!
Although you would have to be careful to find the right person for the job and this would also increase your costs.
An idea would be to put in your own time in initially and – if you do start seeing sales – you can decide whether to outsource some of the work.
My no.1 concern for CB PASSIVE INCOME 3.0…
You have no control over your own business if you sign up for this program – this may not concern you if you already have other income sources and projects, but I wouldn't recommend you solely dedicate your time to this.
This list you're building is not yours, (unless you are premium) and you have no control over which products are being promoted to your list that you've worked hard to obtain.
In addition, if Partic decides this business model no longer works for him, he can shut up this business at any time and you will be screwed.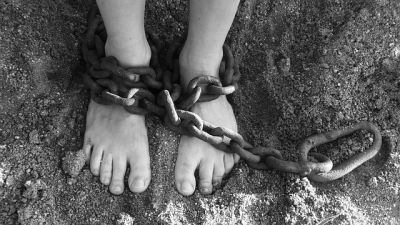 The Pro version will seem appealing to many, as it means you can control your own leads that you generate.
This is certainly the wisest option.
By contrast however, perhaps if you already have a side web business that is doing well and just want to see if you can generate a bit of extra income through a program like this, at least you will really get a chance to check it out – as there is a 60 day money back guarantee and if you aren't making any money by then, you can cancel the whole thing.
What Does It Cost?
You also get special bonuses at this present time when you sign up.
Digital cover software creator.
Traffic from google home course- How to use SEO to gain traffic from google.
Email assassin home course, full of email marketing tactics.
I'm not sure why bonuses 1 or 3 are relevant – as you wouldn't be creating ebooks or sending emails yourself – but these are still good skills to learn for future reference!
If you have more than just this business and have some knowledge in internet marketing, these could also come in handy for you.
Upsells:
A majority of internet marketing products have upsells, but I'm not too bothered as long as they don't make you feel that the first product is useless without the upsells.
Thankfully, these upsells do not do that.
Firstly, you can opt in for passive income PRO at $97 and really, I'm not sure why you wouldn't prefer the one off fee, rather than paying $47 a month.
If you pay for PRO, you also get to keep your own email leads, which could be beneficial to you down the line.
Secondly, there is a "fast cash series" ad on, at $47 a month, or a $1 trial.
The fast cash series guides you how to build a premium WordPress theme and plug in to then sell.
You certainly won't be an overnight success attempting this, the competition for both free themes and plugins is already very high, without considering paid ones.
Unless you already have some experience in this area, personally I'd avoid it.  You can always check it out if you're curious, for the $1.
Finally, there is also the Freedom Formula online program for $297.  This is a four week coaching program meant to follow in the steps of Patric Chan, so you can attempt to replicate his success.
Ultimately, all these Upsells are completely optional and do not have any effect on the originally purchased product.  Therefore, you can take them or leave them!
Pros Vs Cons!
Pros
A simple step by step system, which is easy to set up.
Decent membership area, there is a lot of video training here, covering a broad spectrum of topics and a large amount of ideas for how you can generate traffic.
If you aren't bothered about having little control over this business, it does take away a lot of the hassle that you'd have to go through setting up everything from scratch.
You just need to focus on learning about traffic generation, rather than creating content, learning SEO, keyword research, sourcing products to promote and so on…  As a newbie this would save a lot of time.
A full 60 day money back guarantee.
CONS
This program has been running for several years, so why are there such limited success stories via the sales page?  Those that are there, have only made a pretty small amount.  For example:  One guy made $200, another made two sales…  where are all the guys who have made thousands from this apparently "simple" and "easy" online opportunity?  Surely you'd add your biggest success stories to your own sales video?
Via the intro video, it says it's suitable for you if you want to make a "part-time income on autopilot."  So, it doesn't sound like you would be quitting your day job if you use this system alone.
Despite the claims – this is no autopilot system.  You will need spend a great deal of time driving traffic to your site because, unless you're also going to be adding lots of content and learning SEO, your squeeze pages will not rank in Google and you will not be found in the search engine.
Patric says he knows he's promoting quality products to your list because he is promoting clickbank products… this should be taken with a pinch of salt, as clickbank certainly sells its fair share of junk and shady products!  Being a Clickbank product FAR from guarantees quality!
Patric claims that setting all this up yourself would cost $5,000 a month – as it would include writers, marketers, technical support and so on.  Well, this assumes you'd be outsourcing everything and even this is an over estimation.  However, you could certainly get started learning all this stuff by yourself for free and see you how you go.
 (Start building an online business for FREE here).
---
Conclusion:  Is CB Passive income 3.0 a scam?  
CB passive income 3.0 is definitely not an outright scam, in my opinion.
But it is misleading and certainly dishonest in its claim that you'll be making an income on autopilot.
Ultimately, I don't think you should rely on this one program if you're just starting out, it's much better to learn some basic skills rather than rely on solely anyone else.
You also want control of your business from the start!
You will stand a far greater chance of success down the road if you build on your knowledge from the beginning!
I feel this program could be more appealing to intermediate marketers, who are considering building up multiple sources of income.
For example, if you already have some ideas about how you could direct traffic to your squeeze page and perhaps already have a large social media following or you tube channel, then it might be something you could trial with minimum risk.
As there is the 60 day money back guarantee – there is nothing to lose by checking it out for yourself!
---
Who can you trust?…
People often complain about bad reviews being due to people having their own agendas – e.g; trying to sell other programs to gain a commission.
I have several programs that I recommend and one key program that I rate as my #1 this is because I believe it's the best training program online available today, for learning how to make money online from scratch.
I'd make a lot more money telling you that all these programs are amazing just to make more sales and there are plenty of internet marketers falling over themselves to tell you exactly that.
If someone thinks they will make a good commission promoting something, many marketers will promote it — whether they think it works or not!
I only give good reviews to programs that I think both can actually benefit you and are good value for money.
I hope you found this CB passive income 3.0 review helpful – do you have any personal experience with this program?  I'd love to know!  Leave me a comment below.
All the best… 🙂