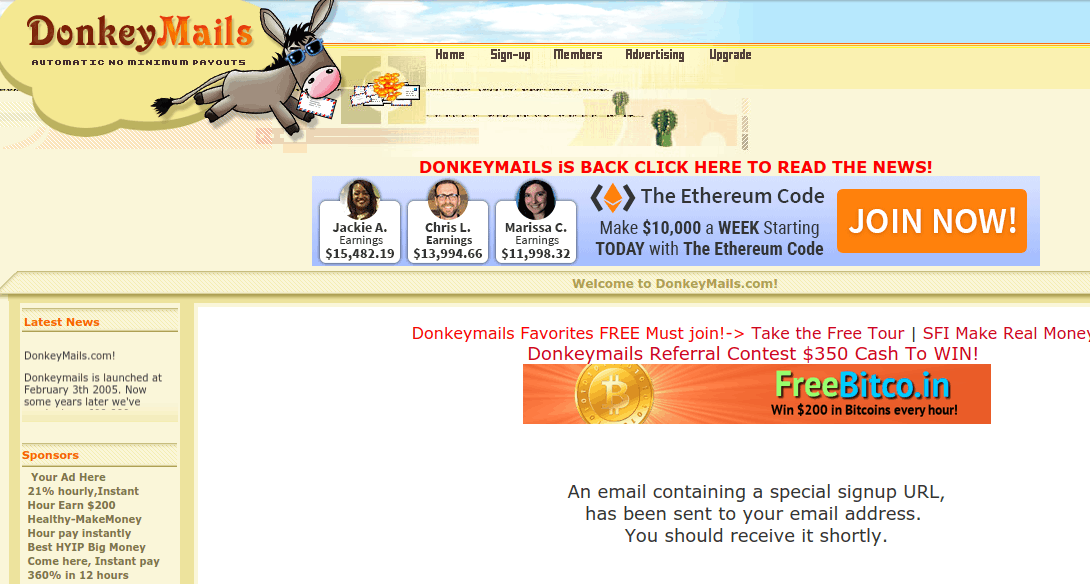 Is Donkeymails a scam, Or a legit website that is actually worth your time and energy?
DonkeyMails.com has been on the web since 2005 and yet, until today, I'd not heard of it.  Just goes to show the infinite number of these types of sites on the web today.
This isn't a get rich quick scheme, it could more accurately be described as a low-income opportunity online for most.
I signed up myself to check it out and see what was on offer.
What Is DonkeyMails About And How Can You Make Money?
From what I can see, DonkeyMails is primarily  a PTC website, (or paid-to-click).  This is where you get paid a small sum for clicking on Ads.
However, they do have some additional ways that you can make money online too.
These include:
Taking online surveys, (

paid

surveys

),
Reading and clicking emails sent to your inbox,
Playing games,
Completing paid offers via their offer wall.
These sorts of sites are free to join and quick to get started with.  You need to fill in your basic details, although you do have to give them your full name and address, (which you may not be comfortable doing).
Like many sites of the PTC variety, there is quite an extensive referral program as well, their referral program runs 5 levels deep.
Members can make 10% of what each of their initial referrals earns, 5% of their second level, 3% of their 3rd and 2% of their 4th, 1% of their 5th.

Therefore, if you have a large social media following, blog/website, or YouTube channel where you could promote this opportunity, then you may do well from that aspect.
Although, from my experience, you would need a process whereby you're continuously bringing in a lot of referrals, as a majority of people don't stick with a PTC site beyond the first week, due to the low earning potential.
The Good Vs The Bad Of DonkeyMails.Com
The Good
PTC sites are notoriously bad at paying members and many end up being closed down.
So, it's surprising that Donkeymails has been going since 2005 and doesn't appear to have a huge number of complaints in this area, despite the fact it's been running so long.
That being said, some people have complained about a variety of factors, which I will run over in a moment.
Another good aspect is that you can join Donkeymails from anywhere in the world, which will be a positive aspect for many.
There is a very low payout threshold – you can withdraw from $1.  PTC sites often do have a low withdrawal, due to the fact the earning potential is so low.
However, other low-income opportunities, (such as survey-sites) can often have far higher thresholds, generally between $10-$20, although sites are improving in this area.
They also have a variety of ways that you can pay out – including paypal.  You may also use LibertyReserve or Payza.  With LibertyReserve you can actually withdraw from 1 cent.
Lastly, if you have a method of getting plenty of on-going referrals, building a downline with this company would be your best chance of making money.
The Bad
The worst aspect about sites like this are that they are really low paid, you're talking about fractions of a cent for clicking on Ads.
A lot of these Ads are also for spammy or scammy products/websites as well, often there are many Ads for other PTC sites actually.
The real way you'd earn anything from these sites is from gaining tonnes of referrals, rather than doing the work yourself.
Another negative here is that there is no forum.  One good thing about many PTC sites is that they usually have a forum and this is where members show their payment proof, share tips and strategies and talk about any issues they're having.
Having a forum adds a level of legitimacy, because any issues can be flagged up.  Although, some of these forums do quickly remove any negative comments, but it's a place for people to have their questions asked and have some support.
While there aren't that many negative reviews, (considering the length of time DonkeyMails has been online) there are, of course, some to be found online.
Some people have complained that they have not received payments, or have been told they have been sent payment but not received that.
Understandably though, this could have been due to some error or other.
While there are a few recent complaints, many seem to be from 2015 and prior to this.
A more common complaint here was people having their account closed prior to receiving payment.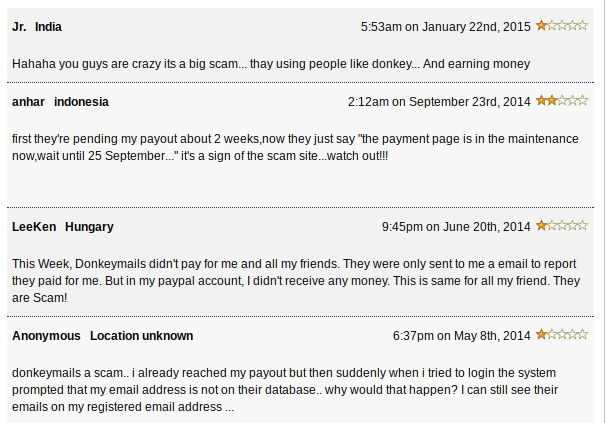 Having accounts suddenly closed down is a common complaint across many platforms such as paid survey sites and PTC related sites.
This is because they're constantly tracking your movements to ensure you're not trying to game the system.
If they feel you're trying to break the rules or scam them in some way, they will immediately close your account.
They will always be strict when it comes to this and this will always lead to complaints – especially when a mistake has been made.
Is DonkeyMails A Scam Or Legit?
Personally, PTC related sites are one of my least favourite ways to make money online because, the general income potential is ridiculously low and a waste of time.
The only true way to make anything reasonable, is via their referral program.
But how can you really promote something that you're not prepared to do yourself?  
Once people realise how pointless it is, they leave.  Then you need to bring in more and more people.
Unless you already have a way of driving traffic to this website, it's not going to be something you can do very easily.
 You would need access to a never ending supply of referrals in order to continue making money with it in the long term.
Aside from the PTC aspect, there are far better sites to join if you really want to do surveys, or paid offers.  
*Check out my favourite extra income sites here.
Ultimately, I don't think Donkeymails is a scam, it is what it claims to be.  But I do think it would be a waste of time for a majority of people!
Do you have any experience with Donkeymails?  Leave me a comment below!
All the best,