Is Fix Monthly Income Real, Or Just Another Scam?
Is Fix Monthly Income a real opportunity online to make some extra cash?  Or is this website going to be a waste of your time?
I went to sign up myself and take a look.  My initial impression was that it looked very similar to another opportunity I reviewed this week.  I'll explain more as we go on!
>> Fed up of scams online?  Try this instead
What Is Fix Monthly Income About?
When I arrived at their website and had a quick glance around the main page, I realised that this opportunity looked similar to another website I reviewed this week called Money Come First.
The idea behind this opportunity is as basic as it comes:
You sign up, you get an

affiliate link.

 
You're told to share it around where ever you can, (blogs, websites, social media and so on),
You get paid a commission per click and sign up.

I will run over the precise details of how this works in a moment.
Be Careful With Your Details:
When I signed up, I used a fake name and email address, because this is not a company I'd trust with my details.
There is a space where you can add your address but this is optional, I didn't add an address and still managed to sign up.
They say that they get paid by advertisers to bring visitors to their website.
Advertisers certainly do pay websites to have a space on them, the problem here is that… there are no Ads on this Fix Monthly Income.

But that aside, even if there were the Ads on the site, the amount they claim to be paying you PER CLICK is $5!
Plus $10 for anyone that both clicks AND signs up to Fix Monthly Income.
If you know anything about pay-per-click advertising, you'll know that this is a ridiculously high amount.  No advertiser would pay that sort of money per click.
In any case, this is how much you're told you will make.  But they also tell you, that you will lose everything you have earned at any stage, if you do not login to you account in a 30 day period!
Which seems a bit much? Well don't worry, you wouldn't make anything anyway – as I will explain in a moment.
How Do Fix Monthly Income Really Earn Money?
Fix Monthly Income do not earn anything from advertising at all, that's just a lie.
In fact, all Fix Monthly Income are after, are your personal details.
These are details that they can sell on to others and it's of no importance to them who wants your details.
So, naturally anything you give to them could end up in the hands of people who are hoping to steal from you in a variety of ways.
But most likely, you will be spammed with information about various other get-rich-quick schemes and scams online.
By the fact you have signed up to Fix Monthly Income in the first place, you're the prime target for online scams.
They know you're wanting to make money online and often they'll be targeting those who want to make a lot of money, for minimal effort.
Far worse than this, you could have people targeting you for details in order to access your bank accounts, your passwords online, or steal your identity.
You Won't Be Able To Cash Out:
Just like the program I recently reviewed, the withdrawal threshold is set at a crazily high $300.
They make it impossible for you to actually withdraw any money and their contact info is fake – I contacted them myself and you can see the result below:

If you take a look, you won't find any privacy policy page either, so they're free to use your details however they want.
So, you'll spend a good amount of time trying to draw people into this opportunity and if you ever manage to reach that $300 threshold, you won't ever be paid.
Scam Signs To Look Out For:
Unfortunately, there are plenty of sophisticated scams that don't make it easy to reveal them to be an outright scam, (even if they're clearly borderline) but with certain scams like this, they're pretty transparent.
Scams like this, share several similarities:
They may say they'll pay you for referrals to click on your link, but this will be way higher than normal.  So, $5-$10 is completely sky high above any norm.
If they claim to pay a large amount per click, how would they manage it?  Who would be paying them this level of money and is there any evidence of that?
Is there a privacy policy/disclaimer or contact details for the business owner?  If there are some contact details on the website, ensure you try and contact them and see if they actually work.
Is there any support – who can you contact if you have a problem and does that contact information hold up?
There will also likely be negative information about them online, have people complained that they haven't been paid?
I didn't have to look far online to see that this was the case: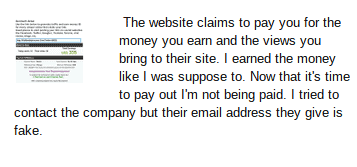 (images source – ripoffreport)
Is Fix Monthly Income A Scam?
Fix Monthly income is not a real money making opportunity in any way, it is a blatant scam, similar in nature to many others online involving link sharing.
They are deceiving you into handing over your personal information, in order to sell this on.
They have no intention of ever paying you and are using you as a tool to bring others to their website and generate as many user details as possible, in order to sell on.
You will get excited to see your earnings multiply in your account, which may then encourage you to continue.
But once you reach threshold, you'll find that you cannot withdraw anything.
By keeping the withdrawal amount very high, they ensure that you bring in plenty of people to them prior to discovering it's a scam.
You can get paid through sharing links online, one of the most popular way of doing this is via affiliate marketing.
Affiliate marketing is how I generate the most income online right now and I was first introduced to that over here.
Have you had any experience with Fix Monthly Income?  I'd love to hear from you.  Please leave me a comment below.
All the best,