Is My Business Venture A Scam?
My Business Venture has been working as a business for over 20 years, but has recently scaled up.
Prior to this year, it appears there was a very limited amount of feedback on this company, but recently more reports have started to emerge.
My Business Venture are offering various done-for-you packages for online business – essentially giving to you your own e-commerce store ready to go.
With the higher value packages, these also include things like training and marketing packages.
While this may look attractive for those with no technical experience or expertise, a lack of knowledge will turn against you if you do not know how to drive traffic to your website.
Paying for traffic and marketing is not cheap.
So, you need to assess how much this will cost you, against the profit you can bring in.
You also need to look into how the products on offer are priced, because if you cannot offer competitive prices, customers will shop elsewhere.
My Business Venture On YouTube:
E-Commerce Is Not Easy:
What concerns me initially with My Business Venture, is they play highly on this being a great opportunity for you to be your own boss, but they make it all sound incredibly easy.
E-commerce is not an easy area to get into, it's it's also not a cheap, nor a simple gateway into making money online.
Unless you have unlimited funds to pay someone else to make it happen, any gateway into online business will still take considerable work and effort on your part.
So, this isn't like buying a ready-made-for-you business that will immediately have you rolling in profit.
You will struggle to regain your investment prior to making any profit and making a profit will be a challenge, due to the products on offer not being competitively priced, (among other things).
What Do My Business Venture Offer?
This company essentially offers individuals a chance to start their own online business by providing them with a head start to get going.
So, they offer packages which include having your website built for you and everything integrated that you need to make sales:
This includes the products, shopping cart, secure payment methods and they're connected to a drop shipping service.
They will also maintain your website for you and there is some marketing involved, although the marketing aspect is where you could end up spending considerably more money, (I will go into that further down!).
So, on the surface, this may seem a good option for people who have limited knowledge as far as building an online business and have the money to pay someone to help them get started.
You can choose the type of products that you wish to sell on your website and they create a website for you and connect the products to it.

How Much Does My Business Venture Cost?
If you'd like My Business Venture to set you up with an online business, they have three packages available to you.
The standard package: (finance package) $495 up front, $100 for 36 months.
The professional package: costs $2,795 (one-off).
Enterprise package: costs $3,995, (one-off).
You can see what's included in these packages below.
Unfortunately, if you're hoping to have any sort of training, you'd need to opt for the most expensive package.
Similarly, if you want to have any marketing included, (which you'd need if you have no experience in that area) you'd need to opt at least for the professional package.
You'd need to be aware of course that you would need help driving traffic to your website indefinitely, if you are unsure of how to drive traffic to your website yourself.
This is one area you should really look into learning about if you're to run your own E-commerce store.
My Business Venture Complaints:
The problem with having a website-business-in-a-box type scenario is, that you will not make any sales at all without plenty of traffic and decent marketing efforts support you.
If you have no experience driving traffic, nor online marketing experience, then you'd either need to learn these skills; or pay someone else to do them for you.
While some online marketing is included in the more expensive packages, this will not be forever, since these are one off payments.
Customers of My business venture have complained that, on top of the start up price, they've had to pay for marketing packages potentially totalling up to thousands of dollars per month.  (Complaint found here).
The problem with these pre-built websites is that they're often not simple to rank in the search engines.  It's far harder to rank e-commerce websites than blogs, or certain other websites.  (article here explains why)
Therefore, many people end up relying on paid traffic to bring people into their E-commerce stores, or need to become exceptionally good at some free methods for driving traffic, (such as via social media).
You may also have some luck with social media marketing to a point, but it's likely you will have to resort to paid traffic methods in addition.
Paying for traffic can be incredibly expensive as it is and is paying someone else to drive traffic for you, will be more costly still.
It's also been said that the products on offer are not competitively priced.
These are branded products that customers will be able to find cheaper elsewhere, making generating sales even more of an uphill battle.
While I can understand the that the services they're providing are understandably thousands of dollars – someone signing up here should be aware of the additional costs they will surely face.
Individuals thinking of going down this route should carefully consider the potential earnings against the additional expenses that will arise.
It's interesting that My Business Venture has yet to have too many complaints online at all, but it's suggested that the brand has recently grown threefold in the last three years, so the lack of feedback until now may reflect this.
Do you have any experience with My Business Venture?  I'd love to hear from you! Please leave a comment below. 
Further Complaints From Customers Online:
I did find one complaint online that I found worthy of mentioning here, although I cannot be certain it's valid, (I will explain why in a moment!).
One customer stated that they had a sales call from My Business Venture and he was told he'd be making money within the very first day.
He was told he would have just three days to back out of the deal, prior to his money being non-refundable.
However, the website itself took four days to even be up and running and although he was unhappy with the website, he could no longer back out.
From here on, various upsells were pushed on him and his wife – including verifying his website with Google for $295!
This is the problem that will arise when you do not have control over your own website – because verifying your account with Google is a straight forward process that anyone can do within minutes, for free.
Unfortunately, this would require being able to access the backend of your website and you do not the power to do so, when you give that responsibility to someone else.
Even more bizarrely however, at the end of a series of complaints I read on this page, the last one claims that the original complaint was in fact posted by his wife, (who had been kept in the dark about him purchasing the package) and was not factual.
He went on to state that he had indeed been successful with My Business Venture and was unable to remove the original complaint.
However, the problem I have with this is, that other complaints against My Business Venture are similar in nature.
The grievances shared in the initial post, do not appear to be out of the ordinary for others.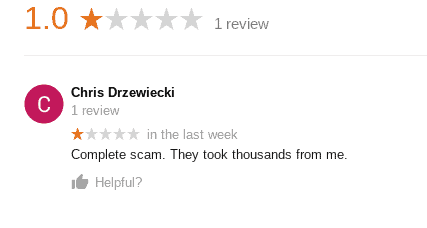 What Has Been Your Experience With My Business Venture?  Leave Me A Comment Below!
Is My Business Venture A Scam?
I'm personally undecided about this company at this stage.
They've been running a long time, I'd expect to see more positive feedback – but there's a lack of feedback in general.
What I will say is that feel that they could be more transparent.
It seems there are hidden costs and people will likely need to spend a lot more money than advertised in order to make their business a success.
I also feel that people should be informed prior to making a decision, of just how comparable the prices of are of the products on offer, via the prices of your major competitors online.
It only takes a click or two to compare your price with another competitor.
If they can get the same product cheaper elsewhere, they usually will.
From my own perspective, it's going to be more beneficial to you to learn how to manage and create your own website and build your own business.
There are some great companies now that make it simple for you to create an online store, such as Shopify.  They offer competitive prices too.
In the long term, being totally in control of your own business will be most beneficial to you and I would recommend managing it yourself from the start.
While it may seem overwhelming initially, these are skills that anyone can learn.
When I first came online, I had zero idea how to set up a website – let alone maintain one.
But it's actually not nearly as complicated as many companies would like you to believe.
This is where I first learnt to set up a website 
There is some free training included there as well.
The first way I initially learnt about making money online was via affiliate marketing, but the training was really a gateway to learning and understanding various ways you can build an income online.
Primarily, I make money from Affiliate Marketing, (recommending products/services) and paid advertising, (having Ads placed on my website).
I'd like to hear your feedback regarding My Business Venture – have you had some success with one of their websites?  Why not let other people hear about it!
For anyone considering this opportunity, just be prepared that it's not just a turn-key system which you set-and-forget.
You will have additional costs to consider and you will need to come up with a strategy for bringing traffic to your site, as well as potentially struggle to sell your products, (if they are not competitively priced).
All the best,