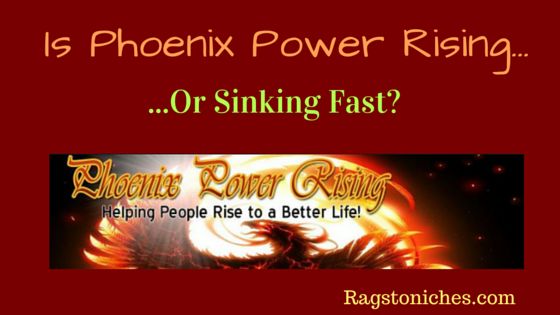 What a lot of noise going on about Phoenix power rising – and plenty of tempers raised it seems.  Ouch.
Is phoenix power rising a scam? You tell me!
Frankly, I wasn't going to bother looking into this,  because I felt enough had been said.
But after reading a bunch of reviews and seeing the seething anger some people exhibited in the comments, I thought… meh, why not.
The thing is, most of the comments I read were only posted up to just after it launched and since then, it's been having some trouble.
So, NOW I'd like to hear what you think….as it stands.
What Is Phoenix Power Rising?
IN BRIEF:  Phoenix Power rising is a Matrix "cycler" program.  Sounds intriguing doesn't it…
Once you're referred, you need to purchase a matrix position.  The first position is $120.   As you refer others to the program you also receive commissions.
Once a cycle is complete, it starts over again – you can purchase higher positions yourself or wait until you've accomplished enough cycles that you can progress.  I will go into more detail below.
Upon your arrival to the main sign up page, you're confronted with this video – which doesn't give much away as far as what is actually involved before you sign up.
Is Phoenix rising a pyramid scheme?
Many people that have been reviewing Phoenix Power Rising have described it as a pyramid scheme.
Well a pyramid scheme will recruit others, who must recruit others and so on – with the promise of payment for enrolling others into the scheme, rather than any products or services involved.
While there are sort of "offers," on the site as a weird add on – they look like they do not belong there.  They also have nothing to do with the actual scheme.
These offers are just weirdly stuck on – as some vague disguise from it being a pure pyramid scheme.  Although, obviously, it's not much of a disguise.
These products have zero to do with this program – for some of the product categories, there are just a bunch photos that lead to nothing…
For example, I went to theme park attractions – there were just photos, no where to click on to anywhere, no info where to get these special discounts.
For dining, I went to a link to another website where I was already LOGGED IN to someone else's account!!!  Who had over $700 dining dollars to spend?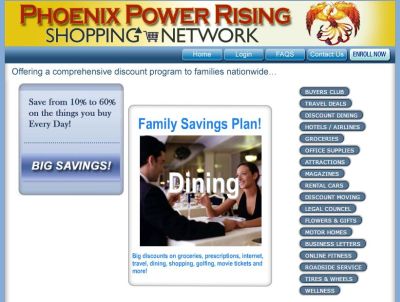 I'd never seen or heard of this site before – it's also a US site and I'm in the UK, so I just swiftly left…
In any case, it's very clear that signing up to this has absolutely nothing to do with products.  Members have access to offers and deals of sorts, but that is not what anyone is selling or promoting.
Compensation Plan
You can see the structure via the image above and it's quite straight forward to work out.
You sit at the top…you then need 2  referrals under you and each of those people will then need 2 people under them …Finally, those two have 2 each under them.
Once this has been achieved  and you have 14 people in your downline, you then start again.
Level 1 you make $300,
Level 2 you make $1500
Level 3 you make $7500
However, unless you pay outright to enter higher levels, you'd need to cycle three times in order to have enough cash to pay to enter level 2.
Achieving this alone would not be an easy task.
Free Sign Up?
For those people who joined prior launch, you could sign up for free.
Since launch it's been said you can still sign up for free – well, I signed up and my only option was to join the first "matrix position" for $120.
Apparently, you can get who ever referred to pay for you from their back end… but I don't see that's going to happen too often.
I've even read that the company will give you a matrix position if you, "can't afford to pay…" … What!?
Who on earth would say they could afford to pay $120 if it was optional!? And if no one paid, there would be no money at all to fund this whole program.  So, clearly some people are paying.
well, I don't know my referrer personally, apart from that I've seen they've commented on practically every negative video and review that I seem to have come across regarding Phoenix Power Rising, with their link.
They're working hard to get those referrals…
Their Website Is Not Secure…
Unfortunately right now, a hacker is on the lose, (or that's the story).  Last update on their website was on June 7th…  (at the time of writing, this is three days ago).
People have had money stolen from their accounts.

Well, it wouldn't surprise me if there was a hacker, because the website is so cheaply created that they no doubt scrimped on security and hosting too.
However… peoples accounts being stolen from?  Money missing, referrals that have completely disappeared?  Would you not be running for the hills yet?
People have been standing up for Terri Petty – but the fact is she HAS been involved in a major scam before.
Yes, I'm aware she was not sentenced – rather others involved were jailed.  But there is also a lot more written about this that people may be interested in.
Just Google it and you will find plenty of people who feel they were lied to and conned, so you can make your own conclusions.
Nevertheless, many people do not seem to care about being associated with a potential scam – nor getting their friends and family involved either.
You may have got in for free – many have not!
By promoting this site, you are risking other people losing money – it's not just about you.
You Have to pay to verify your withdrawal….
You need to give $10 to "verify your account," before you can make a withdrawal. Why is this?
I've certainly never seen this before on any legitimate program.
If thousands of people pay $10 to verify, that's a decent chunk of change isn't it.
I guess all withdrawals are currently "pending," due to the hacker activity…
If anyone has any updates on this, let me know.  They currently say that the programmer is working hard to sort the issues, but that they have a long way to go!!
Worse still, you have to fill out a form to claim any specific money lost OR any referrals that have disappeared off your list.
But what about those who just trusted this site and were not paying close attention to this?  Maybe they don't even realise money is missing or that they're missing referrals.
In those cases, I guess whatever they had – is gone for good.
Pros Vs Cons
Pros…
Cons
Run by someone previously involved in a scam.
Dangerous, unsafe website with lack of security – where people have now had money stolen and their referrals disappear.
Clearly appears to be a pyramid scheme.
Untrustworthy.
So, What Do You Make Of It?
If you've signed up to this program, have put money into it, or have had money taken from your account – leave me a comment.
The trouble is guys, that there are so many alarm bells ringing all over the place with this website…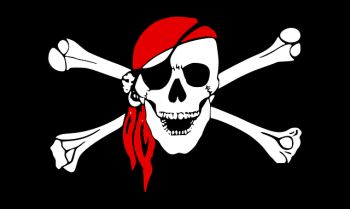 This site is clearly unsafe – and people have now already lost money that they will need to fight to get back.
Even before money was stolen, miraculously people were having payment issues and being unable to withdraw.
If this site has been hacked, (as it claims to have been by the creator) – You should be cautious that your personal info on there will not be safe.
Legit Programs Online….
People that have review sites like me, have often been victims of scams in the past and want people to go into these things with their eyes open.
This isn't about business bashing, it's about trying to stop people falling victim to – not only scams – but dishonest programs, programs that don't work, programs that don't deliver and other bullshit that you find online.
There is so much crap out there!  I absolutely wish I could say that wasn't true!
I will not promote a program that I think isn't good or worth your time and money, but hundreds of others WILL and they do.
If I gave good reviews all the time, I could make a lot more money – (you can read about this here...Is affiliate marketing a scam?).
However, that money would be temporary, because giving great reviews to bad products will not work out long term.
For a small number of decent reviews, you can check my review tab, (at the top of this site).  Ones that are labelled "Good," or "OK" could be worth a look.
You can also check out where I got started online, over here.  
Do let me know if you have any more news regarding Phoenix Power Rising…
All the best… 🙂