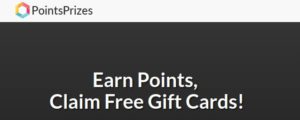 Today I will be looking at another rewards site called PointsPrizes….
Can you make real cash and rewards here?
Is this platform just a fake scam…  Or is PointsPrizes legit?
I was recently introduced to this nice looking GPT (get-paid-to) website – which looked like it had some positive feedback online.
I'm always on the lookout for ways that you could make or save money online, so I decided to go and check it out.
This is my personal experience of the website, but I also checked out what other people had to say too.
Tip – if you want to make 100's or 1000's of dollars per month, Survey sites won't work.  You can learn to make more here.
PointsPrizes Review In Brief:
Website: https:www.pointsprizes.com You can sign up online, but you can also download the app via app store or Google play.
Income Opportunity:  Pocket Money
Overall Verdict:  Legit.  This is a legitimate GPT platform that only just got started in 2016. 
While there is plenty of good feedback online, there are also people who haven't been happy with their experience. 
I will go into more detail below!  Ultimately, you can't please everyone. But if you're looking for a new get-paid-to site, then this one has plenty on offer and is super quick to sign up to.
What Is PointsPrizes About – First Impressions.
Points Prizes pay you in points for completing a variety of tasks such as; completing paid and trial offers, completing various paid surveys, watching videos and entering online sweepstakes/competitions.
Initially, I thought this site was going to be more like Prizegrab – but you can earn real gift cards, not just prizes.
When you accumulate enough points, you can exchange the points for gift cards.
There is a large variety that you can choose from; which I will elaborate on a bit further down.
The first thing I liked about this website is, you only have to input your email address to initially access the site.
So, you don't need to even use your name, or address – which is a big bonus in my book.
I was a bit worried that it wouldn't remember me.
But every time I have logged in with just my email address, it has all my points still noted every time, (even when I downloaded the app).
My first impression of the overall appearance of the site was very good.  The layout is clean, attractive to look at and simple to navigate.
When you sign in, you will find a page full of different offers right in front of you on the dashboard.
Each offer available is worth a certain number of points.  For example; 128 points for the Swagbucks offer below.
To the left-hand side of the main page, there is also a panel with various options you can choose from, some with drop down menus with yet more options. These included:
Earn Points: Top offers, Offer Walls, Survey Routers, Gaming Offers, Video Ads and Daily Poll.
Claim Prizes:  This is where you can exchange points for gift cards.  There were a large variety of cards on offer including: PayPal, PlayStation, Bitcoin, Google Play, Minecraft, Robux code, Fortnite, ITunes, Amazon, Xbox, Nintendo Shop, Netflix, Paysafe card, Apple gift card…. and much more!!
Use coupons: This is where you can enter codes that you may find on social media, or hidden places online and you can earn extra points by inputting the code you find here.  There are also links to places that you may be able to discover codes.
Referral Links:  This is where you can use direct links with your friends and family and earn from it.  If your friend or family member signs up to Points Prizes via your link, you will earn 10%  of everything they earn, for the lifetime of their membership.  The way they do this is quite interesting, they have affiliate codes direct to different articles on points prizes.  So, for example; if you know a Roblox fan, there is an affiliate link you can share that will lead them to an article about how to get free Robux.
Account:  This is where you can change your account settings and see all the points you've made from surveys, offers, prizes and referrals.
How To Earn Points – YOUTUBE Points Prizes Tutorial!
Survey Routers – Plenty To Choose From:
The Survey Router section will take you to various companies that provide online surveys.  For the most part, these are companies I have used before myself, or have heard about.
When I signed up, the ones available for me to check out were:
Tap Research
Peanut Lab Surveys
SaySo Rewards
Revenue Hut
Wannads Surveys
Ad Gate Media
These are all legitimate companies and they find paid surveys for you to complete online.  Many of which I have seen and used before, on other paid survey sites.
One I hadn't tried was Wannads surveys, so I decided to try a survey there.
There were lots of options available with other sites that they would link you too.
Every time you join one of these, you will normally have to answer some profile questions.  This is quite repetitive, but this is just what happens with surveys and you just have to get through it.
The first survey I didn't qualify for, but they then went searching for another one right away.
I was pleased that I was sent directly to another survey.  They predicted it would take about 15 minutes, it seemed to take me a little longer, but I was relieved to get through it.
After a little while, my account was credited and I made 45 points.
One thing to be careful of is not to give inconsistent answers or rush through a survey, this is what can lead you to getting chucked off the survey mid way through and be disqualified.
Useful Post:  Check out my top extra income sites!
Tips For Joining Trials:
Paid offers and trials can be a good way to make points quickly.  But you should bear some things in mind before you join them.
Always check the instructions carefully.  How long do you need to remain in the free trial before canceling?
Check When will you be charged if you don't cancel a free trail.
Keep track of all the trials and offers you join and dates you may need to cancel, (if you want to that is) via a spreadsheet or document.
Take screenshots and have proof of you signing up to a trial or offer, in case it's not tracked and you need to provide evidence.
Even if you think you've cancelled something, it's a good idea to keep track of your bank statements – just in case.
Entering Competitions And Sweepstakes:
I have a lot of experience entering sweepstakes online – I did it for years and still enter the odd one occasionally.  At my peak though, I entered thousands a month.
One thing I did learn pretty early on; is always to check the T&C's before you join.
Take a look at the info below:
By entering the competition, you will need to agree for their partners contacting you – which include Scottish Power and The Synergy Consumer Club.  Who will call you up with the telephone number you provide.
See another below:
As you can see above, you need to agree to communication via various methods and by third party sponsors.  While, they do let you know that you can revoke your consent at any time.
When I entered competitions online, I had a completely separate email for it and, in the end, I also got a cheap second mobile phone and used that telephone number.
I also made sure I could not be charged for incoming SMS messages, because sometimes you may forget to check the T&Cs; and end up with texts coming in that you are actually paying for.  This happened to me and I had to block any incoming texts that could charge me money.
When I did get any incoming calls from companies I didn't want – I would just tell them to please remove me from their telephone contact list.  It's better to do that than just ignore calls, which could keep coming.
Referring Others
Like many of these sites, points prizes have a referral program.  You can earn 10% of anything your referral makes on the platform, at no cost to them.
It's really not easy at all to make money in this way however.
Many people just don't stay active on these platforms and they don't make very much anyway… So, they'd have to make $10 before you make a single dollar from one referral.
If you have a very large social media following, a YouTube channel, or a blog – or some way of getting hundreds and hundreds of referrals, then it could be worth it.
But simply spamming your links around on Facebook, or on review sites and blogs – is not a way to make money from referral programs.
However, I do like how Points Prizes have unique affiliate links depending on what someone may be interested in.   F
This will boost the amount of people that may sign up, depending on their interests.
For example:  One affiliate link was to a post about the most cheesy jokes ever!  Another is a link to a list of unblocked game sites for work or school.  Another is a link to a post about how you can make money playing games from home.
Or my personal favorite…. 47 Best Yo Mama Jokes Ever!
I personally hadn't seen this use of unique affiliate links from a GPT website before and thought that looked like a more effective way to get people signing up.
How Much Can You Make?
There is a large variety of gift cards and how many points you need, depends on the gift card.
Two of my favourite reward choices are Paypal and Amazon.
For a $20 Paypal voucher, you need 3000 points.
For a $25 Amazon voucher, you need 3750 points.
Now, this is a pretty high payout threshold in comparison to some sites, but it really depends on how much you plan to use the site – as to how fast you'd reach it.
The problem with a high payout threshold, is so many people get bored with doing tasks before they've reached target and I do think that is a shame.
At a lower payout, it gives people a bit of motivation to continue.
As far as how many points you get – you could earn as little as a couple of points, up to several thousand.  One paid offer I saw was worth 8000 points.
So, without a doubt, you will get the most points for your time with paid offers.  If you're simply doing paid surveys, it is going to take some time to reach 3000 points.
As you saw previously, I made 45 points for one of my surveys – so I'd have to take 66 surveys like that to reach my payout.  I wouldn't recommend solely doing surveys if you want to payout quickly.
What Do Other People Say About PointsPrizes?
PointsPrizes has a lot of good feedback online at the time of writing.
Trust Spot – 4.7 Stars on average.
The only negatives being that it takes a pretty long time for some people to reach the payout threshold and that it can take sometime to receive your payment.
Google Play – 4.4 Stars on average
Downsides are, again it taking a long time to accumulate points.  I do some 1 star reviews here, most of which talk about the app being an issue for them.
I believe partly this is due to offers not always being available.  In some parts of the world, you may not be eligible for most offers and therefore people feel annoyed by this and leave a bad review.
I downloaded the app and it looked like a smaller version of the website – I couldn't visit the sections that you can on the website.  There weren't any videos available to me, this could well be due to my location.  You can link to the website from the app though.
The App largely had offers/ sweepstakes/small amount of surveys. I personally far preferred the website, but that may just be me.
Net Business Rating – 4.7 Stars on average  In this case though, a lot of people are leaving their five star reviews with their affiliate link right after their review…..
Many people are just trying to get referrals for multiple sites like this.  It's different if they're actually sharing both pros and cons and giving an honest review…
But just giving it simply perfect rating for PointsPrizes, followed by an affiliate link; is not a genuine review.
In some parts of the world, the value of the dollar is worth considerably more – therefore, some people do resort to dishonest tactics to try and get referrals and make more money with GPT websites, or make-money Apps.
PROS VS CONS
PROS
Nice looking site, easy to navigate.
A variety of different ways to earn.
I qualified personally more quickly for surveys than other sites.
The surveys I tried were relatively short.
Can take time to receive reward payments.
CONS
High payout threshold of $20.
Some people have complained about the app.
It will be quite slow to get to your minimum 3000 points required to cash out.
Some offers will certainly lead to spam – always read the T&Cs; and think twice before you use your regular email address/telephone number.
The amount of offers available to you will depend on your location.
Conclusion:  Is Points Prizes Legit?
Points Prizes is a legitimate GPT site and they have quite a bunch of different ways you can earn points –  largely from trial and cash offers and from online paid surveys.
You can also make 10% of what your referrals earn and I like the way they have a variety of affiliate links to share.
Regarding the app, it would be nice to be able to access as much on there as you can on the main website.
I managed to complete a survey on just the second try, which is quite rare for me.  It's not uncommon for me to have to try 5 or 6 surveys before I even complete one!  So, that was definitely a bonus.
Bear in mind, this is a way to earn a small amount of money; although you can earn quite a bit more completing things such as paid offers – which tend to pay the highest on GPT sites.
Making More Online:
If you actually came online seeking a way to boost your income, joining survey websites is not going to make you very much at all!
I came online with zero experience, but did learn from scratch how to build blogs that could generate me an income over time.
If you're not really sure what you want to do – you may want to check out my 40+ ways to make money online.
If you'd like to learn how I personally make money online – I got started here!
Do you have any direct experience with Points Prizes?  Please let me know in the comments below!
All the best,