Is Superpay.me A Scam?!  Check Out How I Got On…
Superpay.me is a growing site with over 600,000 members at the time of writing.
This is a GPT website, (get-paid-to) and this means, you get paid for completing certain tasks, such as completing surveys and offers.
It has a variety of ways to earn online, which is something I prefer with survey-related sites, (because surveys can be so annoying to qualify for!).
But does this platform really offer anything different?  I went to check it out and this is what I made of it.
Website: www.superpay.me
Earning Potential: pocket money for most.
Verdict: Legit, but probably not worth the effort!

Signing Up With Superpay.me
Signing up with this website was pretty simple & quick, but you do need to give them your home address.
This isn't always the case with these type of websites and I would rather not have to give that information.
You also have the option of entering your paypal/payza or bitcoin account email there; but you can do this later otherwise.
Once I signed in, I was told I had 3 messages in my inbox.  One was about their referral program, (see info below).
One was letting me know ways that I could make $50 a day – where they suggested completing daily surveys, doing offers and referring others.
The third was simply a welcome email, but it was quite a nice touch that I was provided with some information.
From here on, I was able to explore the platform an see what was on offer.
The Points/Cash System & withdrawals.
It's a bit confusing, but you're paid in both points AND cash here – depending on what it is you're doing.
1 point = 0.01 Cash only.   100 points = $1
You're able to convert your points to cash, or your cash into points too.
You need to first make a cash withdrawal, before you're able to get any points rewards.
You can withdraw your cash via paypal, skrill or Payza – and bitcoin.
The good thing is, you can withdraw with only $1, (unless it's via bitcoin, it which case it's $50).
For a $5 sign up bonus, try this website.
Ways To Earn With Superpay.me:
You might think that one good thing about this site is that there are lots of different ways to earn.
There are lots of different third party companies, sort of clubbed together in one space.
This reminded me of a similar site I reviewed recently called pocketmoneygpt  –
The problem is, you have to keep putting in your details again to participate with these different surveys and then you're then sent off to other survey websites.
You then have to fill out profiling survey, after profiling survey and more details … and it takes forever to really get anywhere.
I found it very frustrating and furthermore, I couldn't seem to get to a single survey that I qualified for, (see below for my own experience).
In any case, see below for a list of different ways that you can earn with this website.
Their "Earn Money Section…"
This section links you up with various survey providers.
There are also some companies listed here, where you can earn a small amount for watching videos and trailers, (there aren't many available and they pay next to nothing, so that's not really worth it).
They give you lists of surveys with times and potential earnings here; but I'm convinced this is real information.
For example; where you see there is a 5 minute survey available for $0.50, it's usually not what you actually get.
Once you click that link you will be sent to another site, where you have to answer multiple questions.
Then it will often say it's "searching," for a survey…
But, what happened to the one I was just sent for?
It will then come back with something completely different, or they then say that there are no surveys available.
The Offer Walls also include some surveys, but are more sections where you will be paid a set amount to complete a certain action…
such as; entering a sweepstake, (careful here with what email you choose, these can lead to spam).
Signing up to a website, downloading an app, buying a domain name, or sign up to an online casino.
The pay for offers really varies.
One of the lower end offers only paid 9 points, (for signing up to roblox).
One of the highest paid 1000 points, (for signing up to a casino).
Obviously, the offers where you have to make a deposit, (such as for a casino) will pay more than a free offer.
They have some sections where you can earn a very small amount to click on Ads.
You have to click on the Ad and then wait for 30 seconds and also enter a capcha code.
I had heard there were plenty of these– but I only saw three Ads when I was there!  (That may be due to my location).
I was credited $0.02 for the first ad.  $0.002 for the second and $0.001 for the third! 
You won't make money clicking on Ads, it's a total waste of time in my opinion.
Referring Others To Superpay.me:
Like many survey related sites, this website has a referral program.
You will be provided with a referral link that you will be able to share via social media/email – or your blog/YoTube channel if you have one.
Every time signs up via your link, they become your referral.
You can then earn 25% of whatever they earn, for the lifetime of their membership.
These sort of referral programs are really not very profitable unless you have hundreds of very active referrals.
That is because, most people who sign up to these sites do not remain very active for long.
Those that do, also do not make very much.
So, 25% of what they earn – while it may sound OK – will generally require a lot of referrals.
If you are able to reach a lot of people however, such as via a blog that has a lot of traffic, or a YouTube channel, then that's going to be a lot more profitable.
If you're interested in how to set up a site that can make money via referral programs and affiliate marketing, this program has some free training.
Enter Contests
There is one contest available, where you could win $1000 in total.
However, it is only only shared out between the top earners and that's split into a variety of prizes ranging from $10 to $350
They also have a link to previous winners.
My Experience With Superpay.me
There are tonnes of different surveys available from different providers here, so I figured it should be easy enough to complete a survey.
Wow, I was certainly wrong there!
One initial downside I noticed was, that for each one you go to, it seems you have to enter your name/address again and sign up.
The first I went to was called opinionlive surveys and they offered two surveys at $0.70 each for 10 minutes.
Generally, when I see that sort of survey in the past, it's either longer than 10 minutes, or I get chucked off.
I went to click on my first survey… and I was first asked whether I wanted to do surveys on mobile phones…
Then, I was asked if I wanted to participate in a study that could potentially earn me several hundred dollars…  I said no, (just trying to get to the survey).
Then it told me it would send me to the survey, but instead it took me to another survey site, (mingle) where I would have had to sign up yet again to another entire site.
So, there wasn't really a survey there at all.
I didn't qualify for the next one either – so, I was then offered a survey that they said would take 20 minutes for $4.20…
I really didn't believe this either to be honest, (I've never qualified for a survey that paid more than $2… not ever!
But I clicked yes anyway, to see what would happen.
That link sent me straight to a "404 error," page.
I decided to get out of there and check out "tap research," instead.
This takes me to another site.  I have to answer 15 quick questions to earn 600 points, (whatever that is)
That was just the survey profile.
When I then went on to try and complete surveys, I couldn't do it because the "done," button for each question, (which moved you on to the next) was not there!
Another issue here is that you're constantly shipped off to third party websites, where the payment structure is totally different.
So, some will be paying in points, (points will mean different things for different sites) some will pay in cash and if you're just doing the odd survey here and there on multiple different sites, you're never going to earn enough to cash out!
If you can manage to actually do a survey, (anywhere) then it would be better to try and focus in on just a few main sites, rather than changing from one to another all the time.
Next I went to "Easy Surveys…" yet another profile to fill out.
After two pages of profile questions, I was told there were no surveys, (I resisted throwing my laptop across the room at this point!)
I would have to complete yet more profile questions in the hope of getting a survey, (which I suspected wouldn't come…)
I was correct, there were no surveys available.
It had now been just under half an hour, I'd tried multiple times and yet was unable to get to a SINGLE SURVEY!!!!

Seems the reviewer above knows exactly how this feels too.
I was determined to get a survey… SURELY, a single survey on a site where you're meant to be able to make money from surveys, would be possible!
I went to the "Pollfish surveys…"  No doubt, this would involve signing up again and more profile questions.
Sure enough, more information was given…  info about my income, who lives with me, occupation and so on.
It asked if I was looking to buy a mobile phone soon, I was not….  so, it chucked me off!!!
It looked for more surveys for me… but no, there were NO MORE SURVEYS!!  More time wasted
Seriously, it's enough to drive you insane.
Have you managed to complete any surveys here? 
Let me know in the comments.
In order to actually make money here, your best bet is to go with the offers.
Although, this may not always work either.
For example; some offers pay you for signing up with other survey sites.
But you need to actually complete a survey in order to receive payment!
Considering how hard it is to actually QUALIFY for any surveys, it may be a challenge to actually get paid.
On the plus side, signing up to survey sites is free.
Whereas, there are plenty of paid offers which will require you to sign up to something using your credit card.
So, I went and looked at the peanut lab section.
Peanut labs WERE something I had  mixed experience with, but had managed to complete some offers/surveys with in the past, so I hoped I would now.
Yet again, more profile questions.  Around 20 or so.
Unfortunately, as far as offers went here, there were only two available and nothing I was interested in, (may be less available for me there, as I'm in the UK).
There were surveys there… so, I went for one that would give me 39 points and claimed to be 9 minutes long.
Yet again, this shipped me off to get another survey company.
This one was called YourSurveys.
Yet more profile questions… they had a survey for me, I answer more questions…  do I complete it?  NO!
I get chucked off yet again for not qualifying.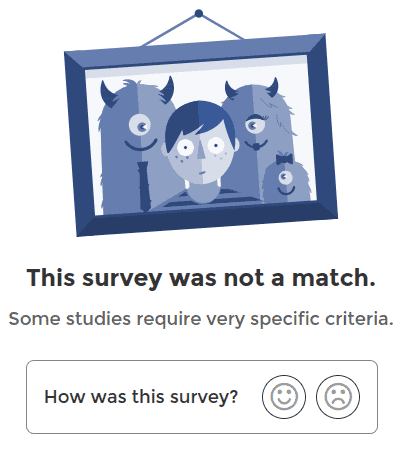 All this time was completely wasted trying to complete a single survey for a tiny amount of pocket change.
Yet people will say you can make reasonable money completing surveys online?!? It's just complete crap.
It's really no wonder that people are under the impression that all survey sites are scams, when they have experiences like this.
When you consider, that they tend to gain quite a bit of information from you for free before you're chucked off.
Your best bet if you still want to pursue online surveys in particular though, (which I don't recommend).
You're probably better off sicking to a couple of main sites that house the surveys there, rather than being shipped off to multiple different sites all the time.
Because then every time you need to answer the profile questions and it's just the same repetitive thing over and over…
Don't get me wrong, it's repetitive in any case!
You will get a tonne of the same questions and it's very, very dull.
BUT at least within certain platforms, you may just about be able to complete the odd survey, (if that's really what you want to do).
What's your favourite pocket money site?  Mine is here.
What People Say Online About Superpay.me
There are some pretty good reviews and feedback online for this site.  But, considering what I've experienced here, I'm a bit surprised to see it.
People do seem pleased as far as being paid goes and they are paying their members.
I also notice that they go to quite an effort to reply to negative reviews online.
I did see some people having the same issue with completing surveys, but there are no surprises there.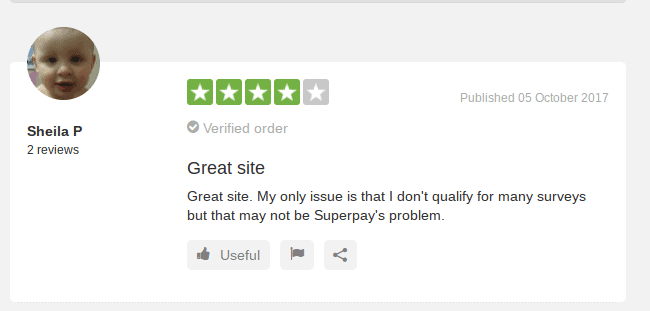 Superpay.me pros vs cons
Pros
low-payout threshold.
referral program pays 25%, which isn't bad.
A variety of ways to earn.
shout-out-box where you can see what what rewards people have recently made.
Cons
You will be sent off to third party companies all over the place and this can be quite irritating and time consuming.
The amounts you're told you will earn on surveys and the ones showing, are probably not the ones you will actually complete.
Surveys are, (as I demonstrated) very hard to actually qualify for, or complete.
You won't earn much doing most of the activities, the highest payouts are from paid offers, which require you to pay something upfront
Is Superpay.me a scam?  Or legitimate?
This website is a legit site, but one that may be frustrating for you to actually earn from.
This doesn't come from this site itself, but this is an issue with paid-surveys in general and the fact that you will be going to many different third party sites and having to enter many repetitive questions.
Then there is the high chance you will be chucked off a survey and having to start all over again, (like I did).
That being said, some people do enjoy this site and it at least provides some choice in the variety of ways that you can earn.
Importantly, they have a good track record paying members at the time of writing.
What's your experience with Superpay.me?  Let me know in the comments!
If you'd like to check it out for yourself join superpay.me here.
Alternatively, if you'd like to learn how to make a bigger income in the long term, this is where I got started.
All the best,