Is Tellwut A Scam – What's The Deal?
I've come across a decent amount of survey related sites now and – for a
majority of the time – I'm not impressed.
Even when I reasonably like the sites, the scope for actually making money, is very small indeed.
Nevertheless, some people do still enjoy participating in survey sites.  So, I am aiming to discover some of the best ones.
But, what about this?  Well,  no, Tellwut is not a scam.  But is it worth your time?  In my Tellwut review today, I will explain what this platform is about, the pros and cons and whether I can recommend it.
Wesbite: www.tellwut.com
Money making potential: small pocket change!
Verdict: Legitimate – this is a legit site that does very small surveys in exchange for points.  The great thing about it is, you won't get disqualified the way you do in many survey panels.  The downside is, you don't get many points at all per survey so, you'll have to do a tonne to reach the payout threshold.    Many people that are fans of Tellwut will be doing it more for the entertainment value than the money!
What Is TellWut About?
Tellwut is a website where you can both create and answer surveys for points and also answer polls.
If you can accumulate enough points, you can transfer these into rewards – gift cards by companies such as Amazon, Starbucks, Walmart, Barnes and Noble, subway and Home Depot.
Unlike some sites, there is no cash out/check or paypal options.
You can also make extra points for referring friends, for each friend that signs up, you can make 25 points.
Considering you do need 4,000 points for a $10 giftcard though, you'd need a lot of referrals for this to help you much.
Related Posts:
Surveys
This site is quite different to some in one key way – many of the surveys are short.  In fact, you can do surveys that are just one question and many others are only 4 to 5 questions long.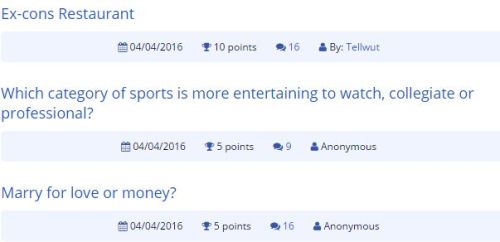 I do like this aspect, as it means you can just jump in and complete a few surveys in a matter of seconds and you're not committed to completing a 15…30…or 45 minute survey.  As is the case with many sites.
In addition, you do not get thrown off these mini surveys for not qualifying.
You will always be able to answer the surveys and collect your points.  This is certainly a big bonus because being relentlessly thrown off surveys that you've already committed time to, is very frustrating.
Creating Surveys
Another unique feature of TellWut is that you can also create your own surveys.
These won't always get you points, but if they are accepted then you can earn between 15-20 points.  You can only submit two a week, but it might be worthwhile for a few extra points.
Take Note
Only residents of the USA or Canada can actually redeem rewards.
You can participate in the surveys, but you will not be able to claim rewards if you are not a resident of USA/Canada.
I'm a resident of the UK, so I was able to complete surveys and sign up, for the purpose of doing this review – but would not be able to redeem any rewards for points accumulated!
How Much Money Can You Make On TellWut?
So, the benefit of having super quick small surveys, (where you won't get disqualified) is that you can do a whole bunch of them very quickly.
The downside is how many you will actually have to complete in order to redeem a reward!
For example … in order to have enough points to get a $10 amazon giftcard, you will need 4,000 points.
Many surveys are 10 points and this will be a 4 – 5 question survey that you could complete in a matter of seconds.
That said, you would need to complete 400 of these 10 point surveys in order to get the 4,000 points you need.
Put another way… if you completed 20 a day for 20 days, you would make your 400 surveys.
That is a lot of surveys to complete for a $10 giftcard!!  Do you really think that's worth your time?!?
But this sort of earning potential with survey sites is very similar, which ever survey site you sign up to.
Praise & Complaints:
When I was researching Tellwut, it actually has plenty of good feedback online.
People tend to love the length of these surveys and the fact that you seem to qualify for most of them.
That being said, people have noticed how slow it can be to reach cash out…

There were some complaints against too and so, it's only fair to bring some of these up and consider them.
Complaints included – accounts being suspended just before you're able to cash out, Emails not being answered, points not being awarded after completing surveys and so on…
These are very common complaints for survey sites in general. So, there are no surprises there.
By contrast though, (and this is also very common) there are plenty of happy customers who do get their rewards in due course and so on.
So, it's always difficult to really get an adequate picture of what's going on.
I wouldn't take the complaints too seriously, as many people who have had their accounts suspended may well have violated the terms of the program.
There are far more positive experiences than negative and I think that's what you need to go on here.
PROS VS CONS
PROS
Super small surveys that are quick to complete.
Easy to navigate site.
Extra points for referring friends and family.
CONS
Small earning potential.
Only USA and Canada.
No cash out option.
Conclusion: Is TellWut A Scam?  Or Legitimate Survey Site?
Some people claim that certain sites are scams just because the earning potential is so low…
I don't think this is a good enough reason to brand something a scam.
While some survey sites have been found out to be scams and do not pay out and so on… TellWut clearly DOES pay out rewards to people that accumulate enough points.
Some people enjoy participating in survey sites, no matter how small the reward.
If you have a bit of spare time and are not really looking to make money seriously , then that's fair enough.
Tellwut isn't a scam, it's just not a serious money-making opportunity.
The short surveys available does make it easy to nip in for a short time and complete some surveys and you also have the option of creating your own surveys, which is a unique aspect.
There are many people that really enjoy this feature of Tellwut.
Personally, I prefer the sites that have more earning possibilities than just surveys, because it adds a bit of variety.
Simply doing survey after survey does get very old, very quick.
If you are actually interested in making more money online in the long term, I suggest you look elsewhere!
Survey sites are never going to allow you to quit your day job
If you're looking at making more like hundreds or thousands of dollars online, (rather than pocket money) this is where I got started.
Alternatively – check out my 40+ ways to make money online... it may give you some ideas!
Other Survey Sites?
If you're still keen on earning money from survey sites, there are a few other survey related sites that I do prefer over this one.
Here are a few that you may want to check out….
Swagbucks

 – 

A fun site where you can earn via searching the web, cashback, cashback, cash offers, surveys and more.

Cashcrate – 

A cash offer and survey site with a reasonable referral program.

Prolific 

– 

A UK based site, but you can join from many countries.  The great part is, they have decent paying surveys and you will always qualify for the survey.
Do you have any experience of survey sites?  Let me know in the comments below!
All the best… 🙂