Some people are claiming that Turnkey Profit Machines is a scam…. But is it?
And if it isn't, is making money with these program really as easy as they claim?
Well, I'm not a fan of hype and, like most sales pages, there is a fair amount of it on their sales page.
But hype on the sales page doesn't necessarily mean the product doesn't contain some decent and worthwhile training, so I wanted to figure out if there is something of value here.
Turnkey Profit Machines Review In Brief
Product:  Turnkey Profits Machines
Creators: Greg Kononenko, Simple Spencer, Stefan Ciancio.
Who Is It For? people who want to make money with Ecommerce.
Price: $27, plus potential upsells $27 and $47.
Mini Review:  This system claims that you can make five figures within a matter of months, even if you have zero experience online and only a 5 hours per week to spend on your business.
 If this was really such an easy system to implement, I query why the creators didn't do their own case study to add to the authenticity of this product.
In any case, I don't believe it's at all as easy as they're trying to claim, particularly not for newbies online.  Ultimately, I think it's OK for the money.
Turnkey Profit Machine Promise:

They claim that this system is completely newbie friendly and that you don't need any previous experience online whatsoever and no technical skills to get started with this.
This program does  also goes down a rather typical "internet marketing product" path, of claiming that you can make a tonne of cash, with very limited amount of time or effort.
These bold claims are generally the sort of thing I'd say you need to watch out for and steer clear of – but it doesn't always mean the product isn't any good.
So What Is Turnkey Profit Machines About?
The training here consists of showing you how you can sell physical products online, by setting up an ecommerce store, (using WooCommerce or shopify) and selling products that you can purchase from various places online, such as Alibaba.
A method they focus on for sourcing products,  is via dropshipping – which means, you don't actually have to ship the product yourself, all that is done for you directly from the supplier.
You're then shown how you can generate traffic to your store via using Facebook Ads.  Which, while can certainly be a great source of traffic for many people, it certainly has a learning curve and is a way that you could lose a lot of money.
After You Purchase:  The Upsells.
There are a couple of upsells to this program – however, unlike many programs, these upsells are not very expensive and you aren't made to feel that they are somehow essential to your success.
Personal turnkey case studies at $27
Done for you machines at $47, (this takes some of the extra work out for you and claims you can get faster results by taking it up – although, I'm dubious about "done-for-you" type products, which often do not deliver).
These upsells are really more just Add-ons, rather than anything essential that you'd need, so you don't have to feel that you're missing out by not purchasing them.
The Training Available: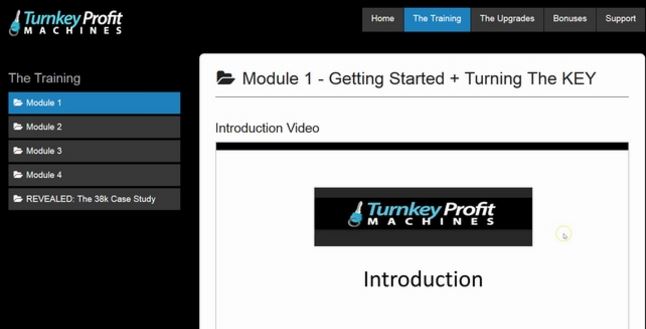 The overall look in the members area is pretty basic, but has everything in there that you'd expect for the program – and the price.
There are four modules, consisting of 16 videos in total, all done by Simple Spencer.  There is also then the over-the-shoulder video 38k case study, by the guy who actually achieved the results.
Module 1 –
Introduction.
Niche selection.
Product research.
What store products to choose.
Regarding the the niche selection phase, he does look around Amazon and talks about how you can go about choosing a niche, but I found this area a bit vague.  Choosing a niche will be one of the most important aspects here to get right before starting your business.
For example, since they're focusing on Facebook advertising, you need to make sure that whatever niche you choose, has a huge amount of interest and likes on Facebook and that the product will be Ad friendly when it comes to setting up your advertising campaigns.
The videos on product research research and store products have some useful tips and information and he also does go into more niche related stuff – such as the distinction between narrow or broad niche and some advice what route to choose.
Module 2 – 
Setting up your store with either Shopify or WooCommerce – and the pros and cons of either store.
Store Set-up.
Optimizing your store.
Setting up an autoresponder – (to build your email list – this section is lacking the depth needed for a complete newbie, e.g. info how to build your email list).
It's worth noting of course, that actually setting up your store can cost you a little bit of money, depending on which route you go down.
I'm more familiar with Shopify and know plenty of people who absolutely love it and it's working brilliantly for them, it's also straight forward to set up.
Shopify will cost between $14-$179 a month depending on what plan you go with.
WooCommerce is a plugin is absolutely free – but you'd need to set it up with a WordPress site.
However, you do need a number of extensions to really make Woocommerce work and these can become expensive – what's more, if you have no experience with WordPress, or setting up websites, then you may need to spend additional money getting someone to do this for you.
Module 3:
Setting up Facebook.
Setting up your fan page.
Setting up Ads.
Ad strategies.
Most of this module is pretty straight forward stuff that you could find out for yourself anywhere online for free.
The most useful section is on Ad strategies, but it's still way too basic to be enough for a complete newbie to start going out there spending money on advertising and making tonnes of cash from the get go —
Paid advertising does involve trial and error in the beginning and that's why it can be a risky strategy to go into if you don't have the cash up front to use.  Basically, do not invest what you can't afford to lose here.
Module 4:
How you can scale it up – (Once you see which of your Ads are clearly successful, you can scale this up).
Retargeting – Facebook retargeting allows you to find out vast info about your customers.  Every time a customer visits your store, Facebook can send you lots of important information about them, that you can use to improve the targeting of your campaigns – such as their interests/demographics/age and so on.
Additional strategies – this video focuses on additional ways that you can drive traffic to your store, such as via blogging or social media.
General Overview, upsells available.
38k Case Study:
This is then one of the best bits of the program in my opinion, which is a set of over-the-shoulder videos by Phil Schaefer.   These set of videos show how he built up to 38k per month, within a couple of months.
This is where I'm a little confused by the program.  Since there are three different individuals who are promoting this program and Spencer created the module training – why did they not implement this too?
If this was really such an easy system, that takes about 5 hours a week, no experience, no knowledge and so on – surely it would have been an easy breeze for them to implement over a couple of months and thereby, more authenticity to this product.
What's more, Phil has refused interviews with people online because he isn't into the whole"internet marketing," scene – while this may be completely true, it just seems a little bit off to me…  what do you think?
PROS VS CONS
PROS
Reasonable step-by-step training.
Some useful tips and advice for sourcing products.
Interesting case study – albeit, a bit suspect.
Low price.
CONS
Depth lacking for total newbies.
Definitely not as simple as they're claiming it to be.
Risky strategy for newbies going head first into paid Ads.
Paid advertising/setting up Shopify/sourcing products, will all add up cost wise, you need to have a certain amount of money set aside for this.
Conclusion: Is Turkey Profit Machines A Scam?
Despite some scepticism I hold about the authenticity of this case study and the fact that I do not believe it's at all as easy as they claim – I don't think this program is a scam at all.
Whether the case study holds or not, the actual training they're proving here is legit and at $28 for the lot, I think it's not much money to invest in a bit of knowledge that could help you on your way to creating an Ecommerce store.
What I don't like, is how it's marketed as an easy system to implement for newbies with no experience, I just don't think that is the case and I don't think people should go into it with that expectation of it being easy and only having to work 5 hours a week to make a five figure income!
Ultimately, for the price it's OK, you can check it out for yourself and there is of course, a 30 day money back guarantee – should you decide it's not worth the price tag.
Have you had any experience with this program?  Let me know in the comments :).
All the best…

Want To Start An Online Business With Low Investment And Minimal Risk?  Try this.