Is Vemma Verve A Pyramid Scheme Scam?
I'm a little ashamed to say, that I enjoy energy drinks.
I'm ashamed because for the most part, they're full of junk and I like to think I try and be relatively healthy.
But also because, I don't believe in kids downing these energy drinks like water.  So, I feel bad for a supporting businesses that are turning kids into little energy drink junkies.
There seems an explosion of kids being hooked on these energy drinks – I see 8 year old kids drinking these things.  There should be some age limit on these drinks, don't you agree?
In any case, Vemma is not offering products that kids can pick up at the local store.  This business is an MLM opportunity and distributors send the products directly to customer homes.
Vemma say their products are far superior, (and healthier) to other related products on the market today, although some critics disagree.
There many complaints against Vemma and they've now had to restructure their compensation plan after sinking into murky Pyramid Scheme waters.
But what about the new and improved Vemma –  Is it now a legitimate business opportunity?
>> Tired of MLM's?  You could try this instead…
What Is Vemma About?
Vemma is a company that sells health and wellness products – primarily energy based drinks, which they claim are far healthier than their competitors.
Vemma distributors sign up to the business for a fee – this will provide them with product and marketing materials.
They're then also advised to tell other people about this opportunity and bring them into the business too.
By  referring others into the business, distributors can grow their income more substantially by earning a percentage of their recruits sales.
Some people certainly rave about their products and have claimed to have improved health since buying them.
However, critics of Vemma accuses them of having overpriced products; powered by hype and unsubstantiated health claims.
Has your health improved since using Vemma products?  Leave me a comment below!
Vemma FTC Settlement 2016:
There were multiple complaints filed to the FTC regarding the Vemma business opportunity.
in 2015, the New York Post Wrote:

Vemma have been now prohibited under a federal court order, for paying any affiliates; unless a majority of their revenue is generated from real-life customers and not just other Vemma distributors.
in 2016 Vemma made a $238 million settlement with the FTC, which banned Vemma from various practices for them to continue.
This included them making unsubstantiated health claims about their products, deceptive earning claims and recruitment-focused business practices – to name a few!
They were ordered to restructured their compensation plan, in order to fit in with FTC guidelines.
You can see an extensive outline of the some of the FTC allegations below: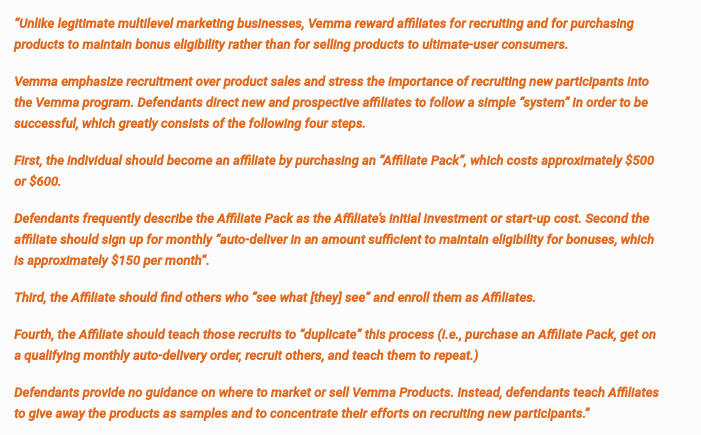 (image source- playersmoney.com)
Vemma Have Adapted Their Compensation Plan:
In order to keep this business live, Vemma have made changes to their compensation plan and this will now abide by the FTC regulations.
On their website they look as though they are certainly trying to encourage affiliates to not simply recruit, but also find real-life customers.
For example; they suggest gaining 10 customers, 2 of which they may think could also become affiliates like them.  They then help those 2 out of 10 customers build their own Vemma business.
51% of affiliate sales now MUST be achieved from direct sales to real customers and not to other affiliates that they're recruiting.
This is a big step and only time will tell whether they can sustain this business, while abiding by the FTC demands.
There has also been more transparency regarding income potential.
Vemma state that highly successful people are not typical.  They were ordered to not make deceptive income claims and this appears to be the case now.
Vemma have also said that while a full-time income is possible; a part-time income is more realistic for most – considering the figures.
Vemma states that 92% of people earn less than $6,000 a year…  Although, that's somewhat misleading.
Because, according to some reports, 80% of distributors don't even make back their original investment.
In any case, Vemma have made efforts to change the structure of their business to comply with the law and are currently up and running in the US and Canada.
Vemma also appears to now be active on Facebook, a recent post suggested they will begin operating in Europe and the UK in Jan 2018.
Have you been an Vemma distributor?  Leave me a comment below.
Joining An MLM Vs Having Your Own Business.
Joining an MLM opportunity (which, pyramid schemes aside, is what Vemma is offering) is not a good alternative to the regular 9-5; nor a great alternative to college!
Vemma has been slammed by critics for focusing their attention on college aged kids and marketing this opportunity as a potential alternative to spending a fortune on a college education.
However, it's just a fallacy that joining an MLM business could provide you with any more freedom, or more security than a regular job.
That is because, you are entirely enslaved to that particular MLM business for your success.  If they eventually fail, so do you.
Even if they're a hugely successful MLM that runs for the rest of your life, the chances of YOU actually being successful within it, is still extremely slim.
People who join these opportunities will generally only have a 1% (or less) chance of making a decent yearly salary – and despite what they may tell you, this isn't just because people don't put the work in.
Far from it, people often plough hundreds and even thousands of dollars into trying to make an MLM work for them and end up worse off than when they started.
Other problems arise when you're relying other people to succeed under you, in order to do well.
For example; if around 50% of your income relies on how well your own recruits are doing, you have very little power over that income.
A majority of recruits will fail, which means you'll always be having to hustle to find more and that will never end.
Then there is the issue of over saturation – the more people that are brought into the opportunity, the more saturated it becomes and the harder it becomes to make sales.
Additional problems may include…
Coping with bad press if the opportunity is facing a lot of complaints.
A large failure rate with your own team.
Trying to sell high priced products, with far lower priced competition.
Dealing with a lot of knock backs, as so many people look at MLM opportunities purely as scams.
The MLM business folding, something that's out of your hands.
Vemma On YouTube:
I took a look online to see what people were saying on YouTube and there were some interesting videos to be found!
Ok, so the video below is a bit of fun and this was created over 3 years ago, prior to the changes to the compensation plan.   
But it will at least give you some insight into how Vemma has been perceived and portrayed online by critics.
It's also important to note that many people who were familiar with Vemma before, will not be aware that they have made changes.
So, if you do join Vemma, you will be going into a business that many people already view negatively.
WARNING – the below video uses the F-word… A LOT.  It's also hilarious.
Vemma PROS VS CONS
PROS
A fairly large number of products to promote and products that will undoubtedly be popular with many people.
Free affiliate website when you sign up with them.
Various marketing materials provided.
They are now pretty transparent with the earning potential, revealing only a very small number of people make any reasonable money.
CONS
Vemma is already going to have a damaged reputation at this point and it won't take any more than a quick google search for potential distributors to realise they've been in trouble before.
Having been closed down once, they'll have to be extremely careful to avoid future action against them.
There are no restrictions on sales people in any one area, which makes the chances of over saturation high.
As this is an MLM, you're going to rely on bringing other people into the business.
A relatively high buy-in, ($500) which reports claim 80% don't earn back.
The drinks are expensive to purchase, making them a harder sell.  They'll tell you it's because of the ingredients, being a premium product.  Many people will disagree on that point.
So, Is Vemma A Pyramid Scheme Scam?
There's no doubt that the FTC made their mind up that Vemma was a Pyramid scheme in the past.
However, since then, Vemma have made a lot of changes.  As well as considerable improvements to their compensation plan.
One of the most promising changes that I can see, is the fact that affiliates simply won't be paid unless a majority of their sales come from selling to direct real-life customers and not other distributors.
Time will tell whether Vemma manages to thrive under these new rules and regulations – or whether they will run into trouble again in the future.
This is an interesting case, which may end up strongly influencing how MLM's are legally able to operate in future.
Will there be many more MLM's taken to court now, over the over-focus on recruiting and deceptive marketing tactics?
Who do you think is next in the firing line? Leave me a comment below!
If you're not too keen on what multi-level-marketing involves, you may want to consider affiliate marketing instead.
That's primarily how I started making money online and I learnt all about that over here.
All the best,