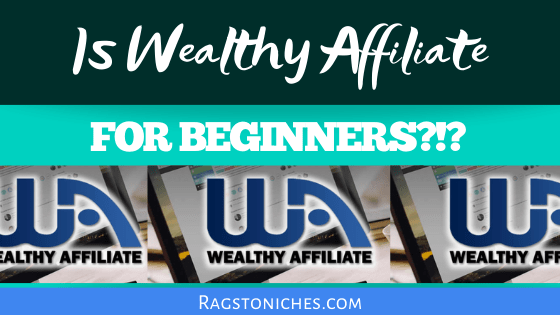 Is Wealthy Affiliate for beginners… Or do you need some experience online before you sign up?
Spoiler: Wealthy Affiliate is for complete beginners, you need absolutely zero experience to get started here.
Quite often, people can hesitate from joining Wealthy Affiliate, because they know nothing about building websites, online business, or affiliate marketing.
Often, people may worry that they're not very technical minded or knowledgeable.
But, in fact, Wealthy Affiliate is completely suitable for complete beginners.
You don't need to have any technical knowledge and you don't need any experience making money online.
As long as you have some very basic computer skills – such as; the ability to switch the computer, get online, click around on websites and have some basic typing skills – that's pretty much all you need to start.
Everything that you need to get started, is already on the WA platform – which is one of the most beginner-friendly aspects
You can manage all your websites from there directly and even purchase domain names on the platform itself.
Whenever there is an issue with your website, site support is accessible with a click of a button.
All I would say is, that if you do happen to have some experience online, this could just mean that you see results quicker than if you're completely new.
I Knew Nothing When I Started!
I knew next to nothing when I joined Wealthy Affiliate.  I'd been using a computer for many years, but I wasn't technical at all.
I had no idea what SEO even meant, I had no concept of keyword research and I had no design experience at all – of any kind.
Literally, I was starting from scratch.
Initially, I did feel overwhelmed, I did wonder if I would ever really get it.  It did feel a lot like learning a new language, (and I was never very good at that).
Time is all you need however – it's funny just how much becomes second nature over time.
Through the initial process of creating my first websites, I learnt a great deal and I continue to learn every day.
WA Is Created With Beginners In Mind…
It is the step-by-step nature of the courses that make them so easy to digest.
Each section of tasks, you need to tick them off prior to moving on to the next lesson and this gives you a feeling of achievement at each stage.
Plus, it's very much action based.  You want to be taking action after every lesson and not just taking in the information and not doing anything with it.
There is also a highly active community on there, a large group of people that share a lot of the same interests and motivations.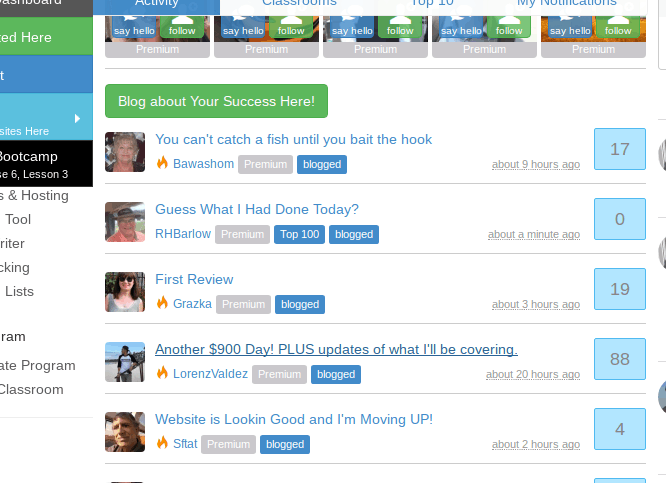 There is always someone you can find to help.  Plus, everyone has a blog where they share their experiences too and this can be a major source of inspiration for many.
Additional training is also produced by members, (any member can create training after being a premium member for three months).
I've personally resolved many problems by searching for training from other members.
The Wealthy Affiliate Ranking System:
There is a ranking system at Wealthy Affiliate, that's currently undergoing some changes.
At the time of writing, it's largely based on how active you are within the community.
So, writing blogs at WA, answering questions and commenting on blogs can rise your ranking over time.  But the exact way in which your ranking will rise will be changing.
Some people become overly preoccupied with reaching the top of the rankings and neglect actually spending time building their online business.
Obviously, being active within WA should not be a priority and I feel this is where may beginners can get it wrong.
The time you spend actually completing the training and working on your business, is the no.1 thing you need to focus on.
Whatever your level, don't be worried about asking questions within the community  – there are people at every level active on there.  From beginner to expert.
Don't forget, you can also contact whoever referred you if you have any problems and they will be more than happy to help you one-on-one.
If you'd like direct help from me within Wealthy Affiliate, you can sign up through me here.
How Can You Start Making Money?
Well, this is where the work comes in.
Figure out how many hours you're going to dedicate to your growing business and be committed to that time every week.
There are always times where this won't work out, but the important thing is to get back on track as quickly as you can manage.
Take every step in the training and take action at every stage.  Make sure you complete the tasks in order.
Consistency is key.  Try not focus on money in the beginning, as difficult at that may be.
If your money is your focus right from the get-go, you probably won't produce your best work.
Focus on creating value first and creating something you're proud of – remember that this is not a race but that every step you take each day, is ultimately bringing you closer to your next goal.
For me, it took me a few months with my first website to make my very first sale.  But for some people it can take six months or more…
Something I'm appreciating more now is the long term effect of affiliate marketing and that is how there is a build up over time and the work you have put in months or years ago, can pay off in the future.
Try and enjoy the process, there will be many ups and downs, but it's a ride that has many exciting moments along the way.
Consider Having A Mentor…
Another great thing to have is a mentor – this might be the person who referred you, or it might be another person who you follow at WA that are further down the road than you.
You don't have to directly ask them to mentor you, but you could ask for their opinion on certain aspects of your website, or ask them what they think of an article you've written and so on.
By building a natural relationship with them, you can gain all sorts of knowledge from them over time and it's a good idea to reach out to people within your niche.
There really is so much knowledge that can be gained from people, who are even just a little way ahead of you and it can be motivating, because their level of success will feel more within your reach.
For example, there may be a difference between someone making zero per month, to $100 a month – or $100 a month to $500, $500 to $1000 and so on…
Those people who are just a few jumps ahead of you, will relate to exactly what you're going to and can let you know what they did to get to that next stage.
What Is Included At Wealthy Affiliate?
Training courses x 2
Live training classes every week
An extensive video library of training
Training being created all the time within the community
Live chat
Website report
Classrooms on different topics
Your own blog inside WA
Keyword Research Tool
Platform for writing and uploading content
Website comment feature, where you can exchange comments.
Site feedback, where you can get feedback on your website……… and much more.
Is Wealthy Affiliate For Beginners?
Hopefully I have demonstrated that YES, Wealthy Affiliate is most definitely a good option for beginners.
WA can be both for complete beginners, or for those with some experience online already.
The even better news, is that you don't have to take my word for it.
You can check out their free 10-part starter course for free & see for yourself.
If you'd like to read my full review, you can do so here.
Alternatively, you can just sign up through me right here.  Come and say hello if you do, I'd be happy to help you out with anything.
If you have any questions at all, let me know in the comments and I will be happy to answer them.