Is Wondough legit?  Can you make money on this platform?
I had an email from someone representing wondough a little while ago, asking me to check it out and write a review.
I left it for sometime, because I wanted to check it out for myself before I decided.  But, then came across it again when I was researching another site – so, thought I'd take the plunge and check it out.
Chances are, if you stumbled upon this review, you are wondering whether Wondough is worth your time signing up and whether you can make any money here.
Honestly, you can never make very much with these sort of websites.  We're talking a very small amount, pocket money at best.
But some people do enjoy them and save their earnings over time, so that they're more substantial.
Website: wondough.com
Website type: rewards site/surveys
Cost: free to join.
Money making opportunity: pocket money
Verdict: Not recommended..  But, it's hard to judge the platform well, with the limitations.  Read on to see what I mean.
For various reasons I will outline below, I'm not going to be recommending this site today. I am not affiliated with this company, nor have I been compensated in any way for writing this.
I will only write good reviews for opportunities I genuinely think are legit and could potentially help you to save, or make money online.
Unfortunately, because I'm from the UK, the options available to me were extremely limited at Wondough.

Hopefully, they will adapt the platform so that people from various countries can access it.
Also, there are limited ways to earn available here in any case.  It's a bit of a non-event in my opinion.
Getting Started With Wondough:
Signing up was super quick, I didn't have to give any details, because I signed up via Facebook.
You could also sign up via twitter, or G+…. which made it pretty instant.
When I got to the main dashboard though, it was really empty.
It said to make my first points, I needed to complete a survey.
I clicked the link and it took my off to another survey provider, samplicious.  Which is one I have visited many times in the past and is regularly linked to on other platforms.
Sampilicious has pretty terrible reviews online, you can check out some here.
It's also one that I struggle to ever complete a survey with!
Sure enough, after answering a lot of questions for over five minutes, I was thrown off the survey.
I decided to not continue with another survey, (I was given no indication how many points you will get, nor how long it will take).
There is nothing on the dashboard at Wondough telling you how many points you could make for completing whatever random survey they are sending you to.
Aside from this offer for a survey, the actual dashoard was pretty empty for me.  There was literally nothing else to do.
Other Ways To Earn At Wondough?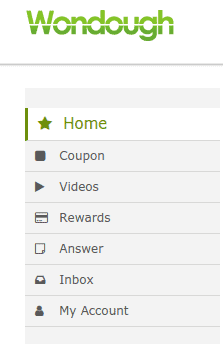 To the left hand side of the screen was a list, containing the following:
Home
Coupon
Videos
Rewards
Answer
Inbox
My account
I clicked on the coupon link….  nothing available.
I clicked on the video link…. nothing available.
This is due to my location and it's been noted by others that there may be limited or zero offers open to you depending on your locaiton.
If you were located in the US, the coupon section would have some form of offers in it.
But I have heard from others that these are mainly paid offers, which means you need to pay for something, in order to get the offer and you will need to enter your credit card info.
I clicked on the rewards link and I was quite surprised what I found.
There was the option of three amazon gift cards, but the minimum amount I could withdraw was $100!!!
To withdraw $100 amazon voucher, you could need to have made 25000 wondough points.
Hmmm… well, I'm not sure how anyone would manage that, considering there seems to be hardy any way to make points in the first place for me.

Depending on your location, you should be offered a payout from only $3, which is completely achievable and a decent threshold.
There should also be more of a variety of different giftcards available, depending on your location… including: Starbucks and Wallmart.
It seems that, if you're in the US, you'd have the biggest selection of giftcards available to you.  You can see a selection of those below.

That being said, some reviewers have said that only amazon are available, some has said that Paypal isn't – so, people seem to have different experiences.
For a low payout threshold and many giftcard options; try swagbucks and get a sign up bonus.
Where Are The Surveys?
I then went to click on the "answer," link in the tab on the left and it just prompted me to complete a survey again.
However, again, there is zero information about what survey I'd be sent to, how much I'd earn, or how long it would take me.
What I found confusing though is, that I had seen an image of a full dashboard of surveys when someone else had reviewed this platform and yet, there was no dashboard available for me to see.
Even though I'm in the UK, most survey sites they link you up to offer surveys around the world and there should still be a dashboard open to me to view.
This may be something they will update in time.
Fake Testimonials?
It's also worth mentioning that they look like they're using fake testimonials, or at least they're not using images of real people.
If you see the image below…
You can find that guy on Pixabay.  I mean, the picture clearly doesn't look genuine from the get-go anyway does it?
Whether they actually got a testimonial from a travel blogger or not, this image is not that blogger.
Also, their testimonials mention apps, but there seems to be no option for downloading any apps as far as I can tell.  Perhaps this is something they haven't added yet.
It does make me question whether they really give out 3000 giftcards a day?  It seems unlikely to me, partially due to the lack of earning options.
I don't believe this website is popular enough at this stage to be paying out 3000 giftcards every single day, considering there are just so many of these kind of sites out and there and many that have a vast amount more going on.
Pros Vs Cons
Pros
Free sign up, (as all rewards sites should be).
Cons
Not much here.
Limited ways to earn.
Mainly geared to the US only, (although you can join from worldwide.
Fake testimonial images.
Very basic to look at.
No referral program.
low earning potential.
Is Wondough Legit, Or Just A Scam Rewards Site?
I think if you're in the US, then there will be something on offer here, but only a fraction of what other better sites of its type provide.
This platform needs to undergo plenty of improvements for me to see it as legitimate in my eyes.
Including, adding more ways to earn and either improving the experience for people from outside the US, or make it US only if they can't.
Have you managed to get paid from wondough?  How long did it take you?  Let me know in the comments.
Beyond Surveys & Cashback
If you're interested in making money online, but are prepared to do the work required to earn more than just pocket change, there are various ways you could make that happen.
For me, I'm still making the most online right now, from affiliate marketing.
It's something you could start up in your spare time, but something that can grow over time and eventually you could have additional income that could bring in money from anywhere, no matter where you live.
That's what I love about making money online, I could do it living anywhere, (as long as there is an internet connection).
This is where I first got started.
All the best,