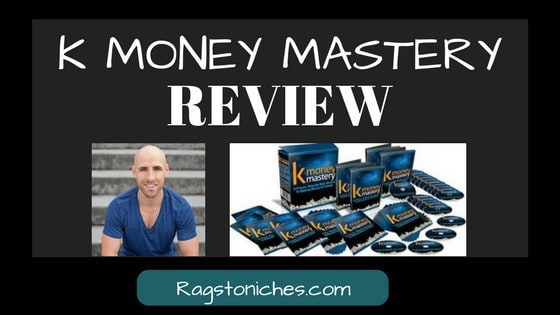 K Money Mastery Review:  Is K Money Mastery A Scam, Or A Legit Self-Publishing Course?
K Money Mastery, (Or Kindle Money Mastery) is a course designed by super blogger, author, coach, internet marketer and entrepreneur Stefan Pylarinos, (also goes by Stefan James).
I've personally purchased this course and have gone through it, in its entirety more than once.
In my K Money Mastery review, I want to consider whether selling self-published books on kindle is still a profitable venture and is it still worth purchasing the K money mastery program today  – several years after it was first released.
Stefan wears his heart on his sleeve, he's a genuine guy and I admire his story and determination – but does this product do him justice?
This review is extremely long & detailed.  So, here is the mini version:
K Money Mastery – Review In Brief!
Product: K Money Mastery
Product Owner: Stefan Pylarinos
Price: Currently $97
Upsell: Full disclosure membership $67 monthly.
Overall Rating:  Legit! K money mastery provides amazing value, for anyone interested in self-publishing their own ebooks on the Amazon platform and making a profit.
If you want to make a success of kindle publishing in 2019 though, I'd recommend you already have an audience related to your niche already.
Such as a blog, social media following, or YouTube channel; so that you will get a head start in selling your books and being able to promote them to an interested audience.
If you don't already have a platform start building one here for free.
There's also a 30 day money back guarantee, so, there is nothing to lost and everything to gain by checking out this training. Join here!.
What is K Money Mastery about?
K money mastery is a course designed how to teach you, step-by-step how to create, outsource content for and make money from selling kindle books on Amazon.
First of all, there is no doubt that Stefan has made a great deal of money on the Kindle platform.
However, Amazon has evolved over time and the game is regularly changing, the competition on kindle continues to grow.
Since Stefan first started selling books, the landscape has dramatically changed.
However, Stefan has updated the program and continues to do so – he strives to keep up with any changes within Amazon and inform his members.
Stefan continues to add new content to the course as and when it's needed too and any past members can benefit from future improvements.
The competition has increased dramatically and kindle has cracked down on people trying to cheat the system – so, you need to have your head on your shoulders.
If you put out badly written drivel, you're going to get bad reviews. 
Too many bad reviews and your books will sink into an oblivion, so don't go into this thinking you can just chuck out anything and be ok.
Even if you don't have bad reviews, you need a good strategy to keep generating sales, you can't just sit back and hope for the best.
But that's OK!  Stefan's course does go over how you can generate reviews and promote your book.
This isn't a writing course and is primarily focused on the idea that you'll outsource the writing…  but plenty of Stefan's students do write their own!
This is not about getting rich from publishing one book, this is a numbers game.
You put a lot of books out there making a little bit each month and that amount adds up the more you have – you may also do well and get some books that make you a very decent amount each month.
Stefan targets non-fiction books primarily, but has expanded the course to include some information about people who want to target fiction too.
You can certainly apply Stefan's method to writing fiction, or children's books but the process is slightly different.
Stefan has a video going over how to search for a niche in the fiction market.
It is suggested that, if you're outsourcing, you will probably have to pay more to find a quality writer if you're focusing on fiction.
That said, the market is huge and there are plenty of opportunities.
How You Can Profit From Kindle Publishing:
You find a profitable niche in kindle.
You look for low competition keywords you have a better chance of ranking for, (but ones which are still profitable).
You come up with your title.
You outsource, (or write) the content.
You outsource cover design.
You use various methods to get reviews for your book & promote it.
You start over again with a new book!
The aim is, to build up your catalogue of books and gradually your profit.
How do you Learn?
You learn via video tutorials, you also have a PDF file accompanying each lesson, that it is also suggested you read.
There are 21 key lessons, but within each lesson there are often more than one video.
The main topics covered are as follows and are very extensive…
Finding a profitable niche.
Keyword research.
Choosing a title that sells.
Kindle book creation.
Preparing your book for publishing.
Creating a KDP account.
Viewing your kindle book.
Getting amazon reviews.
Marketing your book on KDP select.
Using twitter and facebook to promote your book.
Additional book promotion strategies.
Boosting your amazon keyword rankings.
Setting up your amazon author central account.
Monetizing your kindle book.
Creating a series of books and monetizing the back end.
Dealing with negative reviews.
Scaling up your kindle books and making more money.
How to make your books profitable long term.
How to track, manage and optimize your kindle books.
There are also useful bonuses, such as how to create a corporation for your business, accounting basics and tax requirements for non-us residents.
He also has a decent list of helpful resources and programs that can be useful.
Also Included – are some useful downloads:
templates.
ghost writer agreements.
useful list of places to submit your kindle book during your free promotion, (a great opportunity to get lots of downloads and reviews for your book).
What does it cost?
K-money mastery costs $97.
The key upsell for the course is – the Full Disclosure membership, $67 a month.
Which while may be valuable to you later, is something you can purchase at any time and is not compulsory.
I have recently heard some great feedback from full-disclosure members, so you may want to check it out.
There are occasionally other upsells as you enter K money mastery, for things relating to his other courses, such as how to write a book in 24 hours, but none of these are required.
What is full disclosure membership?
Full disclosure gives you access to a large library of extra advanced training, which is regularly added to.
You're taught extra methods to advance your business, such as how to publish a physical book in create space, publishing on other platforms, marketing tactics and much more.
Plus you have access to a private mastermind facebook group, where you can get review exchanges and ask for help.
I think full disclosure sounds awesome and in my opinion and will include plenty of helpful advice that you're likely going to need to become successful on kindle now, (it's also added to regularly).
If you are really serious about kindle publishing, it's an option to consider – and you can always join full disclosure at a later time.
I have heard from disclosure students that having that additional support and training has been worth the extra cost of the monthly fee.
 Book Size And Creation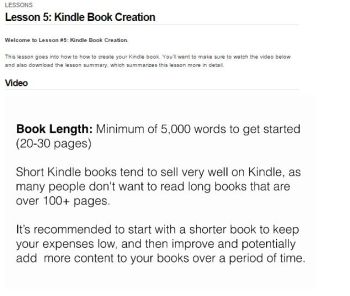 Stefan suggests outsourcing a small book to begin with, around, 5000 words, (20-30 pages) This is incredibly short.
While this may be ok for certain topics, looking at reviews online it seems a lot of people do complain about the length of books like this.
Yes maybe it's possible to make a reasonable book of this length on certain topics…
but too many people going through kindle courses end up putting out complete trash hoping to make a quick buck.
I had heard through the grapevine that more people were aiming for 10,000 words plus and this may be something to consider.
But the most important thing is just to take action and get your first book out there, you will learn as you go along.
It's just worth knowing from the start, that once the true reviews from real buyers start coming through, 1 star reviews will start piling in if your book is not up to scratch.
Even reasonable books will likely get bad reviews somewhere along the way however, so you have to prepare yourself for that reality.
You need to find ways that you could overcome the negative reviews, (improving on your book for example, which is something Stefan suggests too).
Stefan suggests first spending around $100 on your first book, while that may not sound much – I've personally seen many talented writers to be found on upwork on a budget.
If you do decide to go ahead and write your own books though, there is still an abundance of information on K-money mastery that you will find useful and beneficial.
Support At K Money Mastery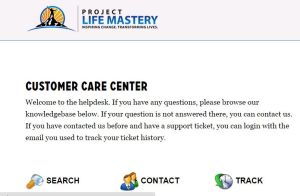 Support is limited to filling out a contact form, or searching to answers for common questions.
Even though Stefan's videos are very straight forward and step-by-step – I did occasionally still find myself having questions.
If you're going for the regular membership, then this is the only place where the course falls slightly short.
There isn't a community that you can go and call on for help.  This is where being a full-disclosure membership certainly has its major benefits.
However, there is a large amount of previously asked questions and answers that you can choose from.
If you're a full disclosure member, any questions you have could easily be answered in their private Facebook group.
Additionally, there are lots of extra advanced videos available to full-disclosure members that are updated regularly.
If you join the course and decide publishing on kindle is definitely something you want to do, I would consider joining full-disclosure.
There you can take advantage of review exchanges, the additional advanced videos available and the support from the Facebook group.
But you may discover the benefits of being a member quickly outweigh the cost, especially if you start making a decent profit from your books.
K money mastery: Key things to remember!
Kindle is ever changing.  You can't just put out rubbish books and hope to make money.  You need to have decent books that provide value.
There is an ever growing rate of competition.  Therefore untapped profitable niches, (particularly in non-fiction) will be harder to find.
You really need to do research within your niche and weigh up your chances at selling well – can you compete with the top competitors in your niche?
If you get a huge bunch of bad reviews, all your efforts will be wasted.  Gaining reviews for your book is of extreme importance.
Stefan covers how to gain reviews in K-money mastery and following his advice here is important.
Checking out the kindle competition with kindle spy…
I use a great tool called Kindle Spy to have a peek at some potential self-published books.
Kindle spy is an excellent tool for finding profitable niches and makes the whole process so much easier.
You can spy on how much authors have made in the last 30 days, which can really help you decide not only what topics to target.
The tool also has lots of other helpful features.
It's quite easy to spot books created by those who have gone through a program like k-money mastery.
To seek out authors that you're going to be competing with, do the following, (make sure you're on kindle store)
look for books with several keywords in the title.
look for book length between 20-30 pages.
look at the at the number of reviews and the price – you want to find books that you can compete with yourself.
So, using kindle spy, one of the first books I found, (see image below) was in the depression niche.
The book was released in Dec 2015, 29 pages, 21 reviews all 4 ad 5 stars, selling at the moment for $2.97.  
In the last 30 days this book has made $149 – see via the image below…
No, this kind of income going to pay the bills but simply creating one book is not the aim here, your aim is to create lots of books – some may make nothing, others will make more.
The great thing is, while you may be spending some time promoting these books and gaining more reviews, a lot of the income you make will be passive.
Passive income is certainly something a lot of people out there are looking for!
To delve further however, I did go and visit many other author profiles in non fiction – some may have 20 or more books and make under $50 in total for their books – or less!  Eishh…
As you can see, kindle spy can help you research things very quickly and can definitely give you an advantage starting out.
(but don't get disheartened about those book sales just yet…. more will be revealed…)
An example of some of the author profiles I checked out…
30 books – $0 for last 30 days
20 books $100 last 30 days
28 books $80 last 30 days
10 books $25 last 30 days
7 books $85 in the last 30 days
5 books $11 in 30 days total….    and it continued on and on like this until…..
12 books $1390 in 30 days 
Hmm… see the result that sticks out right there?
This was an unusual occurrence, but sometimes it would seem that very similar sorts of books, would suddenly be selling loads more than others.
But why?
One very good reason… these authors have either a website/blog, or simply an email list!
People self publishing lots of non-fiction books on kindle AND making decent money, will usually have a website or blog that they will be both driving traffic too and also from.
Alternatively, inside their book or via their authors profile page, they will have a link to a"freebie offer…" (such as a free book or report).
If people click the link to this enticing freebie offer, they're directed to a squeeze page, where they fill in their email address.
The author can then inform their email list whenever new books come out.
Over time, you can see how promoting your book to hundreds or thousands of people who are already interested, can be incredibly profitable.
So, it's definitely wise to work on building up a dedicated following over time and this is something you can think about once you've put a couple of books out.
Having a platform and an email list gives authors a far superior advantage above those who do not.  So, go into kindle publishing with that knowledge in mind.
To have the best chance of success, you need to have your marketing hat on.
Having a freebie is a good idea, having a website or blog to direct people to is a good idea.
You need to try and provide as much value as you can and make your books stand out from the rest.
So, Who Is Making A Killing On Kindle?
There are examples of bloggers currently making a fortune from kindle.
You may well have heard of Steve Scott – who is said to make something $30k a month selling books on kindle presently, (at the time of writing).
The kindle spy program backs this claim, suggesting Steve made around 27k in the last 30 days – see image below:
Steve's books are longer, at generally between 100 and 170 pages and he does write them himself.
He's been pretty vocal about the flood of mini crappy books into kindle and I've seen him talk about it a lot.
Stefan certainly has created a whole movement of people writing kindle books, who are not focusing on quality and that has upset a lot of people.
However, of course not all books put out there are poor quality and Amazon has really been working on punishing those who are gaming the system.
So, making sure you're putting out the best books you can, will benefit you in the long run.
What can you learn from all this information?
Build up a platform via a website or blog in a niche you're passionate about.
Write, (or outsource) quiality ebooks that you can sell to both your present audience and generate a new source of traffic via amazon, directing your new readers to your website.
As an extra idea, have a bonus or freebie offer so that you can capture email addresses for future book promotions.
I know Stefan goes into a great deal of detail about monetising the back end of your kindle books in full disclosure.
What If you already have a website/Blog?
If you do have a popular website or blog, Kindle can really help you expand your business.
Writing about something within your niche means you can generate a whole new audience of people who are looking for relevant books on kindle.
You can also drive sales to your book from people who already visit your website and who are on your email list.
What about Fiction Books?
Looking at various Fiction authors, there was a difference- I didn't have to look far to find self-published authors selling huge amounts of books in the fiction area.
I haven't read the stuff, so I don't know how good or bad it is, but there is certainly a load of it selling – romance and erotica is particularly hot!
It's said it's harder to crack fiction, you need to get a following and writing series seems to be the way to go…
I have heard of many authors outsourcing fiction writers too, as well as those who write themselves.
In fact, some people have created whole kindle empires with fiction online – without writing a single word themselves!
The children's book market is also booming and is something I have been looking into myself.
In fact, I had some amazing illustrations done by someone I hired from Upwork.
So, what should you do?
Experimenting with kindle comes at a very low cost, either you write the books yourself and thereby your cost is simply your time, (minus paying for your cover which is affordable)…
or you can attempt to outsource for a fairly reasonable price, (you'd need to do look carefully for a decent writer).
Stefan recommends "write articles for me" but I have personally had quite bad experiences with them, (so far).
I prefer working with Upwork where you can post a job and normally get a large number of applications that you can go through yourself and you can also engage with your writer and build up a proper working relationship.
In any case, even if you do not have a platform, if you want to put a decent book out there, outsourced or otherwise, your best chance of success is:
to produce a book that is excellent quality and promote the hell out of it!
then, ideally have a freebie offer as an extra perk for your readers!
Follow all the techniques Stefan suggests in his course as far as promoting your book, get as many reviews as you can – then your book will have the greatest chance of success.
Most people do not get as far as publishing a book in the first place.
The feeling of actually putting something out there for people to buy is pretty exciting —so, make it something that you're proud of.
K money mastery review: is K money mastery a scam?
I'm sure you know where I stand on this now after getting this far into my review…(really, thank you for sticking this one out, I know I had a lot to say!).
K money mastery is not a scam, it's a high quality, in depth program to invest in and provides great value for money.
If you have any interest in self-publishing, this course will benefit you.
Like I said at the start of this review, I purchased this program personally & studied it all.
While I don't intend to go down the route that Stefan suggests as far as outsourcing the writing aspect, (at the moment) there is still tonnes of valuable information in this course as far as simply creating your own ebooks.
Once you've paid, you're a member for life.  Whenever K money mastery is updated, you will be included in on those updates.
Members of K-money mastery 1.0, are also members of K money mastery 2.0 and so forth.
I feel joining full disclosure too, even if only temporarily, could be very beneficial – but certainly isn't compulsory.
As you can gain so much insight and advice from people already successful within Kindle publishing.
There are no ties to full disclosure, so you can always leave at any time and there is a 30 day money back guarantee – so, check out and see what you think.
Are you a kindle author making a killing on kindle? Or have you suffered from dwindling sales?
I'd love to hear from you & hear your stories!  Leave me a comment below!
Beyond Ebooks: Building Your Own Platform Online!
If you're interested on building a platform in order to monetize the back end of your kindle, check out this training platform.  
There you're taught how you can build a website/blog in any niche you choose.
Then you're taught how you can generate an income from your website in various ways – primarily via affiliate marketing.
Everything is taught step-by-step from scratch and is suitable for complete beginners. 
It is also – the exact same training that I followed back in 2015.
Plus, you can get started for free, so check it out.
All the best…