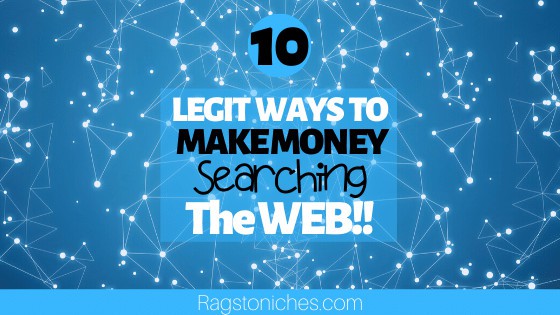 We all know about online survey sites and other extra income sites on the web.
But some of the features that I like the most on sites like this, are ones which allow you to earn money, by doing things that you already do online.
One of these things is searching the web online – something a majority of us will do several times a day.
Some of these rewards sites have their own search engines, where you can earn additional points for using it.
In this post, I'm sharing 10 legit websites that pay you to search!
If you've tried any others, let me know in the comments!
1. Swagbucks:

Swagbucks is arguably the most known and popular on the list; and is a great place to start making money online from the comfort of your home.
They will pay you through E-gift cards, or directly to your PayPal account for answering surveys, watching videos, playing games, browsing the web using their browser plugin, and more.
Each time you complete an action on Swagbucks, you are awarded "swagbucks.." and this is their virtual currency.
You can exchange these for gift cards, once you have accumulated enough.
Swagbucks also has a mobile app available; as well as a fun trivia app, called "SwagbucksLIVE," where you can win additional points.
In order to make Swagbucks by searching the web, all you need to do is sign up to Swagbucks for free here and download & enable the Swagbucks extension.
This makes it super quick and easy to search the web while using their search engine and you simply search the web the way you normally would.
That said, there is no set pattern for when you will earn Swagbucks, by searching, and it should be noted that you don't get the same amount, if any, for every search that is entered.
When you do receive Swagbucks for a search using their plugin, you will be rewarded with a code that when entered, will apply the reward to your account.
How much you get for a search is random. You won't always get something! But another time you could get a decent reward so it's worth doing.
For other ways that you can make money with Swagbucks, check out this post.
Sign Up To Swagbucks Here & Get A Bonus.
2. Microsoft Rewards:
As you may know, Microsoft has their own search browser similar to Google that is called Bing.
Microsoft Rewards – (previously known as Bing Rewards) has been active since 2010, as a way to receive incentives for using the Bing search engine.
With Microsoft Rewards, you can get rewarded for searching the web using Bing, checking out new features, and performing other tasks.
There are a couple of levels of earning and at level 2 you can earn up to 250 points per day at this stage.
However, you do need over 5000 points to redeem a $5 gift card.
So, unless you're going to be using Bing daily and commit to using that as your main search engine, any rewards are going to be a long time coming.
However, if you have no problem switching to Bing, then I highly recommend it… After all, it's completely free, why not?
Once you're signed up you can gain points in a variety of ways as well – such as by trying out products manufactured by Microsoft and you can also accrue points on various devices if you're logged in.
Similar to Swagbucks, every time that you search there is a chance to receive points that will be added to your account and can be redeemed for gift cards later.
The only 2 requirements to use Microsoft Rewards is that you need to agree to stay logged into your Bing account when searching online, and I believe there is a maximum of 5 accounts per household.
You can learn more about Microsoft Rewards here.
Pin Me For Later!
3. iRazoo:
Another website that pays you for just searching the web is iRazoo.
Unlike other services like this, you do not need to download an application or extensions.
iRazoo is a rewards site similar to many others, that allows you to earn rewards via completing surveys, watching videos, downloading apps and more.
If you are like me, then you probably use a search engine multiple times a day.
While most of us will either turn to Google or Yahoo, there are ways to search that will reward you with points that can be redeemed.
iRazoo is one of these search engines.
To begin, all you have to do is make a free account and then start earning by searching with their engine, or the various other ways you can earn.
To earn via searching – you can simply see a search bar at the top of the website once you've registered and you can earn a random amount of points per search.
For example; the first time I searched I made 3 points.
update: I had some kind of glitch when trying to claim… unsure if working!
You can also make money from referring others to the platform, up to 100-500 points, once they have made their first 1000 points.
So, you're not going to earn much from searches alone here, but it's good that they have this feature.
The other key way to make more on this platform is going to be via taking surveys and completing offers.
Important: Irazoo clears your points in just 60 days, so you'd need to do more than just use the search feature, if you want enough points to cash-out.
4. Qmee:
One of the issues with search engines that pay you to search is the fact that they can't be used with each other; it can seem like you have to choose one over other options available and just stick with it.
That is one of the great things about Qmee; because it can be used in conjunction with any of these on the list.
Qmee is compatible with Firefox, Internet Explorer, Safari, Opera, and Chrome browsers.
Additionally, every time you are looking for information about a product,t Qmee will search for helpful links and information and add that to your search.
After installing the toolbar, a popup will appear that displays these helpful links with a dollar amount listed next to the search.
By clicking on the link, you will earn the specified amount.
There is no minimum payout amount, and all payments are made directly to your PayPal account.
However, they also have some gift card options – such as Amazon, Starbucks and the App store.
In recent times, they also expanded the platform to include online surveys as well.
You're not going to make loads of money on this platform, but it shouldn't be too hard to make an extra $5 or so every month.
You can read more about Qmee here.
5. Nielson Computer And Mobile Panel:
This is only an option to US residents right now, so if you're located elsewhere – scroll on down!
This option is a bit more of a unique one, because this isn't a rewards site where you'd just login and start searching the web.
In this case, you actually have to download an App – this app collects info about how people use the internet.
The data they collect is anonymous, so there isn't a way that your privacy is invaded, or a chance of your information being leaked to anyone.
It's a passive way of earning because, once you've answered a few questions and install the app… that's it!
Nothing more you need to do, but you need to keep the app installed on your phone to earn and can cash out once you reach $5.
Join Nielson Computer & Mobile Panel.
6. Savvy Connect:
Much like above, this is another App that you can download and earn passively, by sharing your data online.
Anonymous data is collected to track behavior online and you can sign up from 13 years old.
The sign up process is simple and only requires you to answer a few simple questions before you get started.
After this there is a Savvy Connect extension you need to install on your devices.
The more devices you can link up, the higher the potential for earning and you need the extension installed on three devices to be eligible and need it installed for a certain amount of time – which could be subject to change.
I believe they need to be installed for a minimum of 90 days, so there is a small commitment involved.
This used to only be a US opportunity, but it's now open to the UK.
You will earn $5/£5 per device each and every month.
Sign up to Savvy Connect here – USA resident.
Sign up to Savvy Connect here – UK resident.
7. Inbox Dollars & Inbox Pounds:
Some of the most popular reward sites online are inbox dollars and pounds, who have given away millions in gift card.
They're a typical rewards site, in that you can get paid from answering surveys, playing games, referring others, completing offers and reading emails.
However, they also have a search engine feature, which you can earn from.
Like other similar sites, you get paid for your normal web searches, and the rate is around 1 cent per 4 searches.
As is the case with all these sites, it's best to commit to one and just use it as your primary search engine, to make the most.
You do also get a sign up bonus when you sign up, this may change over time – you can check the links below to see what bonus is currently on offer.
The minimum payout is higher than other main websites like Swagbucks – and is at $30 or £20 in the UK.
However, you can only make a max of 15p each day searching online – I presume it's a similar amount in the USA as well.
Sign Up To Inbox Dollars Here.
8. Ask Wonder:
Ask Wonder is not another 'get paid to' site so to speak, but you will get paid as a wonder researcher to find correct information on a given subject.
If you are an excellent researcher and are able to find the correct answers by digging through the net thoroughly, this could be a very good side gig for you.
How this works is by finding a question using their platform, gather all the correct information about it, and post what you found back to Wonder.
As a "Research Assistant", you are rewarded for your hard work on finding relevant answers to questions that are backed by legitimate sources.
You can apply to be a research assistant through their website, where you will be asked some basic information before taking an assessment; which is similar to the work that you will be doing while working as a research assistant.
Upon getting hired, there are a set of guidelines to follow (anyone that has had a job before this will not be surprised by what is asked of you).
There is a lot of support through the community to make sure that you can succeed in this job.
The pay is around $8-$20, all dependent on the type of questions that you find answers to.
If you are really thorough in your searches and answers, you could do well working with Ask Wonder.
9. Mobile Xpression:
Mobile Xpression is extremely easy to use, and to get started all you need to do is download their application to your mobile device. (Smartphone and tablet compatible).
After downloading and installing, their application runs in the background and collects non-personal data and information about your browsing history and duration of searches.
This data is taken and studied for mobile browsing trends; Mobile Xpression confirms that the data is anonymous to the third party websites that they are partnered with, and none of your calls or texts will be monitored.
Earning with Mobile Xpression is easy, and you earn credits simply for your participation, and these credits can be redeemed for gift cards.
This is another alternative way to earn passive income for the searches that you already do on your mobile device.
Sign Up To Mobile Xpression Here.
10. Smart Panel:
Similar to Mobile Xpression, Smart Panel is another easy way to earn passive income by browsing the web.
Backed by Verto Analytics, Smart Panel is popular among the online earning community for earning cash by putting forth little to no effort.
To get started, you just need to download and install the app onto your mobile device and it will record your non-personal data.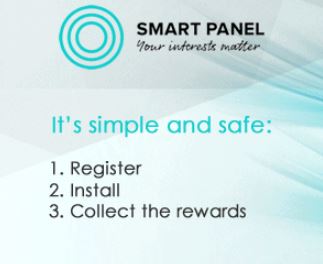 However, it should be noted that you will need to create an account before you can use the mobile app.
To do so, simply visit the smart panel website and sign up for a free account.
The data is anonymous, and it helps brands to improve their products for consumers.
One of the attractive features of this application is that it is very lightweight, and you get a $5 bonus just for signing up, with another $5 each month that you keep the app installed on your mobile device.
Learn more about Smart Panel Here.
Making Money Searching The Web Online… My Top Choice:
Obviously, the most passive away to earn money in this way, is to have something like Savvy Connect – one of the applications you install and just leave running.
However, if you're not interested in connecting anything to your devices and simply want a search engine, then your best bet is to choose one and run with that.
Hands down, the best search engine option for me, is via Swagbucks.
Because their browser extension makes it easy and I've also saved a lot of money from using their offers and discounts.
In addition to that, they do have surveys and referral opportunities, so it's just a good all-round rewards site to join.
Furthermore, I'd recommend joining Qmee, because this is something that works alongside any search engine you use.
Just search as usual and the Qmee browser extension will alert you of alternative offers & you earn a small amount for clicking on their Ad.
Beyond Getting Paid To Search:
For years now, I've been looking into ways to make money online & from home.
You can check out some of the side hustles I've tried here.
Reward sites can be fun, but they're never going to make you very much money on their own, (no matter what some people try and claim!!).
I make the most now via affiliate marketing & having Ads on my website.
If you'd like to learn how to do the same – check out the free training here.
Do you have another website or opportunity that you use, that I haven't mentioned!? Let me know in the comments!