Mindmover Survey Review, Is It Worth Your Time?
I review a whole lot of survey related sites and a majority of time, I feel they're quite a waste of time.  But some are certainly better than others!
The other problem you tend to find with survey sites, is they often have a lot of complaints against them.
Many survey related sites can suffer from slow payments, poor customer service and frustrating surveys that you get thrown off of all the time.
Is Mindmover one of the better sites?  Let's take a look….
Company: Mindmover
Website: mindmover.co.uk
Money making potential: peanuts
Overall score: pending.  I need to complete some surveys & am waiting for those.
Fed up of making peanuts via survey sites?  Why not try this instead.
Mindmover is a UK based survey site, where you can earn a small amount of money by completing paid surveys.
For each survey you complete, you earn points – much like other sites, such as Swagbucks.
Each point that you earn, is worth a penny.  So, you'd need 100 points in order to earn the equivalent of £1.
How many points you will achieve per survey will vary and this will be related to how long a survey takes to complete.
Prior to completing a survey, Mindmover will state how much the survey is worth – so, you can decide if it's worth your time!
Signing Up:
The signing up process with Mindmover is quick and straightforward.
You answer a small selection of questions regarding your current situation and some basic details, then you can login and begin immediately.

Unfortunately, when I initially joined, there were no surveys yet available to complete – I will update this post when I've managed to get one.
I also found it strange that in the discussion area, there weren't any discussions regarding Mindmover, nor any discussions regarding surveys.

I presumed that the discussion section would be more of a forum, with people discussing things related to taking surveys, or how well they were doing.
Instead, they appeared to be random questions posted by Mindmover, that people would then reply to and discuss.
Cashing Out Threshold, How Much?
Unfortunately, you need to have reached a £20 threshold before you can withdraw your earnings.
Many similar sites have now lowered their payout threshold rates, in order to keep up with the competition.
If you're just completing surveys alone, it can take a really long time to make £20.
For example, another survey related site, inbox pounds, also has a £20 threshold.
But they also include some other ways you can earn, such as via cash offers, which mean you can make that £20 up far more quickly.
My personal favourite survey related site, (swagbucks) only have a £5 minimum cashout, which is quickly achievable through a variety of means – such as cashback, cash offers and paid-to-search features.
Cash-out Options:
You can cash out via Paypal, or Amazon giftcard.
I also read online that you can use your points to enter sweepstakes – to win  things such as iphones and TVs.
Although, I didn't see any sweepstake options when I signed up personally.
Have you signed up to Mindmover?  Share your experience below!
A variety of cashout options are becoming more popular now.  I tend to prefer Amazon vouchers though, as you can use them on so many things.
Mindmover state you may have to wait 30 days before you are paid.  
Considering these options include Paypal and Amazon, you have to wonder why it should take so long!
These things can be sent immediately now and all this stalling sending payment is unnecessary and frustrating.
Furthermore, you need to wait longer if you need to be paid by cheque – 56 days!!
Mindmover Complaints:
All survey sites are bound to have some negative complaints against them and Mindmover is no exception.
Complaints against Mindmover tend to revolve around – how long payment takes, a general lack of surveys and problems qualifying for surveys.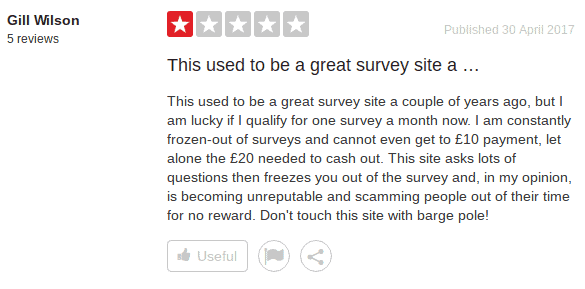 (image source – uk trust pilot)
Additionally, there have been some complaints about customer service not replying to enquiries, or complaints.

What's your personal experience with Mindmover?  Let me know below!
Mindmover Surveys – Worth Your Time?
I feel that plain old survey sites, just aren't as interesting as what I call the "all-rounder" sites.
All-rounders don't just contain surveys, but a variety of ways to earn, (such as cashback, cash offers, games, videos and so on).
I think it's these kind of "all-rounder" sites that tend to keep people a little interested for longer.
Examples of all-rounders: Swagbucks Prize Rebel, Earnably and Cashcrate.
The most frustrating thing about online surveys in general, is being chucked off in the middle of one because you "don't qualify…"
It't partly because this happens so much, that people give up on survey sites very quickly and I don't blame them.
There is such a small reward for your time anyway, that the added problem of disqualification just crosses the line for most people.
Add on to that a high payout threshold and it doesn't look very promising!
If you're interested in building more of a long term income online instead of earning peanuts via survey sites, check this place out.
All the best,