What exactly is Passive Wealth Booster, is it nothing but a Ponzi scheme scam – or is this a low-risk venture that could provide you with easy cash?
---
Passive Wealth Booster Review In Brief
Product: Passive Wealth Booster.
Owners: Alex Robinson, Daniel Edwin, Bridget Fabion.
Price: $10 minimum + a $5 membership fee.
Mini Review: It looks like this cycler may have started sinking, befre it ever really began. Not much buzz going on about this and any reviews around just basically calling it a scam, it's not looking very bright for the Passive Wealth Booster. You want to generate an income online?  Go the legit route.
What is Passive Wealth Booster?

From my perspective, Passive Wealth Booster is Ponzi scheme without much of a disguise against it –and although a new system right now, I don't think is will last for long.
I will briefly discuss how their program works.  The creators call this a a "forced straight line cycler."
This means that, in order to purchase higher up positions, you must go through each level first individually and in order.
For example, you need to purchase a position level 1 initially, in order to get to level 2 and you need to pay for level 2, in order to reach level 3.
Once you're at the end of level 2, some of your earnings will automatically go back into level 1 and when you're in level 3, some more positions will again be automatically be purchased in level 1 – the cycle then begins again.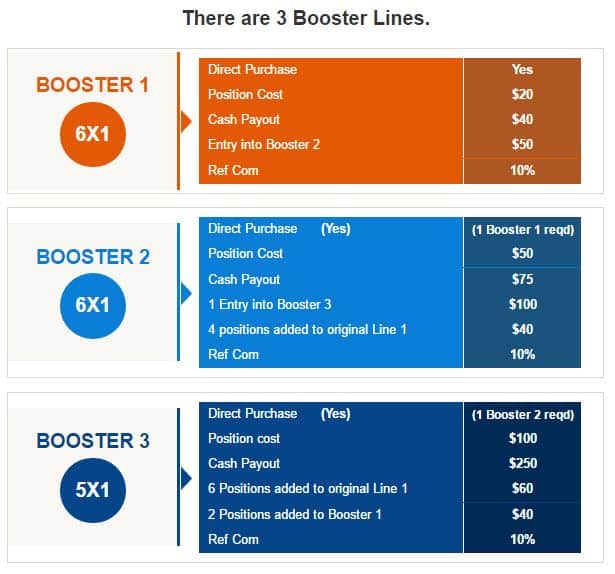 Passive Wealth Booster Products?
Passive Wealth Booster has some products available and, from what I can see, they are just a charade.
When you purchase positions within the matrix to partake in the opportunity, you also get advertising space credits – so, you can potentially put Ads on their website.
The thing is, it's clear by going on their website that no one is really using this – the main Ads showing at the present moment are a tonne of scammy looking bitcoin program Ads.
In fact, the sites advertised look similarly done to the passive wealth booster site, so is probably just the same group of people.
As well as these "Ads" that you purchase, there are also meant to be internet marketing products, such as training regarding SEO and keyword research.
This is even more baffling really, because why would everyone signing up to this cycler want to know anything about SEO?  In order to promote this opportunity!?
I presume a majority of people signing up are just looking for some quick cash and are not website owners or internet marketers, so it's an odd add-on.
The point is, no one is coming to this website to purchase any internet marketing products or Ad space and they don't do a very good job of convincing anyone otherwise.
Passive Wealth Booster – Claim They Are No Ponzi Scheme.
They claim to be an advertising site that will cater to all your advertising needs and that earnings from this program – are just a "bonus."
You only have to take a brief look over this site to realise that this is total BS.
People are only paying for advertising packages because they have to do so in order to join this scheme.
The advertising is merely tagged on as an unnecessary and unwanted addition.
If all that was happening was the purchasing of advertising, no one would be getting any return on their initial investments – they would be buying Ad space and that's it.
No PayPal – Another Warning Sign
Paypal will refuse to be a part of businesses they suspect have a high possibility of being fraudulent.
Many programs like this cannot use Paypal as a payment option anymore, which really is a red flag.
Why Would You Trust The Creators Of This Program?
You need to ask yourself why you would trust the people behind this business, with your money?
There have been countless programs just like this and the common story is they either collapse, are closed down, or the creators close it down once the investment slows down – and pocket any remaining money.
There are also no refunds, so you'll have no chance of recovering any money invested.
Passive Wealth Booster Review: Conclusion.
I know that programs like this very swiftly come and go and it doesn't much look like this one has really gotten started – there is next to no activity on Facebook, no you tube videos, no one desperate to promote this opportunity.
This program uses very loose products as a smoke screen for the fact they're a Ponzi scheme, the products are completely irrelevant and not the reason that anyone would join them.

As stated above, eventually a Ponzi scheme will fall apart, normally because at some point no one new invests into the program and it collapses – although at this point, it is common for the creator to run off with any remaining cash.
Ultimately, of course I do not recommend this program.  Don't get caught up in these schemes – really, I have seen so many people lose money with these things and it's not worth your time.
You may think it's, "only $10 to get started…" but imagine if thousands of people join this program?  This is exactly how these people can make so much money – and it's to line their own pockets, not yours.
I've already heard of some people losing there money here, so make sure you're careful and if you ever do invest in these things – never invest more than you can afford to lose.
---
Is Everything Online A Scam?
There are a lot of scams and dishonest programs out there designed only to take your money and as much of it as possible.
If it all seems way too easy and too good to be true, it probably is.
Making money online is not a walk in the park – but it is possible for people who actually want to put the work in and see it as a long term commitment rather than just a get rich quick opportunity.
If you're interested in learning a legit way to make money online, this is a legit place to start. 
If you have any experience with Passive Wealth Booster, leave me a comment below!
All the best…