I have checked out tonnes of different make money apps online to date.
While most of them aren't going to make you more than a couple of dollars here and there, some are still fun enough to make use of!
But what about Reward Stash? It looks good, but actually there is some negative feedback online about this App recently that I wanted to check out.
Before you rush into downloading this, it's important to know that you can currently only download this App via android and only from the US.
You may want to check out my list of 14 money making Apps – many of which are worldwide and include IOS.
In my Reward Stash review today, I run over the following topics:
What is Reward Stash & How Does It Work?
Feedback Online.
Pros Vs Cons.
Is Reward Stash Worth It?
Beyond Money Making Apps.
Whether it's worthwhile to you, will really depend on how much you were hoping to make!
You can make some pocket money at best, but it's not a significant amount.
If you were just hoping to have some fun trying out new Apps, then you may want to try it.
Fed up of making peanuts? Get Started Here!
What Is Reward Stash And How Does Do You Earn Points?
If you're based in the US, you can download this App directly from Google Play and it's free to do so.
At the present time, they're offering a $5 sign up bonus for new people signing up.
You can earn points by participating in certain activities and these include:
Watching Videos:
This isn't like watching your favorite movie on Netflix. In this case, you're just watching adverts.
This is one way that Reward Stash can make money – but be careful about clicking through their Ads – they make a point of saying that this will not help you earn any additional points.
I imagine it could also be a hindrance to them, as the advertisers could believe they are trying to get people to click their own Ads.
However, you don't have to watch the Ads, so it's a pretty easy way to earn points.
It's only a few points per video though.
Mega Points:
This is where you can earn for completing certain offers.
This could include downloading a variety of Apps and games, offers from partners and promotions.
Doing these offers is one of the highest paying opportunities, although the amount you can earn varies considerably.
Go for the offers with the highest points, but carefully read the T&Cs before you do!
Usually there are several steps you need to take to be eligible for the reward, (especially in the cases where you can earn the most points).
There will be some offers that involve you having to give credit card details.
Usually, you will get points for signing up to a trial offer – but you will be charged after a set time if you don't cancel.
Again, it's important to check the T&Cs with this type of offer, I've personally ended up getting charged several times with paid offers – just because cancelling can sometimes be tricky, or I just forgot about it!
You can end up spending more money than you make – which is pointless.
Daily Check In:
For every day that you check into the App, you can earn more bonus points.
Referrals:
You can also get rewarded for your friends and family signing up – get them to sign up with your personal invite code and you can earn 20% of whatever they personally redeem.
So, if they take out $10, you will earn $2.
Feedback Online:
On Google play, this App has nearly 3000 reviews and 4.4 stars.

Which at first glance seems great. Many reward Apps do end up getting a bunch of bad reviews, so it's good when there is plenty that's positive.
However, recently there seems a lot of one star reviews coming in.
These seem to be from people whose accounts have been suspended.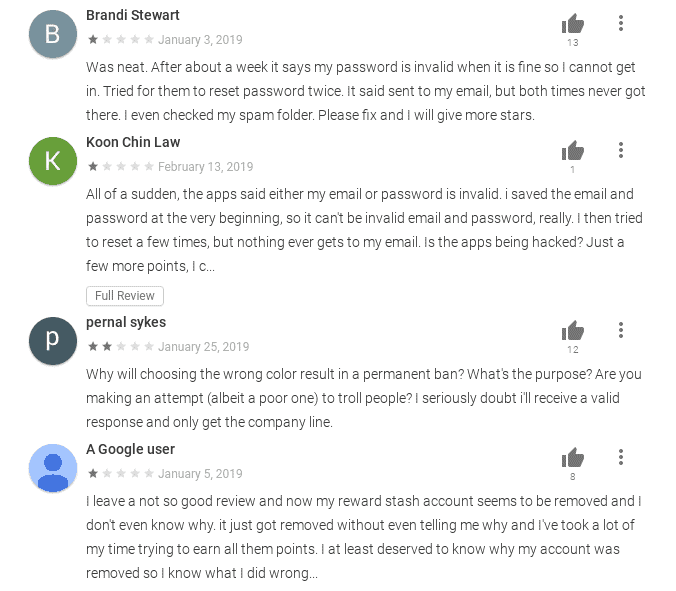 You do need to be careful with Apps like this, because they won't hesitate to block your account if they believe you're trying to manipulate the App.
They also won't like it if you click unnaturally on their Ads – click if you're actually interested… But don't click every Ad you see.
PROS VS CONS:
PROS:
Currently a $5 bonus to new sign-ups.
Various ways to earn.
A way to check out new Apps and games.
Lots of different gift cards to cash out with.
PayPal an option to cashout.
CONS:
Small income opportunity – You won't make very much with Apps like this.
Some recent negative feedback online.
Can only currently download in the US.
Can only download via android at the time of writing.
Is Reward Stash Worth It?
Some people have complained of having their accounts frozen for no reason….
(If I had a penny for every time I saw this complaint for an App or survey panel!).
The thing is, these Apps have red flags that show up for them and suggest that some members could be trying to manipulate the App to make additional rewards.
Sometimes, these red flags could be incorrect, but this won't stop a company like this from freezing an account without warning.
Also, some people are often not aware that they're breaking some rule or other.
The point is, when it comes to these opportunities, there is a risk involved of your account being closed down and losing any coins/points/money in your account.
In order to avoid this, make sure you don't leave money in your account to build up. It's better to redeem it when you can.
Is it worth it?! Well, that's up to you. If you enjoy Apps like this, then do it for that reason…. The enjoyment factor.
It's really far more about that than actually making any money.
Beyond Money Making Apps:
When you look at how much you make with these Apps, vs the time put in… it's not worth it for money alone.
If you want to actually make money in the future, for the work you start putting in TODAY… then you can do it, but it does take some work.
There are lots of ways to make money online, but one of the best ways I recommend long-term, is having your own website/blog.
I have a couple of different websites that earn from writing posts, reviewing products, or promoting products and services online.
The good part is, you can build a business around something you're already interested in.
So, for example; if you have a love of discovering new Apps… you could even create a website around that.
And unlike playing around with Apps – you actually have a real opportunity to earn money from your own website.
If you want to learn how to do this too, I recommend you check out this training.
(You can check it out for free…)
Let me know if you have any questions!
All the best,
More Posts For You To Check Out…