StartUpLift Review, Can You Earn $$$?
Company: StartUpLift
Money Making Opportunity: Providing feedback for $5 per review.
Price: Free.
Overall Rating:  Legit – but the earning potential is limited!
There are a couple of reasons that you'd want to join StartUpLift.
Either you're a startup company that requires some feedback about your website or app.
Or, you're someone that's interesting in providing that feedback, in exchange for a small monetary reward.
For the purposes of this article, I will concentrate on the money making aspect.
One of the key things I've realised since I started looking into making money online, is that it's best not to rely on one single source of income, (or put all your eggs in one basket!).
One strategy that some people adopt, is to build their income by using a variety of small income opportunities – that stack up to be more combined to something more substantial over all.
Providing websites and companies with feedback is one reasonable way of doing this, as it tends to pay much better than many other low-income/low-effort opportunities.
StartUpLift is certainly a legitimate company and one that you could try out.
But as far as making money goes – the reward for your time is minimal and the availability for work is limited.
Fed up of making peanuts online?  You may be interested in this….
Signing Up With StartUpLift:
It may not seem obvious exactly how to sign up when you visit the website!
What you need to do, is scroll all the way down to the bottom of the main homepage.
You will then find a link right at the bottom of the page, as you will see below.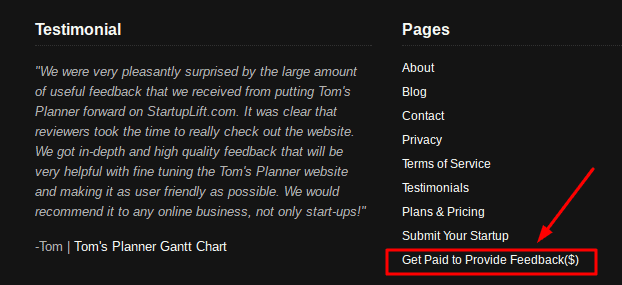 You click through and can quickly fill in your details.
You will now be able to login right away and see what's available – they said to look for an email from them, but I didn't need to click a notification to login.
You'll now be able to check out what opportunities are available… although you may find, there is nothing there!
Providing Valuable Feedback:
Whenever there is an opportunity, it's on a first come and first serve basis, so you'll need to be quick.
Also, you will not get an email notification when an opportunity is available, so you will need to check in regularly – if it's something you want to pursue.
There are also some other criteria you'll need to match before you can proceed, as each company will be looking for a particular demographic.
For example, they may be looking for people within a certain location, or within a certain age bracket.
Unlike other usability sites, such as User-Testing –
StartUpLift doesn't require you to record your voice, or your screen.
You simply need to provide useful typed feedback and follow the simple instructions provided.
For example;
You may be asked to:
Browse the companies website.
Answer specific questions about your experience looking around the website, such as your first impressions, or how easy the site is navigate.
 You may be asked what you think the site is about.
You may be asked what your first impressions are.
You may be asked what jumps out at you, or where you feel compelled to click.
Obviously, the more in depth and helpful you are with your feedback, the better.
Because your feedback can be rejected if they don't feel you've given them enough helpful information, or haven't been thorough enough.
Getting Paid With StartUpLift:
There is no payment threshold here, so you can be paid after completing just one test.
You'll be paid via Paypal, they pay weekly, every Monday.
This is pretty good going, as many extra income sites do have a payment threshold that you need to reach, before you can withdraw anything.
So, if you're still unsure, you know you can check out the platform and take out whatever you earn quickly.
Useful Post:  My Favourite Extra Income Sites
PROS VS CONS!
PROS
Easy To sign up.
You have a part to play in improving websites/apps.
$5 per test completed, which isn't bad, they're not long.
No payment threshold.
Paid via Paypal weekly.
CONS
Your feedback can be rejected.
You can't earn very much.
The opportunities are limited.
Conclusion: Is StartUpLift Legit?
StartUpLift is a legitimate website, but this opportunity is only going to bring you in a very small amount – due to the limited amount of feedback opportunities available.
That in mind, I'd only suggest you do this ONLY if you genuinely enjoy the process.
For example, some people may find it interesting to check out these start up companies and play a role in their development.
Many of these low income opportunities share the same problem, of not having enough work available to make anything substantial.
The solution is to sign up to a bunch of them and systematically go through them.
But it can be difficult to keep track.
If you really want to do it, setting up some sort of system where you spend time on different platforms each day; could yield better results.
If you want to earn more money in the long term, building your own business is the way to go.
That way the work you do put in, still pays off later and you're not just exchanging your time for money….
Have you had any experience with StartUpLift?
Leave me a comment below!
Beyond Extra Income Sites:
If you're really looking to make more substantial money online; whether it be a part-time income, or even a full time one – some of the following posts could help you get ideas!
Many programs promise that you can make money online quickly if you follow their system or course; but in reality making an income online can take just as long as building a business in the real world!!
While it can take a time to generate a steady income; (whether part-time, or full-time) there are still legitimate opportunities out there and people are able to make it, as long as they persevere.
If you're a total beginner and don't know where to begin,
Let me know in the comments, if you have any questions!
All the best,

Here are some additional posts that may interest you: