In my super affiliate machine review, I will consider whether this product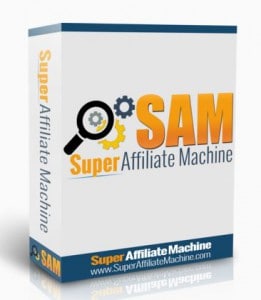 can help you to produce super-easy niche websites
Can a program like this really practically automate the niche website creation process, to make it as simple as a few button clicks and drags? Keep your eyes peeled and read on…
Product: Super Affiliate Machine
Creator: Austin.E.Anthony
Price: $147 for three websites, $197 for unlimited.
Verdict: Not recommended.
What Is Super Affiliate Machine?
Super Affiliate machine, (SAM) is a software of sorts, in combination with a website platform, where you can create niche sites very easily.
You can generate keywords, find a profitable niche, seek out suitable affiliate programs, build and manage your sites, add content, pictures and videos within the platform.
Sounds pretty awesome doesn't it? Well, it would be fantastic if it worked well, but unfortunately, there are multiple issues with this program.
The Sales Video:
The sales video for this product follows the same route as so many others of its type.
Basically, it follows the "I hated my job and had a terrible boss just like you and was desperate to leave" type story. While this may very well be true – what we really want to know is, what is this product and will it work for us!?! Right?
Well, according to the sales pitch – they have this niche website stuff nailed down to an exact science…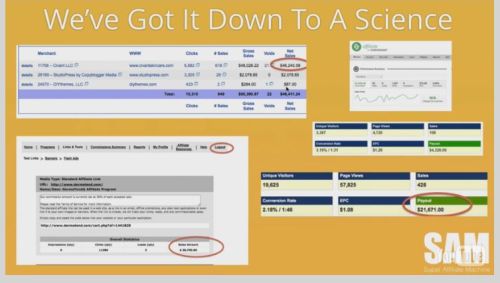 The claim that you just need to follow four steps to success.
#1 find untapped medical keywords on markethealth.com.
#2 build out a website on a powerful expired domain.
#3 use powerful internal linking.
#4 use powerful off page SEO.
One you have researched your niche and affiliate programs, found some low competition keywords to target and purchased a relevant domain, you can start building your website in your chosen niche.
This is all explained step by step, although some of their methods are problematic, as I'll delve into that more later.
You can either add your own content to the site, or SAM generates it for you. But how is this done? This content they provide is spun content, (duplicate content) and there are various ways in which, this is not a good idea, (I'll elaborate shortly!).
If you want to check out how this site works exactly, you can check out this review below that does a good job of demonstrating how it works. The only thing is, this guy reviewing the program is pretty enthusiastic about it, whereas I am not.

What I like about Super Affiliate Machine?
A website In Minutes:
SAM claim you can get a website up and running, with pictures, content and video, in a matter of 5 minutes. And it has to be said, the software itself does make this easy, even if the websites produced do not look very good.
Money Back Guarantee:
It's a good thing that they do have a 10 day money back guarantee. Additionally, if you complete all the training and it hasn't been working for you, they claim they will give you double your investment BACK.
Now, while this is fair enough… 1. it's not clear what proof you have to give to show that you have tried absolutely everything in their training and that it didn't work, so I imagine they could get out of this.
2. The reality is, they will know that 9 out of 10 people that buy any products like this do absolutely nothing with them. Nothing. Ever. So, the odds of people asking for a refund is low. A majority of people will not ask for a refund in any case, even if they don't succeed.
If you purchase this program and give it a good go, then see zero results, do make sure you ask for a refund – you're well within your rights. The reason they give this money back guarantee option is because it is low risk for them, but they come out looking trustworthy.
You do everything within the SAM platform – right from choosing a domain name, niche selection keyword research, choosing affiliate programs, building your website.
It's neat to have everything all in one place and this would make it easy to use for someone new online, when a lot of this stuff can be overwhelming at first.
What I Don't Like About Super Affiliate Machine?
Expired Domains:
SAM focus strongly on purchasing previously owned domains. These domains will already have some authority, they may have been generating some decent traffic and contain plenty of potentially beneficial backlinks.
However, purchasing an expired domain is not always a good thing!
If you purchase an old domain, your domain may also have a tonne of weak or questionable backlinks directing to it, which could damage your rankings.
Just purchasing any old domain without knowing about it, is not the best idea. You should also check out whether the site has been penalized by google in the past prior to purchasing too…. they do not tell you this.
The Problem With Spun Articles:
SAM gives you the option of filling your site with content that they provide you with, based on the keywords you select. The problem is, you'll be provided with articles that have been spun.
The problem with these spun articles, is that they'll have been generated using an article spinning software. You therefore end up with articles that read like they're written by a robot with language difficulties.
So, if you're going to use these articles, you would need to adapt them anyway to sound like they're written by an actual person!
You could create your own unique article in not much longer than it would end up taking you to edit the spun one and the amount of these duplicate articles being spread to multiple people within SAM, mean that a tonne of people will end up with near identical, (if not identical) content.
It's highly unlikely that these articles will rank in Google – and unless you do a great job of improving them, they're also not going to provide you with quality content!
BUT if you don't use their spun content and images available on the site, I don't really see much point in SAM.
It's very easy to create the bare bones of a website in seconds.
Signing up to affiliate programs, choosing a theme and setting up wordpress is all pretty simple stuff…
It's the content creation that takes time!
Content is super important when it comes to ranking in Google and Google is after unique, quality, in depth content.
Hundreds of duplicate articles are not going to rank well, if at all.
Using Keyword Research:
SAM touches on how to use keywords and select low competition ones, but the keyword tool within this program is not very sophisticated.
They don't warn you off using keywords that are grammatically incorrect either, which is worrying.
If you use nonsensical keywords, this is just going to make your site look spammy, amateurish and unprofessional.
The idea of throwing up bad looking niche sites that are really poor quality is a thing of the past.
These sites do NOT work well anymore. I feel teaching these methods is just misleading.
Learning How To Sell:
This program does not tell you how to sell either. People do not buy from strangers, they buy primarily from people and websites that they trust.
The most success you can have as an internet marketer, is via building a relationship with your audience – usually by creating content with real value and building an email list.
You may have heard that, "the money is in the list." That's because it's true! Chris Farrell claimed this on his own program.
He actually boldly claimed that, without a list, you have no business at all!
While I don't think that's strictly the case, people have made money from niche sites without email lists – you can certainly expand your income several fold if you do have a list and market to it correctly.
Simply throwing up a poor quality website, filling it with duplicate content that sounds like it's written like a robot and adding affiliate links…is not going to be a success.
You also have to take into account the thousands of other marketers out there that actually ARE writing quality, unique content and you'll be competing with them.
Think about it… if you showed up to a spammy looking website, would you trust it?
Would you even trust it enough to click on a link, let alone buy anything?
In addition to the spun content, they also don't mention where they get their images from. You'd just have to assume that the licensing is legitimate!
Conclusion:
Due to the multiple issues outlined, SAM just does not deliver what it promises. You just aren't going to make a tonne of cash if you follow their advice.
Multiple programs regularly claim to automate this whole money-making process online. Because there is a HUGE market for precisely these types of programs.
People want to generate an income online FAST, many people are desperate for money.
But people also feel intimidated by what they don't yet understand, or just don't think they have the time, the know-how, the motivation or the desire to really devote their greatest efforts into building an online business.
So many people that come into internet marketing wanting to have made money yesterday already and get frustrated when they don't have instantaneous results.
There are no quick shortcuts to the to making money online.
If you want to make it, you're going to need to put in some work.
Once you have build up a solid business and have a grip on what is working, you can afford to bring in additional help and outsource some of the work.
But from square one?
Put in the work and you will not only learn to understand entirely what you are doing and what needs to be done, you will really appreciate the business you've created from scratch.
I hope you found my Super Affiliate Machine Review helpful…
have you tried out this program? Let me know in the comments!
Still want to make money online?
There are many ways to legitimately make money online, but all of them do take work and if you're looking for a quick fix, you're going to fall headfirst into a scam.
Scam artists are ready an waiting for people looking for get-rich-quick schemes and will be more than happy to take your money.
If you want to understand a bunch of ways you can get started – check out my 40+ ways to make money online.
If you're still interested in building websites and internet marketing in general, you can start learning here for free.
All the best… 🙂