Is Survey Voices legit, Or Just A Scam?
Review in brief:
Website: surveyvoices.com
Money Making opportunity: pocket money.
Cost: Free to join.
Overall Rating:  This isn't a platform that I recommend.  Click here for my top extra income sites.

I've reviewed many paid survey related sites over the last couple of years and they tend to fall into one of several various categories:
– Legitimate paid-survey websites, that will be transparent with how much you will earn, (a small amount per survey).  Once you reach a certain payout threshold, you can take out your money.
– What I term "all-rounder" sites – these ones have more than just paid surveys, but also games, pay-to-do offers, often pay to search, cashback offers and so on.  I prefer these over any other type, as they have a bit more going on.
– What I call Survey hub style websites.  These are simply middle-man sites that will essentially link you up to various other survey sites online, but which they themselves hold little value.
– Borderline scam sites.  These may hold some legitimate surveys, in combination with some scams; which can make them more confusing for people. They tend to over exaggerate how much you can earn from surveys.  These sites are usually survey hubs – that link you to others sites and businesses.
–  Highly deceptive sites that you have to often have to pay to join.  They will tell you that you can earn thousands every month online, just for completing surveys.  They will provide you with a list of surveys you can join to make money, all of which you can find online yourself for free.
What Is Survey Voices About?
Survey voices seems to relate most to the borderline example.
That is – it's a survey hub and it seems to be providing you with a somewhat exaggerated version of reality.
They also link you to a combination of both legitimate websites and some suspected scams.
Just to make them more confusing!
On the main page, prior to signing up it says:  "Make $300+ for sharing your opinion, it's that simple." 
….. is it really that simple though?  Well, no it isn't.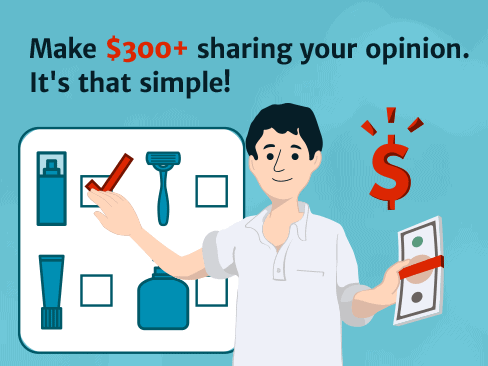 Why Is Making $300 From Online Surveys Not So Easy?
Taking online surveys is far from an "simple," or "easy" way to make $300 online.
This is because:
1. You'll be lucky to make $1 per survey, but often it's less.
2. Online surveys are difficult to qualify for.  That means, you may have to try out 5 surveys before getting accepted on to 1.  Suddenly that 20 minute survey has taken you much longer than you ever expected!
3. Due to the small amount of money you do receive and the time it takes to actually get surveys done, it will take you a very long time to make $300 from taking online surveys.
Is it possible?  Sure, it is possible.
But it is highly unlikely that you would stick out the amount of hours and effort it would take you to generate that from online surveys.
It is just not worth the effort for what you get in return.
Some have certainly managed to make $300 and more from online surveys, over time.
But it's not easy and it's certainly not quick.
I'm not quite sure why survey voices decided on $300 as their magic number here.
Maybe it sounded somewhat realistic and not too over the top.
Obviously, there is no actual limit to what you make with paid surveys, if you do them for long enough.
I had a friend who put a lot of effort into online surveys, but she made between $50-$70 a month from it.
So, I'm just saying, making money from it is possible, it's just not as easy as people make out.
Plus, there are better ways to make money online – if you're looking to make money than pocket change!
Signing Up With Survey Voices.
You need give them your email address to get started and I was expecting to be able to start away right after that.
However, then they run you through a series of personal questions, including asking for your full home address and telephone number, date of birth, details about your income and people living with you.
I noticed that you seem to have to provide a US address to get through this section, (even though, most of the survey sites they connect you do are not US only!).
Personally, I gave all fake information to get through that and you can as well, if you wanted to check it out for yourself.
I don't recommend it putting your legitimate information; as you will be spammed!
They say they're taking all this information and asking you these questions in order to "match," you to the right survey providers.
This is a blatant lie.
Whatever you say, whatever answers you give them here… they will eventually link you to a page with the same providers.
They're asking you for this information because, depending on what answers you give them, they can link you with certain companies for a commission.
For example; there were some questions about health insurance so, had you given out your correct contact details, someone would most likely either call you up or ring you about that.
There were more questions about debt, so a debt advisor would be likely to call you about that, had you answered a certain way and so on.
So, that section is all about fishing for your information and nothing to do with linking you to the right surveys for you.
Unfortunately, you have to go through that section prior to actually seeing any of the survey companies they have available.
Once You're Through The Sign Up Process.
After you've gone through that screening process, they send you to a section where you can choose to join a variety of sites.
Most of the websites I could see would largely be considered legit.  Including Swagbucks, Ipsos I-say and Vip Voice.
However, there was one that I didn't recognise, (I will look into it now!) called OMG Sweeps.
From taking a look at this, many people simply believe it is a scam site.
So, they claimed they'd carefully vetted all these companies for legitimacy, but clearly that's not what has happened.
Notice that in the image above, they also tell you there are limited spots available.
This is not true either.  There are unlimited spots at all these websites, they're not stopping anyone coming in.
 Why Does Survey Voices Link You To These Websites?
This isn't just a helpful website put together to make it easy for you to find survey sites.
Of course, they are running a business.
The people who created Survey Voices are affiliated with these companies they connect you to and will earn a commission whenever you sign up to any of them.
This is a form of affiliate marketing.
Affiliate marketing is a legitimate way that many people make money online, (including myself) but there are plenty of people using it in an unethical way.
Whether it be by pushing scam products, exaggerating the income potential of legitimate products, using deceptive marketing tactics and much more.
In any industry, there will be some people trying to manipulate it in it in a negative way, but hopefully by more people being open and talking about it, less people will fall victim to it.
At least in this case, they are not asking you for any money directly to access survey sites.
They're also not telling you that you can quit your dayjob from just doing paid-surveys are anything like that.
So, I've seen far worse from that standpoint!
Is Survey Voices Legit & Worth Your Time?
Survey hubs are really a waste of time in my opinion, because you can find multiple survey sites online with a quick google search.
You don't need to become a member of some gateway website that links you to them, (some of which also fish for your information and sell to third parties).
One of the only survey-related website that I still use regularly, (mainly for their paid-to-search feature and cashback) is Swagbucks.
But, in general, if you're looking to make a decent income online, you simply cannot do it by completing surveys.
You can make a little bit extra here and there, but it's nothing like a part-time, let alone a full time income.
If you're looking to earn something more substantial online, there are a variety of ways to do it.
For some ideas; check out my 40+ ways to make money online.
The thing is, completing paid online surveys is hard work as it is!
I know this well myself, having spent a lot of time doing them and checking them out for the purposes of review.
I also was introduced to paid survey sites long before I started this blog and knew people involved in them as well.
The most frustrating aspect is, getting chucked off of them for not fulfilling certain criteria.  Then having to start all over again.
The one site I have found, that doesn't seem to chuck you off, if Yougov surverys, (let me know if you know any others!).
Plus, by answering surveys, you're not building anything that will pay you in the future, you're just exchanging your time for minute amounts of money.
When you stop answering the surveys, the money stops too.
That's why I wanted to find a way to build my own business that would still pay me, even when I wasn't always working on it. 
 Now my aim is to eventually have many passive income streams that will generate an income for me.
If you have any comments regarding Survey Voices, or any questions at all – feel free to leave a comment below.
All the best,