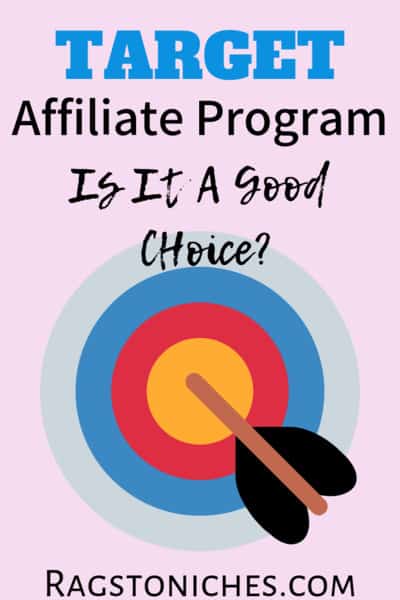 Target is a hugely popular store, that has a wide variety of items for sale from furnishings, home decor, home appliances, bedding and bathroom items.
If you're looking to make money from your blog or niche site, there are many niches that could incorporate the Target affiliate program, (which I will discuss a bit further down!).
However, general home, home decor, design and family/parenting blogs are some of the most obvious candidates.
But what is affiliate marketing? And how can you make money through Target?
As I'm reviewing the Target affiliate program today, I will discuss these following topics:
What is affiliate marketing?
What type of products do Target sell?
How much will you get paid?
Do You Need To Be In The US to join?
Niches that could work with Target.
Affiliate programs to compliment Target?
PROS VS CONS.
Recommended Affiliate marketing training.
What Is Affiliate Marketing About?
You probably already have a grasp of this, so I won't go into explaining it too much.
In fact, you may just prefer to check out this post, where I explain it in some depth.
However, it simply involves you linking to products or services in your blog, but with an affiliate tracking link.
You get your tracking link, (personal solely to you) when you join any affiliate program online.
By using these affiliate links in your blog posts, you can make commissions.
Because, whenever someone reads your post and clicks through your link… You make money whenever they make a purchase.
How much you will make varies wildly from program to program – but in the case of Target, you get between 5-8% commission per sale – which is pretty good!
However, it's highly unlikely you'd get to the 8% commission rate, (I talk about that a bit further down, in the – how to much do you get paid – section.
What Type Of Products Do Target Sell?
Target sells a huge range of products – including most things you could ever imagine needing for the home, or entertainment.
The main categories that you can find on their website included:
Women, Men, Young Adult, Kids, Baby (clothing, swimwear, accessories, jewellery, sportswear, underwear, PJ's, shoes – and much more).
Home,
Furniture,
Kitchen/Dining,
Patio/Garden,
Toys,
Electronics,
Video Games,
Music/Movies,
Sports,
Beauty,
Personal Care,
Household,
Pets,
Luggage,
Musical Instruments,
Grocery items!
So, you're not going to be short of things to promote and it seems that it could be a good fit in many niches, because of the variety on offer.
You can browse Target right here, to get a good idea about what exactly on offer and whether it's a good fit.
How Much Will You Get Paid:
So, at first glance I presumed you got an 8% commission on all sales.
Which is a lot higher than many similar affiliate programs that I've seen.
However, I was mistaken there. Having investigated further, I see that the commission you make is based on the amount of monthly sales you make.
In addition, it depends on what category you're promoting.
You can see this explained in the table below:
So, if you get between 0-10 sales per month, you'd make 5% – aside from Baby gear & furniture, (3%), or Health and Beauty, (only 1%).
This goes up gradually in small increments. But it only goes up to 8% when you make 10,001+ sales per month!!!!!
It's also likely that this commission structure could change regularly, so you'd want to keep a check on that too.
From what I see, there would really be no point in promoting health and beauty – a 1% commission is not very exciting.
However, rates between of 3-5% are still fine for this sort of affiliate program and so, one you should consider if you're in a niche that could fit in.
There is also a 7 day cookie in place.
This means that the customer has 7 days from when they click your link and make a sale, in order for you to make a commission.
This is much better than the Amazon program, where you only have 24 hours to make the sale!
In order to be accepted on to the program, you need to join impact.
Impact is an affiliate network that houses various different programs. I have only recently signed up with them myself.
Do You Need To Be In The US To Join Target?
No… According to their FAQ, you just need a family friendly website that primarily US based readership.
So, for example, while I'm in the UK… A majority of my traffic is US and therefore, I'd be eligible to join.
What Niches Would Work With Target?
There are so many different categories on this website, that there is an unlimited number of niche ideas you could come up with.
However, it's a good idea to make sure you can great plenty of good best-of, and top-10 list post options into whatever niche you go into.
These sort of posts can work well with products, as you'll already be targeting people ready-to-buy.
It's also a really good idea to pin all of your images into a Pinterest account, (create a pinterest business account first, with your website, it's free).
Many people go on Pinterest now to browse for products and it can be a great way to generate traffic and sales to your site.
Useful: A Free Pinterest Bootcamp Course!
Of course, if you already have a blog based on family, parenting, or home decor- then there are always going to be products you can entwine into your content.
But this sort of affiliate program could definitely work well in a much more defined niche than these.
For example; maybe you have a blog based on organizing your life!
You could then focus on products based on organization and planning….
Some other niche ideas could include…
Cleaning tips,
Special hobbies, (certain sports, Golf for example).
Baby/Kids Accessories,
Nursery Home Decor,
Toy Reviews.
That only scratches the surface and within any wider niche, there is the option to narrow it down.
Useful: How to use a niche.
Affiliate programs to compliment Target?
It's best to focus on just a few affiliate programs that you'd like to consistently promote.
It's easy to go overboard and sign up to everything and anything… (I'm still trying to cut down my own choices!).
However, the main affiliate program that comes to mind, would be Amazon.
What you'd want to do, is check for similar items on Amazon and do a price comparison.
But there will still be some unique things on Target that you can't get on Amazon and vice versa.
What programs you choose, is also going to depend on your niche and it's a good idea to have a little bit of diversity.
For example; you may want to go with a program that you know has something different to offer in comparison to other programs you've joined.
The Etsy affiliate program, (as they have many original homemade decor items, which could fit a home decor related niche.
Walmart Affiliate Program: A competitor to target and with a lower commission rate, however still one to consider, as it's such a well-known brand.
PROS VS CONS:
PROS:
5% plus commission rate, which is higher than some competitors in this space.
Target is a trusted and well-known brand, which will lead to good conversions, (rather than sending people to a site they don't know!).
Target could work well with other related affiliate programs.
You can sign up outside the US, if most of your traffic is US based.
7 day cookie – which is better than Amazon's 24 hour cookie!
CONS:
Many of their items could be found cheaper on competitor websites, (such as Amazon).
Only 1% commission on health and beauty items.
Many affiliate programs will struggle to compete with the amazon program, when you can so often find cheaper prices.
The programs I find compete well with Amazon, are ones that do offer truly unique alternatives.
So, while I have another blog in the home decor niche – I use Amazon and Etsy primarily…
Because Etsy has items that are homemade, unique and simply cannot be found, nor sold on Amazon.
Whereas, I find when I combine some programs that have similar products to Amazon, the conversion rate for the other sites is much lower.
It's just worth bearing this in mind, before applying to different programs.
Affiliate Marketing Training:
If you'd like to get started earning some money from affiliate marketing, don't be taken in by people telling you how quickly they've made $$$$….
While you can make money, it does take is time and a good amount of content before you see any results.
It may be that you already have lots of content on your blog, but just haven't started affiliate marketing.
In which case, you definitely could make money as soon as you start inserting your links.
But if you have yet to get started, then it can generally take a few months to start seeing sales, (quicker if you can generate traffic via social media as well as Google).
In every case though, I'd recommend you do get some training because growing a profitable blog or niche site, is a lot more than just sticking in some affiliate links.
If you're just getting started – this is the training I recommend.
As you can start for free, get a 10-part course and join an active community.
That just about concludes my Target affiliate program review … But if you have any questions, be sure to comment below!
All the best,