Successful people tend to have certain behaviours and habits in common.
But just because you may exhibit very few of them right now – it doesn't mean you can't adopt them.
What's stopping you?
You can start mimicking some of these habits, it's something I have tried to adopt myself.
So, what are the daily habits of successful people?
Get out a pen and paper – note some of these down and stick it somewhere prominent so that you can be reminded of them.
These are habits that we should all be willing to take on board. 🙂
We now live in a world with more distractions than ever.  In our ever advancing technological world, there are an ever increasing number of ways that we can get distracted throughout the day.
For every distraction we give into, time is being eaten away.  Time that could be being used productively.
It takes immense discipline to limit and resist your favourite tools of distraction…
whether that be your smart phone, relentlessly checking email, Facebook, online games, live chat, TV, radio and so on.
But avoiding such distractions can be done.
We often don't realise just how much of our time is devoted to these time wasting activities – until we start taking note of them.
Allocate set times to do these things and set that time in stone.
For example – email could be checked once in the evening, Facebook could be checked for 10 minutes during lunch, your favourite TV program could be scheduled in one hour during an evening and so on.
For those people have their own online business being distracted is even easier because you only have yourself to answer to and you're on the computer all day.  
I recommend you check out TimeStats, which is a free Chrome extension tool.  It measures how much time you spend on different sites on the internet – which can really give you a wake up call regarding how you spend your time!
Having a morning ritual certainly seems a common trait for a lot of successful people these days – I don't know if this was always the case and just nobody talked about it much, or whether this has become more of a trait of modern times.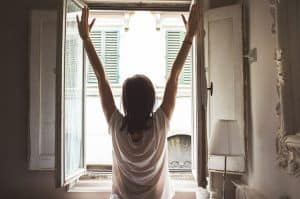 You can understand why a morning ritual can become important as our lives continue to become busier and more stressful, for a successful person is becomes more important than ever to be one step ahead of the game!
Successful people tend to get up early and start the day the right way. When you get up early you can achieve so much more.
Whether they start the day working out, meditating, getting ahead with work, listening to business or self-development podcasts, planning out their day, fitting in a healthy breakfast – or a combination of all these things, they start their day off strong.
By getting some of the most challenging aspects of your day out of the way first, you feel empowered, confident and ready to take on anything that's ahead.
Get Your Priorities Straight!
Successful people already know what they want to accomplish each day – whether they plan it that morning or weeks ahead, they are prepared for what is coming.
Keep a list of things you have to get done each day in order of priority – always tackle your highest priority first.
Too often people put this off because they feel it's too difficult, they feel uncomfortable about it or it's just something they don't want to do — switch that around, get your most pressing tasks out of the way as soon as you can.
This is something I still have to work on!
I am a relentless procrastinator and I constantly want to put off things that are out of my comfort zone, or just not things I want to deal with!
But the amazing feeling you get from getting THOSE things done, so far out-weighs that uncomfortable feeling of doing it in the first place.
Strive For A Healthy Body And Mind
Ok, we have all heard it a million times before, but that's because… it's true.
To be at your most productive, you need to take care of yourself and focus on your health.
 If you don't feel at your best, how can you achieve your best?
If you're unhealthy physically, your motivation will not be at its peak.
Furthermore, being physically healthy and fit is incredibly important for maintaining your mental health too.
Becoming physically fit also boosts your confidence and fills your body with feel-good endorphins – which is why working out first thing in the morning can have such a powerful effect on your day.
The days where I get the most done and feel better over all, are always the days that I go out for a run first thing in the morning.
There is nothing else like it and it's the worlds best natural anti-depressant, (in my opinion!).
Focus On One Key Goal At A Time
Many people have a very vague idea of where they are going in life – they may well have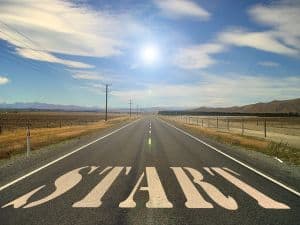 multiple goals and these come and go, some are dropped, some forgotten, some hang around in a limbo.
Whereas it's common for successful people to focus on one specific goal at a time and pursue that goal with immense determination, motivation and clarity until that goal has been achieved.
Having an intense focus and perseverance in this narrow way gives them an advantage above the majority.
Many Successful people are always looking to improve – they're not just interested on being financially successful, they want to have an all around great life, they want to live the best life they can.
So, they seek out ways they can do this, by improving themselves, by constantly learning and constantly evolving.
When they listen to podcasts or read books, this is rarely just for entertainment, but as an opportunity to learn and develop.
They take the time out to invest in themselves, in order to improve themselves, their careers, their relationships and their lives.
Befriend Successful People
Successful people spend time with other people more successful than they are, they surround themselves with people they aspire to be, people who inspire them to be better.
If you are the most successful person you know, you are not going to be inspired to achieve more.
You need people you can look up to – who will encourage and motivate you.
This doesn't have to be in the real world either!  I'm a total introvert, but you can still mix with successful people online.
Try joining an online community, where other people are striving towards the same goals!
Too many people believe that success has to do with luck.  Successful people do not sit
around and wait for success to fall in their lap.
They know they need to create their own luck by relentlessly taking action day after day.
Successful people have a set vision and push forward until they achieve it.
They believe that they have control over their actions and and behaviours- stuff doesn't "just happen" to them, they make it happen.
They believe if you want something, you need to go out and work for it.  They believe they have the power to change their own lives.
So many people have multiple plans, multiple goals they're hoping to achieve, multiple activities they want to do and – all too often – they start things that the never finish.
Whether that be a book, a work project, a new fitness routine or diet.  Successful people tend to finish what they start and don't let themselves off the hook.
If they have a goal, they pursue it and get the job done.
---
So, there are just a handful of habits that successful people often share – do you exhibit a lot of these traits yourself?
It's worth remembering of course, that "successful people," are not just born that way.
So many will go through many years of trial and error and many failures.
Additionally, what you regard as successful may be very different from what someone else regards as successful.
Is someone successful just because they earn a lot of money?
Well, I don't think so.  They may be a complete disaster in every other aspect of their lives.
Is someone necessarily a failure because they don't have money?  Not at all, right?
Success can't just be measured in financial terms.  Isn't it a way of being?
For me, it's what you do and how you behave, in order to create the best life possible for yourself.  However you want it to be.  It's about having goals, pursuing them and ultimately, doing our best to achieve them.
How do you measure success?
Leave me a comment below!
All the best…