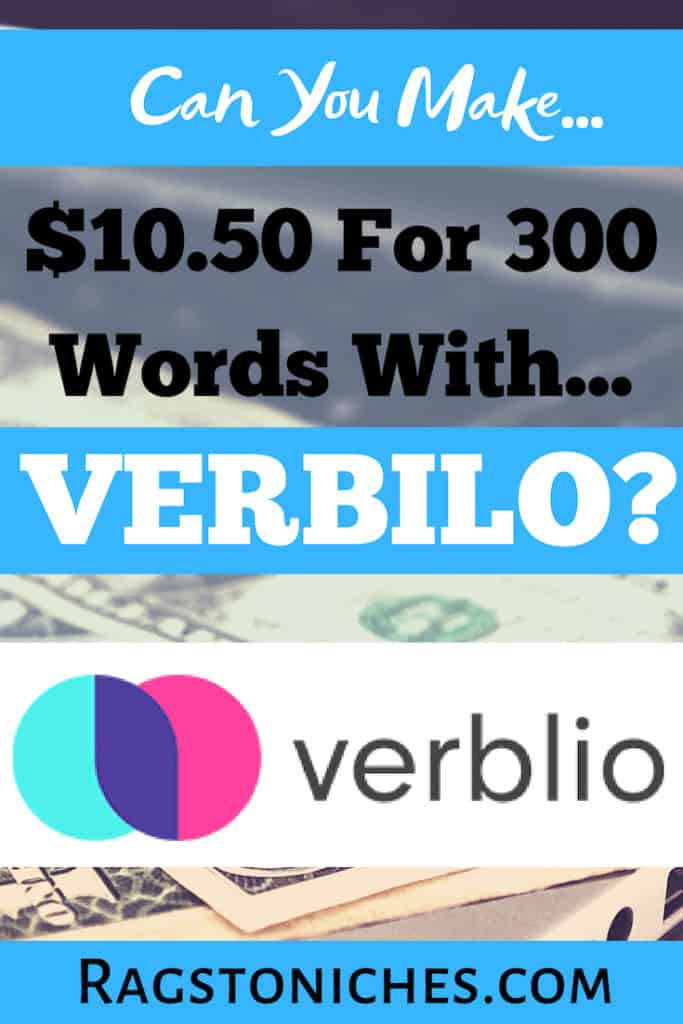 Please note: Verbilo is only open to US citizens.
But… What Is Verbilo anyway…. And is it really a good place to start your Freelance writing career?
Or is this just a online writing a scam like, "Master jobs for you?"
Actually, I was in for a bigger surprise – Verbilo is actually the former, (somewhat controversial) Blogmutt.
I wrote a review a while back and I say it's controversial, because people had plenty to say in the comments section of my review, (not all good unfortunately).
In any case, after looking into Verbilo, I would like to share what I've found so far!
Have you had experience with Verbilo? If so, please feel free to share in the comments at the bottom of this post.
In my Verbilo review today, I'm going to cover the following:
How To Sign Up To Verbilo & Their Requirements!
How much can you earn?
Is the money worth it?
What do other people say?
Is Verbilo Legit?
How I make money writing online.
If you're looking to jump start your Freelance writing career, I recommend Gina Horkey's course – 30 days to Freelance Writing Success.
Gina started Freelance writing and went from zero to $4000 per month, in just six months. That's seriously impressive. (Grab Gina's Cool Freebie here).
If you'd like to make money in the long-term from writing content on your own website or blog, I wrote a step-by-step guide here!
Signing Up With Verbilo & Requirements!
The number one requirement you need before you consider signing up, is that you need to be a resident in the United States.
You will also need to be…
Over 18 years of age.
Be able to pay attention to detail.
Have excellent grammar and research skills.
Superb content writing ability.
Understanding of SEO and modern content.
A professional & collaborative writing style.
If that sounds like you, you con continue on to the actual sign-up process.
The first stage is simply to enter some basic details – your name/email/password.
Once you have confirmed your email address, you will go straight to the application form.
You must include your full real name in this section, so Verbilo will be able to pay you.
However, you do not need to reveal this to any clients – you can work under another name if you wish.
The application will inform you how Verbilo works and how you will be working for them as a contractor, rather than a paid employee.
You need to agree that clients get to pick and choose which posts they accept and which they don't – this means, your work won't always be sold.
Only work that is sold, you'll be paid for. However, you still retain ownership of any work that is not sold.
They also ask you guarantee things like… that will not Plagiarise and understand what that means and that you're legally allowed to work in the US.
The main part of the application and section for you to shine, is a section where you can essentially write what you like.
You could include a blog page if you wanted, or you could use the space to talk about yourself, your experience, your areas of expertise, or hobbies.
Lastly, there is an important section that could make the difference between being accepted and rejected…
This is a Grammar and Proofreading test, with multiple choice questions.
Answer these carefully, as you will need to get 7 out of 10 correct, in order to pass.
However, you are able to get two shots at doing it, which is pretty fair!
Next up, if you pass this section, you will be taken to the Plagiarism test – you'll need to read an explanation of this by Verbilo and then answer some questions.
Finally, you will need to fill out a W-9 Tax form and you must have a valid social security number, prior to being accepted.
After this, you will need to wait to be approved and this could take up to one week.
Be patient and they will get back to you – they make a point of saying not to bother them, as they have to go through many applications each week.
How Much Can You Earn?
300 word posts = $10.50 to start and this is more than I've seen at some content mills – as a start off point.
However, as with all content mills, you will only get paid if a client accepts your work.
Although, you could say this can happen when you work directly with clients too – if you don't produce work up to scratch, they may not pay.
When a client works with you directly though, I feel they feel more inclined to pay you because, you're not anonymous.
They're more likely to pay and then just not rehire you – rather than not pay.
In this situation, your work just may not be accepted at all and your efforts could go to waste.
In any case, if you do a good job selling your content on Verbilo, you can get better ratings and you can earn more over time.
That said, I am not sure exactly how much more you get paid over time, or how these increments rise depending on feedback.
If you manage to get paid for a job, you'll get paid each Monday via PayPal and there is no minimum threshold you have to reach.
Is The Money Worth It?
It's difficult when starting out to try and get your Freelance writing career off the ground.
Some people will go down the content mill route, in order to really try things out and I can understand this.
It can be difficult, for example, to go and pitch directly to clients, when you have zero experience.
However, it may be better to build up your portfolio for free – by contacting bloggers/clients directly and providing free content.
I've experienced this myself and many clients will be more than happy to accept free content, when it's good quality.
After you have even a few articles written, you could start then going for paid jobs.
Verbilo say they pay $10.50 per 300 words – but many clients will be after much longer content than this.
So, you could get paid $31.50 for a 900 word article, which doesn't sound so bad.
If you managed to get 5 articles a week accepted for 900 words, that's $157.50 a week.
Not a full-time income, but definitely a nice additional income.
But whether it's worth it to you, also depends how long it would take you to write articles of this length and how much money you want to make.
What Do Other People Say About Verbilo?
At the time of writing, there isn't a great deal of feedback about this platform.
So, if you would like to give any insights, you can reply in the comments!
The biggest complaints that I can see relate to how you can write work and it not be accepted, therefore you're not paid.
Plus, of course, the low pay in general.
There were a few one star reviews to be found already on Glassdoor.
Ultimately, it's all a bit of a mixed bag.
Some writers think it's OK, for making a small amount of money here and there, but not something you can support yourself on long-term.
Is Verbilo Legit?
I believe Verbilo is a legit platform, but probably not a great way to start a long-term writing career.
Ideally, you want to interact with clients directly and build up a portfolio of work, which isn't how content mills run.
The biggest issue is that, you could write an article and never be paid for it – therefore, completely wasting your time.
Plus, the pay is going to be so low, that it's only going to provide you with a supplementary income at best.
If you're serious about earning more money from Freelance writing, then Gina's course will give you a good foundation.
It takes work and commitment to find clients and build relationships, but ultimately that's the way you can make money long-term from your writing, (and a decent income!).
How I Make Money Writing…
I make money writing online too…. But it's somewhat of an indirect relationship!
I write lots of articles online on this website, (and a couple of others) and make money via paid advertising and affiliate marketing.
So, I don't just get a one off payment for writing something and that's it.
Instead, something that I wrote several years ago, can continue to make me money today and long into the future, (as long as the post has visitors!).
That's what I love! The idea that something you've created in the past, could continue to pay you, multiple times over in the future.
If you want to learn how writing content can create passive income for you in the future – I recommend you start here.
Let me know in the comments, if you have any questions!
All the best,