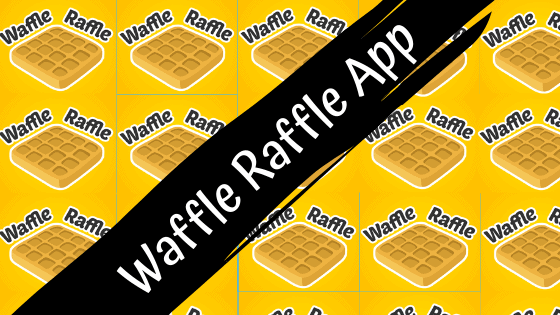 What is Waffle Raffle App? Well, it's yet another App that you can download & play for free & win free money.
Well, sort of. Your chances of winning any money are very slim, so you will mostly be playing for entertainment value.
In my Waffle Raffle Review – I will outline how exactly you can win here, how much money you need to withdraw & lastly I will discuss some online feedback.
Want to stop making pocket change? Learn how to build an online income – like I have!
How Do You Win With Waffle App?
You can download this App for free via Google Play.
You can sign in via social media, or even just join as a guest.
You're then able to join virtual raffles to win their virtual money – which can be exchanged for real cash & gift cards.
The first raffle you can join has a prize of a 100 notes, (however you need 1000 to cash out their minimum reward amount, which = $10).
After your first entry to a raffle, you're unable to join any more raffles until you level up.
The next raffle, once you have, is for a 1000 notes and this will be equal to $10, so you'd be able to cash out if you did win this.
The highest raffle amount available is for 50k notes and this would be for $500.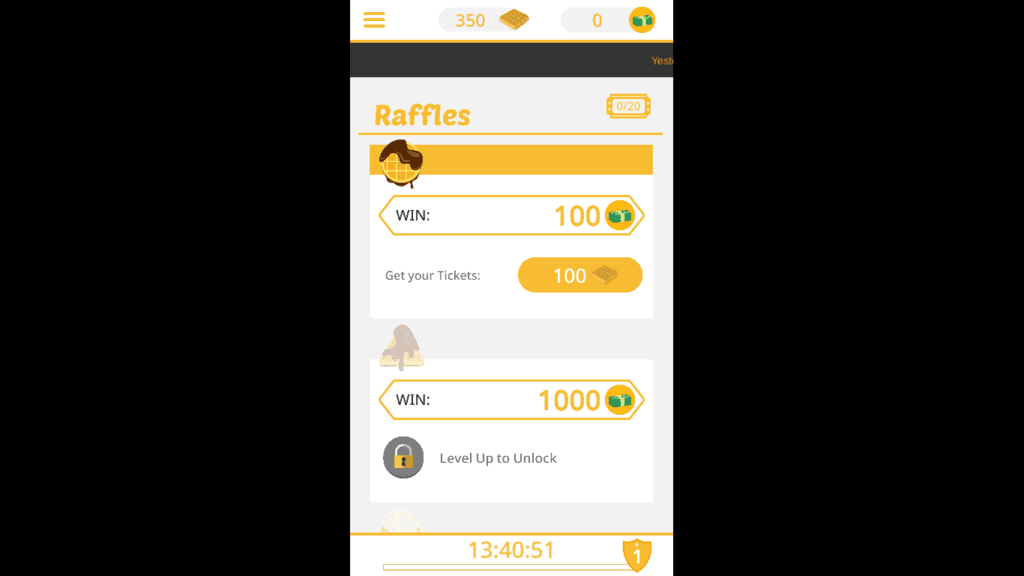 Daily Login Rewards:
As well as being able to participate in raffles, you can get additional rewards for logging in each day.
So, on the first day, I was able to get 100 extra "waffles,"…. Each day it is a different amount of either waffles or notes.
You need to collect the notes in order to cash out, (1000 = $10). However, you need the waffles in order to enter more raffles.
So, the notes are going to be more valuable, but waffles are required for the raffles.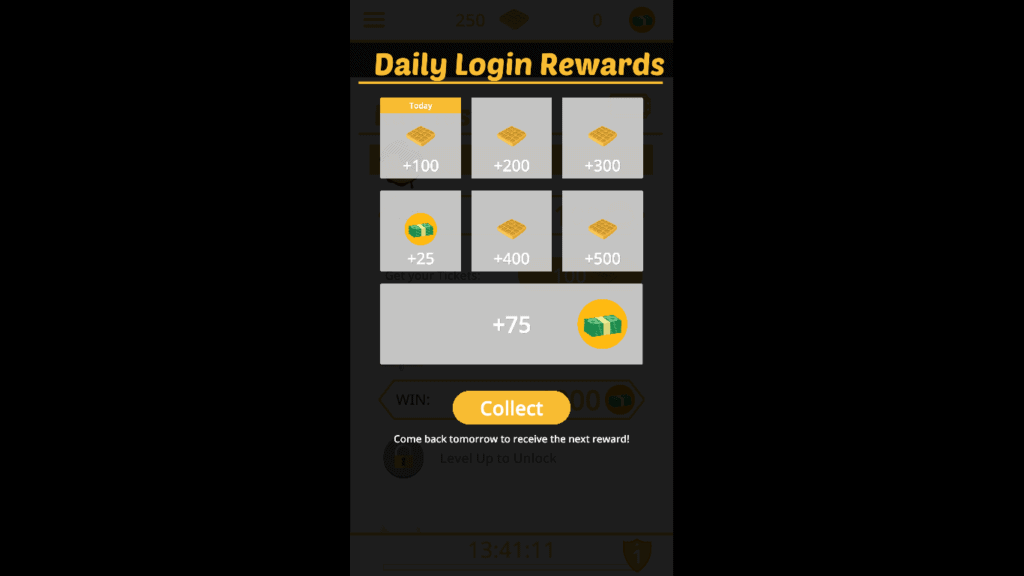 But How Do You Get More Waffles?
So, you can't just rely on your daily bonuses to enter raffles.
You need more waffles in order to enter raffles and then also, to level up and enter more of the higher paid ones.
To earn more waffles, there are a couple of additional things you can do.
You can complete paid offers, trials and so one – for various amounts. Or…
You can watch videos, (more ADs), which will get you an additional 50 waffles each time.
Invite friends, (explained further down).
By paid offers I mean things like: signing up to other websites, downloading certain other Apps and reaching a particular level, signing up to free trials.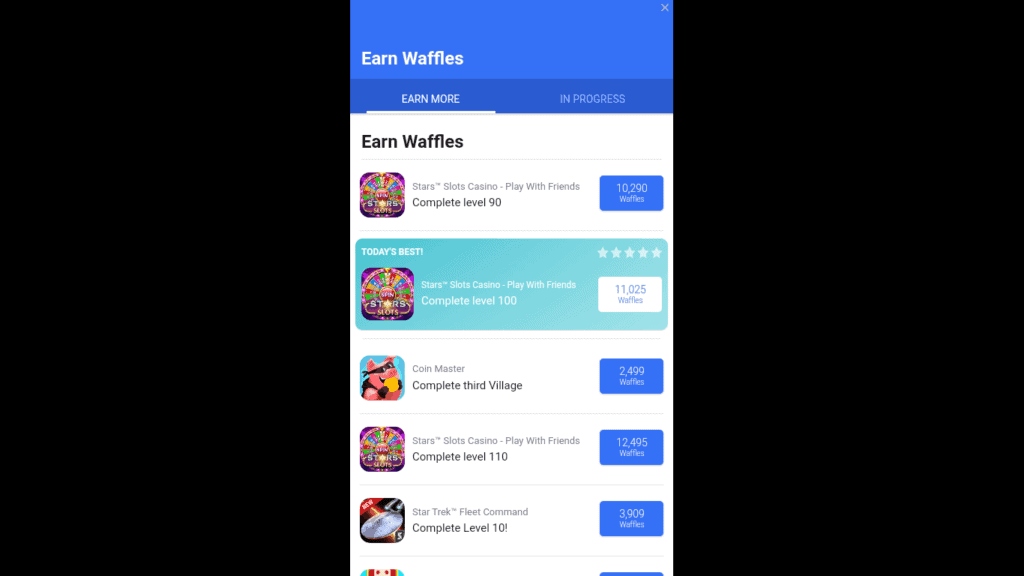 The paid offers are going to be the ones that offer most, but of course they will cost you.
With free trials, you need to be sure to cancel within a certain time frame – or be charged.
Which is something I've been caught out with before in the past.
As is the case with all paid offers, you need to read the instructions carefully and follow every step to ensure you get your reward.
Glitch Issues?
Sometimes you may think that you can't close an Ad once it's finished playing on this App.
However, there is an invisible X on the right hand side. Just hover over the top right hand side of the screen and it should appear if you cannot see it.
Before I knew this, I thought there was a glitch and that the screen was freezing, but this wasn't actually the case.
I think it's just an additional tactic for you to click on the Ad for the Apps and go to the download page.
Waffle Raffle Referral Program:
You can also earn more raffles by inviting your friends and family to join.
You can get 25% on everything they make – although that's not likely to be much, (if anything) as their chances of actually winning any raffles and cashing out is very small.
Also, the referral code they seem to give out is very long and would require someone to copy & paste — rather than simply go via an affiliate link.
Waffle Raffle Rewards:
The payout at Waffle Raffle is low at only $10.
$10 is going to be equal to 1000 of their "notes," available to win on the App.
If you're lucky enough to reach that $10, (or beyond) there are a variety of rewards to choose from… including…
PayPal,
Playstation,
Primark,
Starbucks,
Amazon,
Google Play… and more!
What Are The Odds Of Winning Waffle Raffle?
You can sometimes find this information in the Apps T&C's, or their disclaimer section of the App.
But I can see no reference of the Odds of winning when I took a look for this.
Of course, the odds with raffle apps are difficult because it is going to depend on how many people are playing at any time.
It also depends how many Apps are sharing the same prizes. For example; you could have a whole bunch of very similar raffle Apps, all sharing the same prizes.
You can be sure in any event, that the odds of winning any prize at all, is tiny.
Feedback Online About Waffle Raffle App:
This app has 4 stars on Google Play and close to 2.5k ratings at this time.
The first thing I noticed was that some reviews look overly enthusiastic, which did not seem genuine.
For example – someone said it was the highest paying App they'd ever seen!! Clearly BS.
I think some players genuinely have no idea how small the chance of winning is.
Personally, I think Apps that incorporate OTHER games into them are far more enjoyable.
There's next to nothing to do on this App.
Others that incorporate more than just raffles are things like Lucky Now Lucky Go and Lucky Cat App, (all incredibly similar).
The above Apps include other games, like free scratchcards and lotto – plus are just generally more interactive.
You'll still really struggle to make any money with those Apps either… But you may have more fun doing it!
Is Waffle Raffle Worth It?
To me know – if you're looking at this from entertainment value, there isn't much here that's fun.
There are other Apps that have lots more ways to win and so on.
If you're looking at it from a winning perspective, your chances of winning are going to be very low and you'd have to spend quite a bit of time trying to level up to enter bigger raffles.
Doing things like paid offers to get more waffles can be risky – as it can cost you money, it can also be time consuming.
Make More Money Long Term:
Looking for a quick fix an easy option is rarely going to yield good results in the long-term!
I guess I learned that the hard way.
In my search to make money from online efforts, I've tried these side hustles online.
But after all that, today I do still earn the most from having my own website!
I had zero idea how I'd make money from a website, but I first learnt about it here.
You'll find some free training here, that helped me first understand how to get started.
That concludes my Waffle Raffle review for now — but feel free to comment below.
I'd also love to hear from you, if you have won anything on either Waffle Raffle, or ANY similar App!