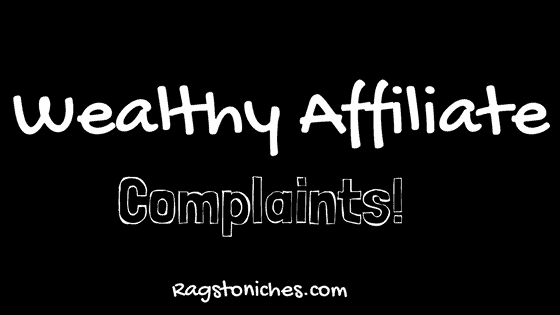 Wealthy Affiliate Complaints?! For 2018.
I'm a long term member of WA, so I feel confident that I can tackle some complaints against Wealthy Affiliate and consider their merit.
I feel I should tackle both what I consider to be false complaints, and some others that you could consider legit.
This post is based on my own personal experience – all opinions expressed are my own.
False Complaints:
When you first join Wealthy Affiliate, there are two routes you can take. The regular certification course, where you choose a niche that interests you personally, or the Bootcamp route, (with a brand new, updated certification being rolled out for 2017/2018).
The Bootcamp certification, specifically focuses on the make-money-online niche.
Related post – what is a niche website?
I personally went through the regular certification course and built several websites first, prior to deciding to check out Bootcamp.
I'd already made money in a couple of other niches and I'd recommend that anyone just starting online, picks a niche that interests them first.
In any case, originally within the Bootcamp training, you're shown Kyles own website, (the co-founder of WA) and his website is based on avoiding scams online.
However, the brand new Bootcamp for 2017 focuses on a new website based on affiliate marketing, with the emphasis no longer on online scams.
Because the original training did focus on scams to some degree however, this led to some affiliates being criticised for labelling too many things scams and there was some backlash.
By negatively reviewing certain products, you're going to make some individuals angry at some point or other.
I'd be very wary in calling something as a scam, unless I was absolutely sure.
There are times where you really can be certain, such as in the case as obvious pyramid schemes or get-rich-quick-schemes.
related post – Is cash gifting a scam?
However, I think it's important to review something as honestly as you can do, with as much information as you can gather.
The result has been though, that some negative reviews have made people very upset with WA affiliates, with many negative false judgements and complaints aimed at Wealthy Affiliate as a whole.
Wealthy Affiliate Bootcamp is only one part of WA and not the main part either, so it's wrong to judge WA from this angle.
Additionally; Bootcamp is being completely updated as I write this, (and I'm really impressed with the updates that I've seen so far!).
All of the new courses are being launched this year, so I'm exciting to go through them as soon as they're released.
False Complaint (1) People at Wealthy affiliate only make money by promoting Wealthy affiliate.
This criticism is a completely false and unfounded complaint, for a number of reasons.
Firstly, people who have gone through Bootcamp and are promoting WA, are not JUST promoting wealthy affiliate alone.
WA affiliates are always looking out for decent products that they can promote.
They're not just looking for products that they write a negative review for – far from it!
But there are so many bad, or hugely overpriced products out there, that it makes it difficult for the great ones to shine through and provide value.
Unfortunately, there are also a mass amount of scam products out there, that also sell extremely well!
For example, some best-selling products on Clickbank are considered to be scams by many.
related post:  Is Clickbank A Scam?
If WA affiliates were purely out to make quick money, they could readily promote and earn commissions off scams all over the place.
But in a majority of cases, (not all) WA affiliates genuinely want to help people find genuine, decent training and avoid scams.
Many WA affiliates have been scammed before in the past and that's a motivation for them.
The people who claim that WA affiliates only make money from promoting it, are clearly ignorant to the training within WA.
The core certification course is purely based on affiliate marketing in any niche…NOT in the make money online niche.
Even if you do go into Bootcamp, you will be looking to promote a variety of products, not just Wealthy Affiliate.
ALSO…
Another reason for this fake criticism, is that people who have gone through Bootcamp, are often the most vocal in the community about their progress and are some of the most long-standing members in WA.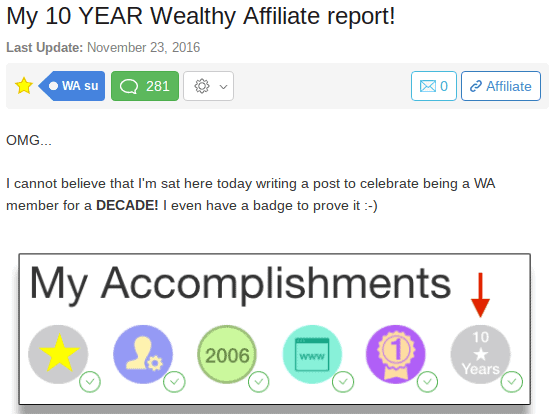 This is for a couple of reasons that I will outline now…
Firstly, if you're a paying member of WA, you receive double the commissions for your referrals.
Therefore, most will want to remain a member for as long as they're affiliated, especially if they are making a decent amount of money.
A majority of those long term members will also be yearly members, because the yearly membership provides such a big discount – it's a no-brainer for anyone who intends to stay more than a few months.
Secondly, a reason that people in other niches are often less vocal when they start making money, seems to boil down largely to one thing in my opinion – they're worried about copycats!
If someone in a regular niche posts about how much money they're making, everyone wants to know what niche they're in and what their site is about.
Often the person won't share it, because unfortunately, there will always be some people are waiting to jump on a good idea, or a profitable niche.
That's certainly not the vast majority of people, but it does happen.
Additionally, many members who are not WA affiliates and have their own niche, may not stay very long!
They work out what they're doing, there website becomes profitable and they decide to go it alone.
WA affiliates are far less worried about sharing their success, because their niche is already out in the open.
Also, if they have started making money, they'll know just how tough it was to get to that stage.
It's much harder to make your first sales in the make-money-online niche, than with something like an Amazon affiliate site, (from my experience!).
related post:  How to make your first affiliate sale online..
It's understandable that people who are upset after having a negative review, may jump to the conclusion that only people making money at WA are promoting it – but it's just not the case.
False Complaint 2: The Websites You Build Aren't Real:
Now, I have to admit, I have only ever ONCE seen this complaint on the web – but it was so crazy, that I just had to write about it now.
Basically, this person claimed that none of his content on his website had been indexed for many months, despite him claiming it was good quality.
Suddenly, just before his membership was due to be renewed, apparently WA said his site was indexed, (there is a section that tells you this within WA).
However, when he searched for the website, he still could not find it.
He concluded that the websites you get within WA, are just phantom websites and can't be found anywhere on the web.
Obviously, this is nuts… If you found my website within the search engine, you can see for yourself that that isn't true.
Every website I've created has been indexed in Google and found within the search –
So, there will be reasons why his website wasn't, (or that he couldn't find it) but it was nothing to do with phantom sites.
I use the search function within Jaaxy to find the location of every post I've made within Google.
You can find the position of your post or page independently in the search engine by simply searching for your keyword, (if it's ranked at all and it may not be).
If no ones websites were ever indexed in WA – how would anyone ever be making money?
Clearly, this complaint was totally misinformed and the result of someone feeling frustrated with their results.
However, there are no guarantees that your content will be indexed in google.
Particularly if you don't follow the training correctly, do the correct on-site SEO, or expect quick results.
Sometimes, people have approached me when they haven't made any money asking for advice.  I see the same issues every single time, you can see what they are in the post below.
related post – 12 reasons why your website isn't making money.
False Complaint 3 – Wealthy Affiliate Isn't Free, therefore it's a scam:
While some WA affiliates definitely promote the free membership heavily, generally affiliates will openly discuss the pricing clearly within their reviews.
With your FREE membership, you can get a tonne more value than you can within any other related membership program.
You get a free 10-part training course, two siterubix websites and you have access to all premium features for a full 7 days – which includes live chat, classrooms, the live training library and much more.
The difference between the free and premium memberships can be shown below.
You also then have the option of a more than half price discount on the first month of premium.
Basically, there is nothing hidden – you are able to see EVERYTHING that premium has to offer for 7 days.
After this time, if you still want premium access, you can check it out for a further month at a very low price.
You do need to be a premium member to take full advantage of all the training and you do need to purchase a domain that you own if you're serious about building an online business.
However, the free membership is an important option for several reasons.
Firstly because, lots of people figure out quickly that this stuff just is not for them!
Wealthy Affiliate gives them a great opportunity to access the entire website for FREE, prior to making any commitment whatsoever. You don't even need to give them payment details.
This is a really brilliant thing, because so many courses demand hundreds, if not thousands of dollars in some cases, upfront, before you've got any idea if this is for you.
It's much better to get an insight into what you're getting into, before you jump in.
False Complaint 4 – WA Affiliates Write Fake Reviews, Therefore, It's a Scam:
No one at Wealthy Affiliate is encouraged to call legitimate companies a scam, nor to just write negative reviews of legit companies.
While a few WA affiliates have been accused of labelling some arguably legit programs scams, this is not due to WA, but down to those individuals writing those reviews.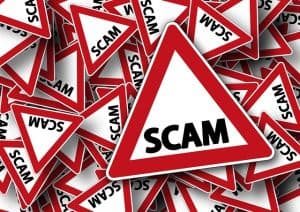 Additionally, one individual may decide a program is decent and another person will say it's a scam and this can be a matter of opinion.
Very often WA affiliates will have conflicting reviews – some claiming a product is good and another saying it is bad.
This is normal, because everyone is different and people can have a different opinions.
Well… almost.
Personally, I do feel there are cases where something is definitely a scam and obviously so, to anyone with some experience online.
Nevertheless, WA does not have control over what individuals choose to write on their own websites.
Often people who are annoyed about a negative review will call a review fake – even when they've been of multiple complaints against the program and many negative reports.
Regularly, you can see in the comments section below a negative review, many complaints from people who feel they've been ripped off by a program and thanking the reviewer for exposing it!
WA affiliates write a whole spectrum of reviews, from bad, to OK and excellent.
They will also promote other products and services aside from WA.
Just like with my website here, I have positive reviews, average reviews and negative reviews and I can make commissions off various products that I choose to review well.
If I like a product, I will always positively review it, even when I don't make any commission at all.
For example, I rate User Testing highly and they do not currently have an affiliate program, so I make nothing out of rating them well.
I gave them a good review, because they're something that I use and I have had a good experience with them and believe they could be beneficial to others wanting to make money online.
Criticising Wealthy Affiliate in its entirety, just because of what a minority of there affiliates may have written on their websites, is completely ignoring the main part of Wealthy Affiliate altogether!
Most people going into WA, do not go into the make-money-online niche at all.  They go into their own niche of there choosing.
Fake Complaint 5, You're pressured Into Bootcamp.
This is a rare complaint, but some people have claimed to have felt pressured into promoting Wealthy Affiliate and joining Bootcamp.
The reality is, Bootcamp is barely mentioned to starter members!
In the level one certification course, (which is the standard certification course that everyone is sent to on arrival) Kyle says, that if you're having too much of a problem coming up with your own niche, that you could check out Bootcamp.
Now, personally, I do not think that someone brand new online should go into the make-money-online niche.
It's highly competitive and I feel you should have had some experience making sales online, prior to going into that area.
Lots of people both agree and disagree with me on this point.
It is true that you can learn as you go and progress, but I still feel that the mistakes you make starting in your own niche and building your first websites, can really help you.
In any case, there is zero pressure to join Bootcamp.
In fact, when I messaged Kyle to say I was thinking of joining Bootcamp initially, he tried to turn me off the idea – as I already had several websites on the go and he said that it wasn't a good idea to juggle too many things at once.
He was completely right – never juggle too many sites! In the early days in particular.
Fake Complaint 6, You Can't Cancel Your Account & are still charged.
Just a few reports claim that people couldn't cancel there account and were still charged.
This is a very rare occurrence and must be due to a system error.  For the mass majority, this simply never happens.
I've only ever seen a few cases of this, (out of the many thousands of people who have joined WA).
You can cancel your account at any time very simply, you just press a cancel button, which you can find within your account area.
If you have any additional issues, contact Kyle directly.  Personally, I've only ever waited around 24 hours for a response.
Other Complaints:
The 7 Days Of Premium Is Not Long Enough:
As long as you join when you can give yourself enough time to go through the training, 7 days is more than long enough for you to figure out if this is for you.
Personally, I went through the initial training for three days before I decided to become premium.
I know I felt anxious to join so that I could get my first month discount, but I didn't feel too overly rushed.
You do get over 50% off your initial first month, which makes it really good value for that entire first month.
After that time you'll completely know if it's right for you to continue on.
In my experience, a vast majority do stay on after that first month, because they can see just how much value the membership provides.
For those who have been scammed by other programs, it will seem really refreshing to actually be given valid and helpful information and training – that's step-by-step and accessible.
Nothing left out and no upsells to feel pressurised into.
Check out the free 10 part taster course here….
Premium is it, there is nothing else you need to sign up to or subscribe to.
If you don't have that initial $19 for your first month into building an online business, then I doubt this is the right road for you right now.
Because, you really do need to be highly committed to it for it to work and that will be a long term commitment for years to come.
You will need to invest in your business from time to time – that's just reality of owning a business.
But what you need to invest is pocket money in comparison to what you'd need to start a business in the real world.
For example, most people starting a regular business would expect to not make a profit in there first year. But that's not the case in online business.
By the end of my first year, I'd made back my yearly Wealthy Affiliate membership fees several times over.
My results were far tamer than some, but I was pleased that I'd made a good profit and could see that improve in the years to come.
If you're hoping to be making six figures within the first year though, you will be bitterly disappointed.
Too Many Newbies Giving Bad Advice?
There are a lot of people who are brand new online at WA and after a few weeks feel qualified enough to start giving serious advice to those who are just beginning.
Sometimes, this advice will not be the best, or could even be wrong.
That being said, there are a lot of really well qualified people within WA as well.
it's just important to just be wary of jumping on board of the first advice that you hear.
You can check out peoples profiles, blogs and sometimes there website to get an idea of how experienced they may be.
Generally though, if you ask a question, multiple people will answer and you can get a good response that way.
Another thing you can do, is contact who ever referred you for advice directly – that is what they're there for!  To help!
Wealthy Affiliate Members Are Obsessed With Ranking:
There is a ranking system within WA, that's currently being improved.
The problem is, that anyone can become highly ranked within WA just by writing a lot of blogs, (no matter what is in them) answering a lot of questions and generally being very active within the online community.
This means that someone could make their way up into the top 25 of WA members, without necessarily having much experience making money online.
Unfortunately, some members get obsessed with this ranking system and try to get to the top.
Even though, it has absolutely zero impact on their success and means very little, aside from there activity within WA.
Wealthy Affiliate are now working on other ways to get members to spend more time creating content for their websites.
They've recently created a whole new content creation platform, where people will get some perks the more they write and will be able to set content goals.
How people get ranked within WA is also going to be changing soon, so it will be interesting how this develops.
Writing Rights Withdrawn:
Sometimes, you can lose the ability to write blog posts at WA, or participate in live chat, write blogs and answer questions.
As a starter member, you only have this ability for 7 days, after this, you need to be a premium member.
But when premium members have this ability revoked for a time, it is generally only for a few reasons.
For example; this will be because they're spamming their own links, being aggressive or rude to people, or sometimes for harshly criticizing/ranting about the WA platform.
People are entitled to voice there opinions, but when this opinion is misinformed, or just deemed too negative, posts can disappear and writing writes taken away for a time.
If there is a healthy discussion/debate about a topic going on, the founders will generally participate too and give share their own feelings about the situation.
There are just a few times when someone may be too over the top, at times they may also be targeting individuals within the community, which could be considered bullying.
I've participated in debates myself and have never had my own rights taken away, so I think you can speak your mind without causing offense.
Billing Issues & Refunds:
Billing complaints are rare and generally down to people not properly reading the T&C's.
Your free membership is free, there is nothing to cancel and you never have to pass on your credit card info.
If you do sign up to premium within the first 7 days, you pay $19 for the first month. It's $49 thereafter, if you do not cancel, (unless you upgrade to yearly).
As you've already checked out WA and undertsnad everything it has to offer; while you can cancel on any individual month, you can't be refunded for the month you're already in.
So, for example: If you pay in May and cancel in May, you will not be billed for June. But you cannot be refunded for May.
This is standard practice for membership programs.
Also, if you pay for the yearly membership – you cannot decide two months down the line that you want a refund. But of course, you can cancel your annual billing and you won't be charged for the next year.
Canceling your premium membership is very simple to do, at any time.  This can be done with a click of a button. If you have any issues at all canceling your account, you should contact Kyle directly.
So, if you've stuck with this post until the end, you deserve a medal because it is extremely long.
I didn't bother to outline the  downsides which I'd already mentioned in my main review, (such as the courses can be overwhelming at first and so on).
But have I left anything out?
Please feel free to add your comments and suggestions below and I will get back to you as soon as I can.
---
Ultimately, Wealthy Affiliate is still one of the best places that a beginner can get started online, (in my opinion).
If you believe you've found a better platform online:  let me know in the comments!
There is such a wealth of information there, that even if you don't go on to create websites or blogs, you will gain an education that can lead into other areas online too.
I have not found any other membership program that provides as much value and content – and the great thing is, it's just growing and getting better over time!
There are tonnes of new things coming to WA in 2018, so there are exciting times ahead.
Read My Full Wealthy Affiliate Review Here…..
Alternatively, you can sign up for your free starter membership here and we can connect over at WA.
All the best,