*UPDATE – in 2020, this post is long overdue an update. I personally wouldn't recommend anything affilorama wise now days, (aside from their free training).
Wealthy affiliate has some free training incorporated in their site anyway, so I'd probably try that first if you're a beginner.
I've been a member of both Wealthy Affiliate (WA) and Affilorama.  At one point was a premium member of both, at the same time.
Overall, I found that the value and benefits of Wealthy affiliate better than Affilorama. WA was also considerably cheaper, (despite the wealth of information) and has a more active community.
Wealthy Affiliate Vs Affilorama:
Wealthy Affiliate Founded in 2005 by kyle & Carson, gradually progressed into the huge training platform that it is today.  With a vast amount of training available, (both free and paid) – a large amount of the content is aimed at newbies.
Affilorama: Founded in 2006 by Mark Ling and Simon Slade – again, focused on teaching people brand new to affiliate marketing and how to create an online business.  They also have a large library of free information, as well as paid membership options.
Considering they both focus on teaching affiliate marketing, their styles couldn't be more different and on that basis alone, which you prefer will always vary depending on which style suits you.
In this article, I will compare the following between Wealthy Affiliate and Affilorama:
Training available.
Value and pricing.
Community & Support.
Training Available
AFFILORAMA TRAINING:
There are a number of different ways to experience the training at Affilorama:
Free lessons.
Premium membership, (bonus videos, affiliotools, hosting for 15 sites, interviews and webinars).
Affilioblueprint, all in one course, (including affiliotheme, a premium theme designed with marketers in mind) teaches you step-by-step how to make money online.
Affiliojetpack, their high ticket item, and all in one made for you package, (currently not available).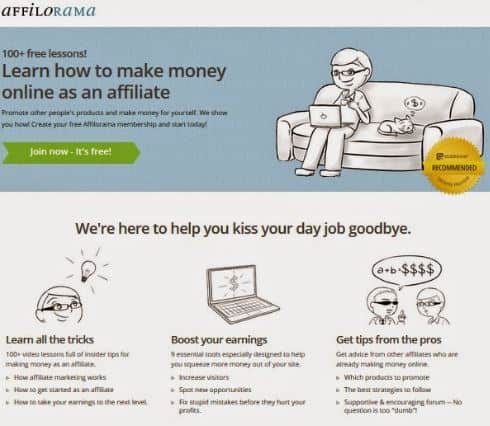 FREE TRAINING:
There is over 100 hours of FREE video training at Affilorama and, considering that is completely free, the lessons contain plenty of useful information.
If you haven't watched any of the free training over there, I recommend you take a look.
Training comes in the forms of easy to digest videos that are clear and to the point – these come with a write up underneath to support the video training.
PREMIUM MEMBERSHIP:
As far as premium goes, I had a sense upon signing up of not really knowing what to do.
In a nutshell you get…
Some advanced training modules.
Affiliate bootcamp videos, where Mark Ling shows you how to build an affiliate site from scratch.
Free hosting for up to 15 domains.
Having already been a member of Wealthy Affiliate, I suppose I expected more in this respect and I also expected more to be available to me.
I don't find Affilorama easy to navigate, I was constantly distracted by multiple headlines for different training.
I just wanted someone to tell me which training to watch in which order and not have all these other distracting elements around me that would tempt me to do something else.
The actual content available within the premium membership is not very broad and I struggle to understand the value of paying a monthly membership.
The best part of the premium membership, from my view, was affiliate bootcamp videos, where you get to see Mark create an affiliate website from scratch.
The problem is, these videos are not very user friendly either – with some are over two hours long! Yikes.
It's much more accessible to be able to watch short amounts of training in segments, rather than just be overloaded by information at once.
The bootcamp videos themselves were also slow going and I found myself getting bored, despite the great content, they're just too long.
If you can keep yourself awake, there is plenty to learn from actually viewing the content……..just not two hours of it in one go.
This is in stark contrast to much of the free video training available, which consists of short snappy videos that are quick and easy to absorb.
As criticisms go, while Affilorama used to teach some outdated techniques including PLR articles and a large focus on backlinking – this is no longer the case.

Many people still report they have this outdated training, but this is no longer true, (see below a warning about PLR articles on the affilorama website).
AFFILIOBLUEPRINT & AFFILIOJETPACK
Affiliojetpack was Affilorama's high ticket item, (nearly $1000) and this is currently closed – this was an 80% all created for you package.
I'm not a fan of any "done for you," type deals, (on the whole and there are a couple of exceptions).
Generally, there will be in a limited number of niches to choose from, there will be duplicate content and over saturation, (take instaniche for example).
I also saw plenty of criticisms of Affiliojetpack, even when it was up and running.
I'd love to know if you personally had any experience of this, so let me know.
Affilioblueprint is completely different as it's an all in one, step by step course, (which also has Affiliotheme included, another upsell Affilorama has available).
You would not need to pay for premium membership to be a part of it, although it doesn't include affiliotools, or hosting after one year.
I wouldn't be worry about not having affiliotools anyway – there is a lot of unnecessary stuff included, you can do fine with google analytics/webmaster tools on your own and get some more advanced tools down the line if you need them.
Hosting you can also sort out yourself after the year, (or before if you have it already). So, as an overall deal, affilioblueprint is pretty good value for money.
WEALTHY AFFILIATE TRAINING:
The training at Wealthy Affiliate is very transparent and aside from the regular premium membership, there are no additional upsells.
Once you pay for your premium membership, you have access to all training available.
Free starter membership consisting of a 10-part course & two free siterubix sites.
Premium membership, consisting of many hours of video training, step-by-step courses, (the regular affiliate certification and bootcamp, which is in the make money online niche) weekly webinars and mass amounts of training created by members themselves.
I personally found the training itself much easier to follow, each lesson comes with specific action you should take before you tackle the next lesson.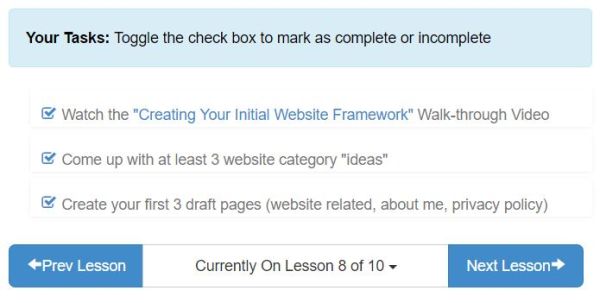 Wealthy Affiliate also prides itself on regularly updating material in light of any changes, (ie; google algorithm updates).
The creators strive to keep WA training accurate as far as modern SEO practices.
Wealthy Affiliate focuses primarily on content creation and building up free, natural organic traffic by targeting low-competition keywords and ranking highly in the search engines.
WEALTHY AFFILIATE PREMIUM MEMBERSHIP…
As a premium member you have access to all training that is available.
This includes…
Unlimited domains and free siterubix sites.
Access to the WA keyword tool.
Weekly live training webinars.
Hundreds of past live webinars to watch.
Live chat.
Training classrooms.
4 more certification courses, (after your initial freebie).
Bootcamp training course, (aimed at the make money online niche).
Ability to create your own training after three months, (and get paid for it too).
The premium membership training available is more than you could ever get through and as such, it may get a little overwhelming at first.
That said, I find WA much easier to navigate than Affilorama – the certification courses are clearly set out and the additional training surrounding it; you can just dip into at your own convenience.
VALUE AND PRICING:
Since Wealthy Affiliate doesn't have any upsells apart from the general premium membership, there isn't much point in including Affilioblueprint in this price comparison.
That being said, Affilioblueprint is a stand alone product and could be used without being a premium member at Affilorama. Priced at $197, it's relatively good value.
That aside, what about the regular memberships?
Well, the free Affilorama training is really extensive and I do encourage you to take a look if you haven't already.
However, where it falls short is it doesn't take you by the hand and actually show you how to put your site together.
By contrast, the free training at Wealthy Affiliate goes each every aspect step by step, from setting up wordpress, creating your initial pages, picking a niche, SEO basics, keyword research,  affiliate marketing and so on…
and as I mentioned before, there is a checklist below each lesson to make sure you're keeping on track.
Premium membership wise, I feel Wealthy Affiliate holds significantly more value.
There is such a vast amount of training available as part of the WA premium membership and it grows day by day and week by week.
Weekly, due to the live training webinars which are recorded and can be watched again at any time and daily because members themselves contribute to adding training that can also be very helpful.
The only thing that Affilorma has that's really unique to WA is Affiliotools; but having looked them over, I found much of it to be unnecessary.
You can seek out the info you need for free online without it.
One thing I'd like to see inside WA, is perhaps interviews with some really successful affiliates.
While plenty of successful affiliates blog about their success within the WA membership area, I have found interviews with successful affiliates or website owners very inspiring to watch on other courses, (such as the ones inside bring the fresh!)
HOW MUCH DOES IT COST?
Price wise, you're looking $67 per month at Affilorama, (there is also a $1 trial for 30 days).
Wealthy Affiliate is $49 per month, (with the option of a free trial for 7 days and $19 for the first month) – you can also get a discount for paying yearly at $495 for the year.
So, while there is more training available at Wealthy Affiliate, the monthly price is also significantly lower.
COMMUNITY & WEB SUPPORT
AFFILORAMA COMMUNITY & SUPPORT:
I found the email support at Affilorama incredibly helpful – however, they did take over a day to get back to me.
You're also meant to reach out to the community, but with a large mix of new members, you may not get the right information.
I didn't feel there was a community vibe in the same way as at Wealthy Affiliate at all.
In fact, while I was a member there were a really limited number of long term active members in the forum and certainly seems to have reduced from days gone by!
Just as an added note, once you're subscribed you will also start getting emails by Mark Ling trying to sell you other products!
I've regularly attended webinars out of curiosity as a result of these emails and Mark Ling rakes in a tonne of money as an affiliate himself, by promoting other internet marketers high ticket items to his affilorama mailing list!!
The issue I have is that some of these products have been highly criticised. Generally for being overpriced and not delivering.
For example, at one time he was promoting OMG machines.
Mark Ling is a likeable guy, (from what I've seen) but these sorts of tactics are disappointing.
WEALTHY AFFILIATE COMMUNITY AND SUPPORT:
At WA there is a live chat feature which means you can also instantly ask questions – however, because there are also lots of new members at WA too, you could potentially get the wrong advice.
However, in addition to live chat, you can ask your question directly to the whole community, you can contact web support if there is a technical issue, (who are incredibly quick getting back to you).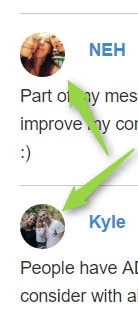 Or, finally, you can even contact one of the owners, both are regularly on live chat.
I have personally contacted Kyle via private message on many occasions and it's very rare to be able to chat 1 on 1 to the creator of these online programs.
That is, without some hefty 1-to-1 coaching price-tag attached to it!
So, in this respect Wealthy Affiliate certainly comes out on top too.
The only issue is that you can get so distracted by the community and live chat, that you can spend too much time in there.
That being said, it's incredibly important to be able to get help when you want it and there will always be someone watching that can advise you.
WEALTHY AFFILIATE VS AFFILORAMA: WHO WINS?
I think I've made it clear who I think comes out on top in this comparison – it's a clear win for Wealthy Affiliate!
But what do you think?
Both platforms have their place and both are completely different in terms of their style, layout and training.
Now a long term member of Wealthy Affiliate myself, I feel the premium membership program really over delivers in terms of volume and quality – which is a very good thing!
It's also a rarity in the internet marketing world!
While Affilorama certainly does itself proud with the free content, the premium membership needs some work!
I feel that Affilorama will need to expand what it offers premium members, if it wants to maintain its place as one of the best affiliate marketing training platforms available.
As a Wealthy Affiliate member, I know that kyle and Carson are also always looking for new ways to improve WA and in the last ten years that it's been going, it's completely transformed.
If you want to check out both these platforms – you can try out Affilorama for $1 and sign up to Wealthy Affiliate for free.
You can sign up for these below….
Alternatively, you may want to read my full reviews first.
If so, you can find them below…
Please let me know your thoughts below!