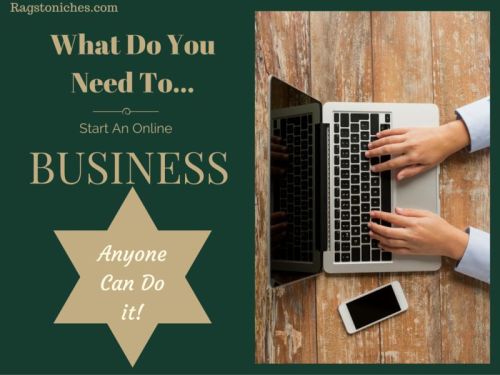 So, you've made the decision that you'd like some money online, or that you'd like to create an online business, but you have very little idea what you can do.
What do you need to start an online business?
The chances are that if you found this page, you're right in the beginning stages and may have already felt overwhelmed by the amount of conflicting information out there.
Well, what you need to start your online business will really depend on what sort of online business you want.
There are lots of ways you could potentially make money – whether you're thinking of:
Selling physical products on places like amazon.
And that's just for starters.
---
Choosing Your Route Into Online Business:
What you should consider, is how much experience you have online.
If you have very little experience, your best bet is to go into something that is low risk and learn the ropes.
Once you start learning how online business works, you will be more confident moving on into other ventures.
However, to get started at all with very little money, one of the best options I'd suggest is affiliate marketing.
Why?
Well, while it's not quick time wise, (you're not going to make money overnight with affiliate marketing) it is simple to learn, it's extremely low risk and you can start with very little money.
Once you master affiliate marketing, there are so many other ways that you can incorporate income streams later on.
Affiliate marketing involves selling or promoting other peoples products or services and getting paid a commission when people buy a product or sign up.
Pretty much any product or service you can think of is likely to have an associated affiliate program – so, the possibilities are endless.
It also doesn't take much money to get started.
I will outline some of the things that you need to get yourself started and some relevant training.
A complete beginner – with absolutely no website building experience, or anything internet marketing related, can completely start this from scratch, (I started myself with zero experience from the get go!).
---
What You Need To Get Started Online:
1.  At the bare minimum – you need to have a website to get started.  
This is incredibly easy and not at all expensive to do.
Related post: how to build a free website today.
While you can certainly start off with a free website, you will want to move on to owning your own domain eventually – as there are many benefits to this.
If you're keen to start off with a free website at first however, you can always transfer to your own domain later on.
If you want to consider having a website on a domain you own to start with, you'd need to both hosting and a domain name.
I normally purchase my domain names from Namecheap and you can see how to do so, over at this post. 
2. One of the most important things you need to get started is decent training & supportive community.
While you can search out information regarding ranking in google, keyword research, SEO skills and content creation via various free resources, (blogs and you tube)
Being part of a training program, ideally with an online supportive community, can be the fuel behind you that keeps you driving forward.
Starting an online business, while it is fairly simple in some ways, takes time, effort and dedication to pull off.
It's also quite overwhelming to cope in the beginning with the amount of information you have to take in.
An additional problem is that many online free resources can quickly become out of date and you will find a huge array of conflicting ideas.
To top it, there are also an infinite number of scam programs trying to sell you the next big thing, or next get-quick-rich scheme.
You can read about the platform where I trained myself, (and continue to stay on there to this day) here.
I honestly think I would have quit if it wasn't for this program, which is just such a great recourse of information, training and – most importantly – support.
3. You need an idea – You need a NICHE!
So, you've got your website and you're looking into training.  But what is your business going to be about?
The great thing is, you can really turn just about any interest into an online business if you want to.
The important thing is that people are interested in it and looking for either information or to buy a related product.
For example, if you have a passion for marathon running, you could have a website reviewing specific gadgets for long distance running, as well as training programs/related blog posts.
Alternatively, maybe you're a woman who is into weight training – creating a website specifically dedicated to women who are interested in weight training could be an option.
The idea is to choose an area of interest that is narrow enough that you won't face a mass of competition to start off with, but not so narrow that no one is looking for it.
For example, one of the first sites I built was was based on one product. Because it only focused on one product – I ran out of ideas, (and inspiration) about how to keep the site going.
Ultimately, you need to choose something that you will be very happy to write a lot about – and interestingly, just because you think you are interested in something or enjoy it – this doesn't mean you'll want to write about it!
To the contrary!  Another site I started once I thought I had great interest in, but it was only when I had to start writing that I realised that I just did not enjoy writing on the topic I'd chosen!
You may well go through a few ideas before you find what really fits and what you will look forward to working on long term.
 Related post: How to choose a niche online, passion vs profit.
It's a good idea to write a bunch of potential blog titles before you commit to your idea too.
This is where keyword research comes in and you'll learn all about that once you start training – it's not as complicated as it may sound.
 If you want to get started learning about affiliate marketing today – Join me & sign up for your free account!
I hope this post was useful to you, has anything held you back from getting started so far?  Let me know in the comments!
All the best… 🙂
Newbie Friendly Affiliate Training, Click Below!