A majority of reviews for the automated wealth network are currently out of date, as it appears, (from reading past reviews on the program) that it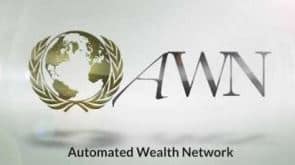 is completely different to what it used to be.
Automated wealth network originally had a tonne of negative reviews…
but, WHAT is automated wealth network NOW?
And has this program now been improved?  Read on to find out!
Product:  Automated Wealth Network (AWN)
Website:  automatedwealthnetwork.com
creators: Tim Chesonis and Mark Cocan
Price: $7, then upsells AWN core $67 ($47 downsell), AWN academy $497 one off (previously $197 a month), AWN underground, ($97 a month)
Overall Rating: 50/100
Review In Brief:  While this program has certainly changed, in my view the low value hook of $7 to enter their sales funnel will end up you needing to spend hundreds to actually get to the meat of the course.
There are vastly more affordable, transparent courses that offer more value out there.  For the best newbie training click here.
What is Automated Wealth Network? (AWN)
Automated Wealth Network has changed dramatically recently and so previous reviews you may find, (at the time of me writing this) are largely inaccurate.
Originally this product was created around a system which they termed "incentive marketing."
It involved promoting free offers to people and receiving a commission for each sign up.
It was claimed that it was all completely free to join – but actually there was a catch….
AWN had partnered with mycashfreebies Which costs a minimum of $30 and it used to be essential to join mycashfreebies, in order to join AWN.
However, this is now old news.
AWN is no longer free and there is no mycashfreebies to join.  You pay a $7 one off fee that gives you an entry level membership.
What is AWN now?
Your $7 basically gets you into the AWN sales funnel.  You very quickly have to pay more to gain access to further training and there are considerably more upsells along the way, if you wish to continue your journey with them.
The entry level is composed of two modules.  There are four further modules, but these are locked.
Each module has a set of video training and accompanying PDF that you can download.
The purpose of getting you in the door is to entice you into the upsells.  If you think this training is reasonable quality initially, of course you'll be more likely to buy.
Immediately after joining, I was confronted with two upsells one after the other.
If you decline them at this stage, there is the chance to join them later one you're in AWN – so, don't get hooked into thinking you need them now.
Upsells
Upon paying my $7, I'm directed to sales video no.1.
This is an upsell for AWN core level, $67, (or a $47 downsell when I was there).
This $67 will "unlock" the four modules currently unavailable to you in the members area.
This includes:
Targeted leverage, (getting traffic like a pro).
7 Step action map, (getting off the ground fast).
Advanced traffic, (paid traffic info).
AWN vault of archives.
They claim right away that you shouldn't expect fast results without taking this offer….
So, that initial $7 immediately feels like it was just a way to coax me into this sales funnel – and of course that's exactly what it is.
I wouldn't have minded this immediate upsell as much, if I wasn't catapulted on to another video directly after – which led on to the next upsell!
During this video, I am already getting the feeling that a newbie would feel overwhelmed, as it already seems to presuppose that you know something about internet marketing and either have a business, website or blog already.
Now, this second video, (which is also an upsell) was 47 minutes long.
It leads on to an upsell for AWN academy – which is currently selling for $497 a one off offer.
I just feel it's wrong for people to go through these upsells before they've even come into contact for the thing they've paid for.
Sure, you could have skipped these videos, but prior to watching them you won't know they're just for an upsell –  so a majority of people would certainly feel compelled to watch them all the way through.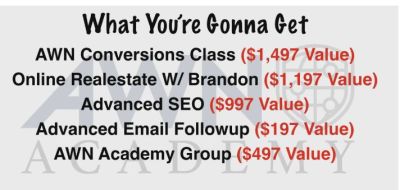 So, with the AWN academy upsell ($497) you get –
AWN conversion class,
Online realestate with brandon,
advanced SEO,
advanced email follow up,
AWN academy group.
Plus bonus no.1: you tube intensive marketing course.
Bonus no.2: create your own products.
According to my research, this product was offered at $197 a month previously.
There seems to be a lot of switching around.  So who knows how long this current price will last.
I imagine by the time this review is released, more changes will have been made.
Tim also claims he will personally help you out here if you are having any trouble with your business and not making money.
Now, all this will be shown to you prior to seeing what you paid for $7.  Do not feel suckered in to forking out more money yet.
You are able to take up these offers once you've got inside and experienced some of the training.
Lastly, there is another upsell called AWN underground, (I will go into that a little further down the page).  You don't come across that until you're inside and it costs $97 per month.
The AWN Training
So, once you've dodged the upsells, you arrive at the members area of AWN and it's a really nice looking dashboard, easy to navigate and simple to figure out where you should be.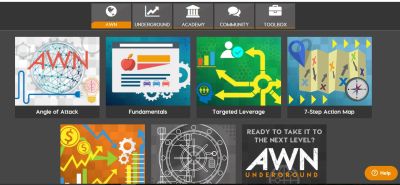 There are then two modules you can begin.
The other four are locked and you can only unlock them if you upgrade to core.
Module 1:  Angle of Attack.
This set of modules really focuses on mindset and how you need to change your way of thinking to be successful.
It includes the following videos:
AOA-BP introduction.
pt 1 self development.
pt 2 clearing the path.
pt 3 forward momentum.
pt 4 and 5 profits and layout.
As an absolute beginner, I'd have no idea what really I was meant to be doing during this phase.
Sure, I need the "right mindset", ok I'm with you… but what am I meant to be doing here!?  How am I going to be making money?  I want to take action!
If you have some basic knowledge, you will know what's going on, but you'll also probably feel that most of these videos are fluff.
There is nothing in depth going on that's going to help you practically right now.
Newbies especially really need something step-by-step to follow.  Solid easy to follow content that's followed up with them needing to take some kind of action, is what I feel works best and is what worked for me personally too.
Module 2: Fundamentals.
This includes the following videos:
These videos seem to mainly involve listing and explaining some basics of internet marketing.  Again this really falls short.
I was disappointed because clearly some care has gone into creating this product, but the content is lacking.
As a newbie you need in depth step by step instruction.  You really need a website to start your internet business, there is no instruction about this whatsoever.
This course is called fundamentals well – having a website and learning the basics there is one of the biggest fundamental aspects that many newbies are stumped by – here they're just left in the dark to figure this out.
The highlight of the training for me was the last video of the fundamentals section called mindset breakthough.
This is where Michael, one of the co-founders, goes through his own personal story and I personally found this very genuine.
So, Who is AWN for?
If they are not targeting complete total newbies…. who is their target audience?
Because everything they cover in these videos will already be known by people who have already gone through a course or two  before?
As a newbie though, there is basic internet marketing speak used in these videos that many will newbies know nothing about.
Ok, you are told in these videos what the difference is between PPC, CPM, solo adds, banner ads and text ads… but as a newbie, you won't have the faintest idea how to use them…
You probably don't even have a blog or website up and running yet!
So, getting into paid advertising is not the first thing you need to hear about and simply being given this information off the bat is totally pointless.
This is info that could have been discovered very quickly for free online via a quick google search, but it's not something that needs to be mentioned at all at this point.
What you want to know is how to use these methods. you want to be shown how to generate traffic to your site or blog, (once you have one!!) and you want to know how and when to use solo ads or PPC and so on….You don't want to simply know the difference between these things!?  Right?
As an experienced or intermediate marketer however, you'll know all this information anyway and therefore, you'll be learning nothing.
Consider when Tim says this:  "Good bloggers manipulate their content to show up in search engines using SEO strategies…so keep that in mind when you're trying to go out there and rank."
Now, if you're brand new online, there is a possibility that you may not know what SEO stands for, let alone how to manipulate your content using SEO techniques –
You may not know what it even means to "rank"…  So, how are you meant to just "keep SEO in mind.."  That really blew my mind!
This is the sort of fly away comment commonly found in these initial modules, so you will really be in the dark if you're brand new to any of this online stuff.
You'll naturally think that you'll have to buy AWN core ($67) to fill in the gaps…but that only buys you into four more modules.
If you do go on to pay for AWN core and complete the additional four modules, (which would take no time, they are not long) you'll then be led on to another upsell which they'll be counting on you to take.  That is: "AWN underground."
AWN underground is a monthly recurring fee of $97.  This is meant to the next step you need to take, in order to scale your business to the next level.
But naturally, you will then be compelled to go for the high ticket upsell, which is nearly $500.
AWN community…
There really is no "community" here.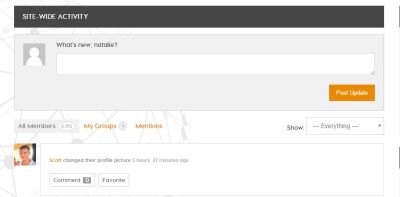 It currently consists of a window where you can post an update or question, but your question will be pushed down as other people comment.
There doesn't seem to be much activity.  They could have easily added a forum aspect to this membership, which I think would have been a lot more helpful for people.
One up side is that you can tag the creators and hopefully they will get back to you.
PROS VS CONS
PROS
The site itself is simple to navigate.
The videos are engaging to listen to and quite motivating in parts.
You can get hold of the creators directly if you need to.
There is a 14 day money back guarantee.
CONS
The initial so-called "training" for $7 is not training.  It's a bit of motivational talk, combined with an overview of what internet marketing consists of.
There is no step-by-step training, no action you need to take after each video.  He says to "take action"… but doing what?  There is no instruction.
Too focused on upselling rather than focusing on helpful, practical quality training.
Conclusion
The reality is, this is not a course for newbies.  It should be, but it's not.
So, if you're looking for a real education, you're not going to gain anything by spending your initial seven bucks.
There is much better value training available if you're even considering spending any more than that!
If you are an intermediate marketer and have got started, but haven't achieved any success yet – then the basic $7 is not going to teach you anything new either.
If you go on to pay for AWN core and complete that, no doubt still feeling lost because the training will not fill in all the gaps.
Then you'll feel more compelled to go for the further upsells and so it goes on and on….
So, so various reasons I've discussed, I can't recommend the Automated Wealth Network!
I appreciate they've tried to upgrade this program from what it used to be, but I don't like the way this system is designed to suck money out of people without providing the value people need to succeed.
Other Options…
So, if not AWN, then what?
There are high quality affordable training available elsewhere, where you can build your business and gain success without having to hand out hundreds of dollars and up front and just hope for the best.
There are also far more transparent courses out there, not ones that lure you into upsell after upsell!
I've been through many programs now and there are only a very few I recommend and consider good value training – I'm always on the look out for good value training – let me know if there's anything you'd like me to review!
There is one program that I rate #1 above all others – especially when it comes to people new online trying to get started – as it has step by step training and a very large supportive community.
Best yet, you don't have to even spend $7 to get inside, you can check it for free.  There is also a ten part course that's free to get you started too.
In fact, it's where I got started online myself and am still there today – Click here for my review and sign up for free.
So, that about wraps up my review for Automated Wealth Network 2.0!
Did you realise that the automated wealth network had changed?  Have you ever signed up yourself?  I'd love to hear from you.
Leave me a comment below!
All the best…. 🙂