What Is Cash Travel About… Is This PTC Worth Your Time?  Or Is It Just A Scam?
Cash Travel is a PTC website, established in 2012, a Canadian company created by Tony Xu.
I've looked over quite a number of PTC sites, some other names include clixsense, familyclix, buxvertise or neobux.
The primary way you earn money via PTC is by clicking on Ads for a set amount of time, (often between 5-20 seconds) and then you get paid.
Many people join PTC sites because they believe they can make easy money…clicking on an Ad isn't hard right?
But aside from a couple of dollars here and there, you can't make anything even close to good money on your own with PTC.
One way that some people make money from PTC, is by referring other people to PTC sites to do the clicking for them, (generating referrals).
But due to the minute amount of money people receive per ad, you'd need thousands of active members to make anything reasonable.
The "active members" part is a big issue, because most people do not continue with PTC for more than one week.
Consequently, you need to relentlessly get more referrals in all the time.
If you have a good method to do this, then you could have some success – but it's not a way to make money online that I'd recommend.
Would you like to make more than peanuts online?  Training this way.
Making Money With Cash Travel:
The sort of Ads you click on, will be like the ones below: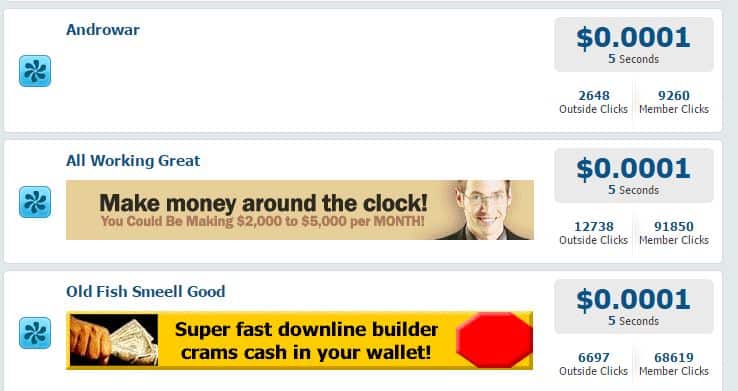 As you can see above, you will get paid $0.001 per ad that you click, on some I saw it was $0.0003.
We're talking fractions of a cent here, so you can see that the amount of earnings you can generate by yourself is minuscule.
There were only around 50 ads available to click on that I saw, to access more, you are required to become a premium member.
Other Ways To Earn With Cash Travel:
You can also earn by…
being paid to sign up..

Where you can sign up to various things and make a little more, $0.03 in these cases.
Paid to read…

Which are basically like very simple text Ads that you need to have on the screen for a number of seconds.
The PTC wall:
This includes such as; surveys and paid cash offers of various types, (where you will get a certain amount for things like signing up to websites/free trials or taking a certain action).
As far as the paid offers and surveys go, you'd be much better off joining a site like Swagbucks, that has a large selection and pays better.
The Clixwall:
There is also a Clixwall, which is very similar to the PTC wall, as it also includes more Ads and cash offers.
Cash Travel Premium Memberships:
As with a majority of PTC sites, you have the option to pay for a premium membership, which will give you additional benefits.
You can see the variation below.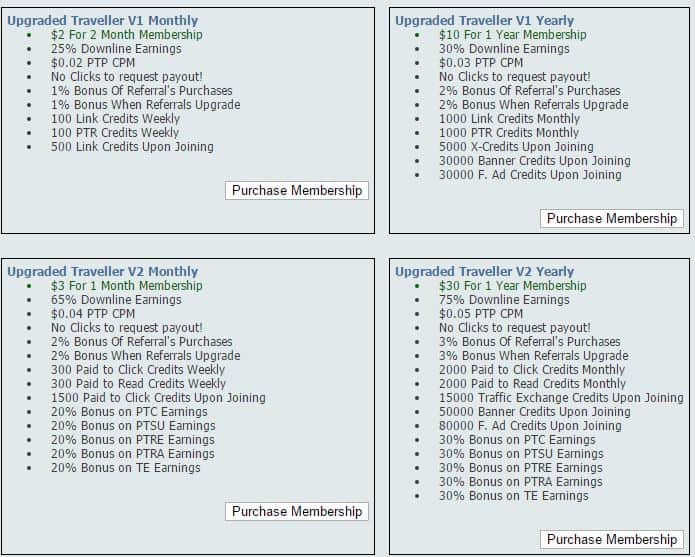 Unlike some PTC memberships, some of which can run into hundreds of dollars, the max membership cost here is $30 for the year.
(A PTC site I recently reviewed called Hit Click Flow is charging $690 for their highest membership).
However, obviously to make real use of the premium membership here, you'd want to be certain that you could get a decent amount of referrals.
If you haven't got a clue about how to generate referrals online, getting some training about internet marketing techniques would help.
But also, you should start to see how that works out for you before you go ahead and purchase anything.
Cash Travel Forum:
Something that I do like is that Cash Travel seem to have quite an active forum, including payment proof.

Having a forum does add some legitimacy, because it means members can openly discuss how well they're doing and any issues that arise.
It's also a place that people can show that they are being paid and how much they have made.
However, of the few that I clicked on in payment proof, the payments I saw were under a dollar.
For the most part, PTC is not a good money opportunity.
You can see this plainly in any case by the fact that, (at the time of writing) Cash Travel has over 65,000 members and has only paid out just over $19,000.
If every member was paid equally, they'd have made just over $3.
The reality is, many members will make much less and many will never cash out their earnings.
Hardly an opportunity to get excited about.
PROS VS CONS
PROS
Free sign up.
Premium memberships inexpensive.
Has an online forum, that seems pretty active.
Low payout threshold, ($0.05).
Cheap advertising, if you're looking from a promotional point of view.
CONS
Super low earnings, fraction of a cent per click.
Surveys or cash offer wise, you'll be paid better elsewhere.
Some people complain of payment delays.
PTC sites will advertise anything, including plenty of scam products – ultimately the PTC world is notoriously unreliable.
So, what is Cash Travel – a waste of time?
Generally, I feel that PTC sites are a complete waste of time.
The only way you can ever make reasonable money from PTC is via referrals, but you'd need so many, that it would be very difficult to achieve and sustain.
It's something you'd need to sustain, because most people will not stick at PTC for long.
Plus, if you're going down a referral route, there are so many other programs that pay you so much more per referral.
For example, even some survey related sites will pay you a percentage of your referrals earnings for life, with those earnings being more significant.
(For my favourite, check out Swagbucks).
Or – take one of the most famous programs out there, Amazon!  Amazon will pay you 4-1o% of any sale you make for them.
So, if someone spends $100 at Amazon after going through your affiliate link and you get 4%, that's $4.00 and that's just one sale.
And the percentage you earn, goes up depending on how many sales you make.
Amazon is one of the lower paying affiliate programs out there, but it's a really simple one to start off with.
If you'd like to learn how to make money via multiple affiliate programs and earn significantly more than clicking on Ads then, you need to check this out*
The only real reason I could imagine bothering with PTC, is by using their cheap advertising …but even that isn't ideal!
Since many people trying to make money with PTC, are looking to make money for free.
Therefore, if you're trying to sell something  – conversion rates may be pretty low.
That being said, Ads are cheap – so, you could trial it out.
If you're not in it for the advertising though I'd say…  look elsewhere!
What is your experience with PTC in general, or this website?
Leave me a comment below!
All the best…