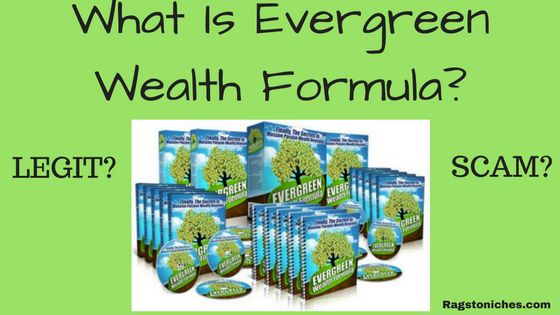 Could this be a legit training product?  Or is Evergreen Wealth Formula a Scam?
Please take note:  Evergreen Wealth Formula has now changed to Evergreen Wealth Formula 2.0 – I will be updating this review shortly, thank you!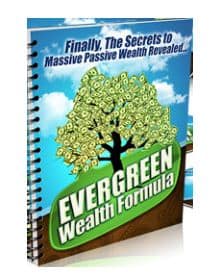 First of all I will point out:  This program does have some income related claims – such as you'll have made $100 in the first 30 days.
I'm always dubious when I hear that any "easy" or "simple" formula will make you money that fast, with no experience.
But….  I went into researching this program with an open mind.
Have you purchased the Evergreen Wealth Formula?  Share your opinion in the comments!
Product: Evergreen Wealth Formula
website: www.evergreenwealthformula.com
creator: James Scholes
Price: $97 – one-off-payment, (now $197).
Verdict: Legit – just take the income claims with a pinch of salt.
---
What is Evergreen Wealth Formula?
Evergreen Wealth Formula was created by James Scholes is a successful online marketer
from the UK and he started online in 2006.
This program is a full training system and covers all aspects of online marketing that a newbie needs to know in order to get up and running.
It's step-by-step video training based, such that, if you follow along with the program – you should have your business up and running by the end of the course.
Despite appearances, this product is not expensive and will contain some training of value.
James attempts to help newbies to make an online income, in the quickest time possible.
My initial impression by his sales video was that – although he seems likeable and genuine, he seemed quite insistent on how easy it all is and that once you have stuff set up, it all runs on autopilot.
Generally, that sends alarm bells ringing for me, because internet marketing does take work.
However, if you go into this with it in mind that you won't be an overnight success, there is value in this program.
Potential earning claims – don't assume this will happen for you.
The key initial claim from the start is that you can make your first $100 in the first 30 days  by implementing this system.
While this is a bold claim, it's not completely unrealistic.
Did you make your first $100 in the first 30 days of purchase?  Let me know in the comments!
As far as making $1000 in a day however, this is something that – while definitely more than possible with work and experience; is not something that will happen overnight!
James does refer a lot to his own earnings and how he managed to achieve x-amount in certain number of days and so on, but it's better not to assume you can completely mimic this off the bat.
Be Weary Of The Hype!
If you're a newbie, it's easy to be impressed when you see what some of these internet marketers are making.
But the reality is, they haven't got where they are without hard work, persistence and trial and error.
For example, James has spent years building a massive email list of thousands.
His list will be full of people that are already interested in purchasing the products he's marketing to them.  This doesn't happen overnight.
This is why so many people give up online.
They look for a quick fix, buy into a course and then get frustrated when they don't make money right away.
From my perspective, programs where the creators are making big boasting claims about their earnings, with screenshots and the like, show some of the characteristics of a scam.
In this case however, Evergreen wealth formula is legit!
So, I think James shoots himself in the foot a little – I also feel that he over exaggerates his own earning claims.
There is really no need for this, as I'm sure he's making a decent chunk of change.
But knowing what some of the most successful people in the industry make – it doesn't quite add up.
While you can follow along with James, learn his techniques and copy his methods, don't assume this is what you can earn what he does just by taking this brief course.
Two people taking exactly the same program, do not achieve the same results.
But if you put in the work required, you can certainly make money online using the methods he teaches.
Super quick results however, if you're brand new online, are extremely unlikely.
If you're cut out to focus on the program and do all the work required however, you have every possibility of making money online, it just won't fall in your lap and it may take a little longer than what James claims.
What does it cost?
This course comes at a very reasonable price – at $97, there are certainly courses of a similar nature, that have a much higher price tag.
At $97, I'd say this course was definitely value for money.
What About Support?
You can get regular support via email, if you have any problems or need advice.
The issue is, if you're brand new online, it certainly helps to have an online group that are going through the same thing, who you can call on for advice – or just support!
Nevertheless, as this is a one-off-price system, having email support is still a good thing.
Let's check out some of the… Pros Vs Cons!
PROS
There is a 60 day money back guarantee.
Templates available to help you build your websites and add squeeze pages.
Bite size daily video lessons to avoid overwhelm, which is also supplemented with written material.
Email marketing training.
You can't be an affiliate to his program, unless you purchase it.
CONS
No forum or community support, so you cannot connect with other members.
The is limited training on SEO techniques or keyword research.
Talking about his earnings adds to the hype and will give people false expectations.


---
Who is this program for?
If you're super new online and looking for a way to learn how to start building an online income, but you have limited funds, this is a good opportunity to get started.
Similarly, if you have tried a few things online by yourself and have been getting nowhere and haven't taken the plunge yet to join a program, then this is also a decent option.
What Will It Cover?
James does a good job of explaining clearly everything that this course and the steps that are covered.
What James shares, covers many of the skills you should learn to be successful within the internet marketing space.
You'll learn things such as –
How to set up your website,
How to get an autoresponder set up,
Setting up a squeeze page,
Setting up a bonus page,
Creating email swipes,
Creating a email marketing campaign,
Generating traffic fast, using both free and paid methods,
Generating traffic via YouTube.
The training is largely focused on email marketing, and doesn't go into SEO techniques.
(basic SEO is a good skill to learn, as you can generate thousands of visitors to your blog/website completely free… although, it is a method that can also take a long time before you see results).
That being said, James still talks about free methods to generate traffic, as well as paid and these are perfectly legitimate methods too.
My Conclusion: Is Evergreen Wealth Formula a scam?
Despite appearances – I don't believe that Evergreen Wealth Formula is a scam at all and it may be worth checking out.
James provides a decent step-by-step program, that can get
newbies up and running with their own business and on the road to generating an online income.
If you're brand new online, just don't overly expect to be making money within the first month and don't get blown away by the income claims.
You CAN make money online, but it does take time and effort.
If your expectations are firmly seated in the realms of reality and ready to put in your best efforts, then go ahead and check it out!
---
 If you're looking to start for free…
There is quite a bunch of training online in the internet marketing space that you can actually access for free.
For example; Affilorama provides hours of free video training that's worth a look.
Wealthy affiliate provides a free starter membership, with a 10-part course to get started as well.
If you've had some experience with the Evergreen Wealth Formula and would like to share your results – why not leave a comment below.  
All the best… 🙂