Ipoll used to be quite a well reviewed survey site – but in recent times, there has been numerous reports that people are not getting paid, or having their membership terminated for no reason.
Yet, there are also still plenty of others who have no trouble and happily use this site, (this vast difference in user experience when it comes to survey sites is common).
So, What Is Ipoll, A Scam Or Legit?
I will share my own opinon in this Ipoll review…
Website:  www.ipoll.com
Rewards: Giftcards, paypal, sweepstakes, magazine subscriptions
Opinion: Hit and Miss!
Ipoll used to be called Surveyhead, but have since changed their name to Ipoll and this survey platform is accessible worldwide.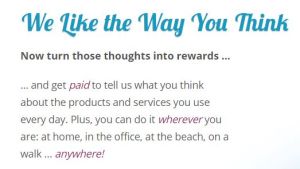 It's free to sign up with Ipoll and they have one distinct difference to many survey sites, in that they are quite mobile focused.
You can download an Ipoll app, which makes it very easy to do surveys whilst on the go and is easily accessible.
The actual app itself also looks really neat and it's refreshing to have this option – which would certainly make taking surveys at a majority of sites much easier.

Having an App means that at least you can complete surveys when you'd otherwise be doing nothing – such as during a bus or train journey, or standing in a long queue!
First Impressions:
My first impressions of Ipoll was very good.  Their sign up page on the website is very friendly and inviting.
The site appears to be professional and signing up was a breeze.
Once you're signed up and can enter the main website, there appears a reasonable choice of surveys.
You also get a $5 signing up bonus, which is a nice addition to get you started.
You start getting emails readily with surveys, but you have to be quick or you may be told  the number of participants has already been met!
Disqualification:
Unfortunately, getting screened out of surveys for not  matching the right criteria is very common with a majority of survey sites.
It's extremely common for me personally and I get screened out of most of the surveys I attempt – but this is really the case for basically any survey site you will find.
So, if you're planning on taking surveys – this is something you just have to put up with to some extent.
Rewards Available:
You can exchange your rewards for a variety of giftcards – such as amazon, best buy or walmart.
You need to reach $10 to start being eligible for rewards, such as paypal and giftcards – the withdrawl amount used to be higher for paypal.
(Check Swagbucks – my favourite survey site).
The only issue is, it could take 3-4 weeks before money hits your bank account and could be even longer than that.
Some have complained not to have received anything for months!
Having a lower payment threshold does make you more likely to continue though, because you're never far off being able to get a pay out.
I feel the sites with the highest payout threshold keep it that way because it saves them a great deal of money – most people just won't keep on until they reach the threshold when it's too high.
Ipoll does pay you in cash – rather than points.  This can be preferable for some people, as it means you know immediately how much you have made and there is no confusion.
Ipoll Complaints From Around The Web:
Ipoll complaints are vast and tend to relate to the same thing.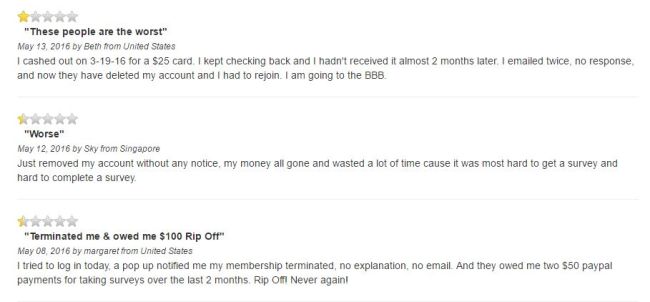 Generally complaints are centred around…
Accounts being suddenly terminated with money owed.
Extremely slow payments, if ever.
No responses to email.
High screening out rate.
These are exactly the same type of complaints that can be found about a majority of survey sites.
But there seems a particularly high number of negative reviews recently for Ipoll.
Despite positive appearances, I would tread with caution spending too much time with this site.
Pros 
predicted timing of surveys clearly visible before you begin.
Clearly shows you how much cash you've made.
Good option having an App, which is unique.
Decent choice of rewards.
Cons
whereas most survey sites credit you immediately for a survey, ipoll waits until the survey is complete before your payment will show.  This could take days or weeks and makes tracking difficult.
Payment could take 3-4 weeks for paypal and others have waited longer – due to having to wait until all surveys are closed.
Regular screening out/disqualification.  But this is the same with other survey sites.
A large number of complaints regarding payment and being thown off of the website.
Conclusion – Is Ipoll A Scam?
As far as the complaints go, it appears some people have had a really hard time trying to claim their rewards.
While, miraculously, others appear to have zero issue!
It is quite perplexing how vast the difference can be, experience wise, when it comes to survey sites.
Maybe it's the luck of the draw how easy it will be to cash out.
One key feature I do really like is the App, so it's a shame so many negative reviews have been piling up.
Ultimately, there are better survey sites out there that will pay you without all these problems and without the major lack of good customer service.
I don't recommend survey sites as a way to make any sort of substantial money online; but I prefer Swagbucks and Cashcrate for a bit of fun.
If you want to learn how to make a decent income online, there is only only one program I recommend above all others…  Read All About It Here
I hope this Ipoll review has been beneficial to you…  Have you had any experience with them, whether good or bad?
I'd love to hear about it, leave me a comment below!
All the best…. 🙂