What Is Market America… Isn't It An MLM?
Market America  tries to deny that it's an MLM, it claims that it's very distinct from an MLM.
Generally, their argument is, that because they don't have "levels & percentages" like a regular MLM tends to do and because their compensation structure is slightly different, that they are not an MLM.
However, these facts are irrelevant.  
When Market America share their business with another, they do so with the aim of recruiting them into their downline.
When, (or if) that new recruit is successful, they will benefit financially from them and it doesn't matter about any of the other details involved.
On that basis, I will continue this post based on the idea that Market America is an MLM business.
Market America first started way back in 1992 by James Ridinger and his wife Loren and her brother Marc.
James is known as  "JR" and is certainly quite a character if his seminars on you tube are anything to go by.
He's a showman and that's the sort of character you need fronting an MLM business, because there is always a lot of hype and motivational speak, which feels contrived – but clearly, plenty of people go for that.
That aside, with by joining Market America, you can choose to sell their products as they are, but the recruiting others is going to be how you can grow your business.
Market America have many products you could sell potentially and they give you your own shop.com website to work from, as well as the tools you need.
To actually activate your business and get started though, you first need to recruit two people to join under you.
The first people Market America suggest you go to will be your friends and family, they'll ask you to write down everyone you know that could potentially be interested in this opportunity.
Be very careful about attempting to bring your friends and family into this – an article by Robert I Fitzpatrick addresses this issue perfectly:

(source – the 10 big lies of multi-level-marketing)
Relationships and friendships have been strained at broken due to MLM's – people involved often don't realise that their family members and friends can feel betrayed by this.
As many people will feel, that rather being given an "opportunity," they're either being lured into a scam, or encouraged into something merely for the financial gain of the person involved.
What's more, if these people do get involved because of you and they fail or lose money, (which will be a mass majority here) then they could very well believe you are to blame, as you encouraged them to get involved.
Market America Promotional Video Hype.
You can see right away in the promotional video – that they immediately touch on is the frustrations you may feel being stuck in a job, being in debt, being bored and trapped in your life and so on….
This is just very typical of an MLM promo!
They say…. "95% of people work at making the top 5% successful."
I find the above statement very ironic, considering that something like 98% of people will fail at an MLM.
Most people that start Market America will never make enough to be "financially free" or leave their day job.
Yet, this is the kind of statistic they're using to try and get you to sign up to this!
The claim that by committing just 8-15 hours per week into their "proven plan," you could potentially make 6-figures.
Again, considering the rates of failure, this is extremely misleading.  
Not to mention that everyone will have unique results depending on their strengths.
Maybe someone could only work 15 hours a week and achieve this – but someone else just may not have anything like the communication skills, marketing skills, computer knowledge and so forth, to ever even get started.
What Does Market America Sell?
Market America has a lot of products, many personal and exclusive to them, as well as other third party brands that are exclusive to them too.
They have products over many areas – including:
Weight loss products.
Beauty care.
Nutritional products.
Pet care.
Financial services.
And more…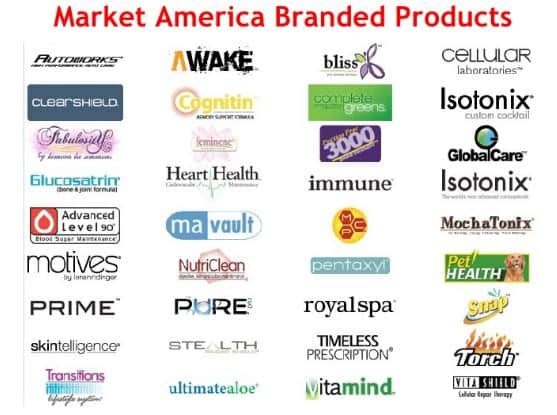 You can earn cashback from shopping with them online and through online transactions and customer transactions.
On your online shop.com website, you'll receive 30-50% of the profits.
That said, this percentage is misleading, because you need at least 10 people on autoship before you can actually make these commissions.
The Market America Compensation Plan:
Compensation plans are notoriously complicated to understand with MLM style businesses – here is a video who explains more of the details, if you're interested.
They create what they term "verticle marketing" to encourage teamwork and support – they say that everyone receives "100% credit" for sales.
Their term "verticle marketing," is used to try and deflect away from the traditional "pyramid" look on the MLM.
But, as I explained earlier, it doesn't matter if the structure is a different from a traditional MLM.  It still fits the definition of an MLM in any case.
Sales Rep Vs Unfranchise Owner:
You can join Market America as a sales rep or an unfranchise owner.  A sales rep simply buys and sells products, there are no fees, but they cannot recruit others.
An unfranchise owner must pay a subscription fee, they may buy products at wholesale value and earn gross retail profit and they can be part of the management performance compensation plan and can earn money from their downline, (people they recruit).
The subscription fee is $129.99 and the most popular package, which includes products, is their fast start program which is $399.
In order to "activate" your business, you need to find two people to sign up.  One will join the left side and one the right on your downline.
Therefore, immediately you have to recruit people before you can even get started as an unfranchise owner – as well as pay out hundreds of dollars.
Market America deny that they are an MLM.  They say there is not only a real demand for their products, (which can be sold alone, without recruiting), but that Market Americas compensation plan is not based on levels or percentages.
Market America Say They Are Not  An MLM…
However, with Market America you still need to create a right and left side downline, (the MLM structure) and furthermore, you can actually earn commissions infinite levels deep.
There is nothing aside from this that can set it apart from an MLM, this is simply what an MLM is!

As you can see above, a snip from wikipedia on multi-level-marketing – it is a strategy where each person is compensated by the sales as others, as well as their own.  
The recruits are known as the persons "downline," and can provide many levels of compensation.  That's is it.
It doesn't matter what the specifics are in terms of compensation, the plain fact that there are many levels of compensation, (infinite levels in Market Americas case) and the fact you are compensated by the sales of others you recruit as well as your own, is enough to fit the definition of an MLM.
The Harsh Reality…
Over 50 percent of active distributors at Market America make somewhere between $1-$1000 per YEAR.
JR does a great job of selling the dream for sure – but are dreams all he's selling?

Some successful recruits of Market America claim you can create a successful business, but you have to make it your life and literally live and breathe it.
I don't doubt this is true, but this isn't the only thing involved and there are further problems with this as I will explain…
This is where I find MLM businesses most misleading.  
They tell you that having your own business will free up your time, that you will not be a slave to the nine to five, that you can spend time with your family.
They market the opportunity to you as though you're going to be living the dream and it'll practically be a walk in the park in comparison to a "real job."
The reality is… you'll just be exchanging one set of chains for another.
The other new chains will be connected to this MLM, which provides you with zero security.
It's high risk and will mean you have to live and breathe the business 100% before you have even a marginal chance of success….  
But then you have to work hard to sustain this too.
But if they sold this "opportunity" the way it really is, they would not be still here today.
Market America is built on selling people the dreams they desire, but they miss out a key bit of information – that being a success following their model is extremely unlikely.
Furthermore, it's not just about how hard you work.  
To have the best possible chance, you really need to be a great salesmen and ideally a great marketer too.
They claim you do not need to be "good at sales," to be successful at this – but that is not true.
You need to be able to convince others to join this business, you need to sell this "opportunity" and that's just for starters, without going into the products.
Simply bringing a bunch of people to your home and sticking on a promotional video or a convention on you tube is not going to be successful in converting people.
You'd really need to be able to be passionate about it and to be able to confidently answer any questions thrown at you…
For anyone who is aware of multi-level-marketing, you'll certainly have a hard time trying to convince them that this isn't an MLM!
Pros Vs Cons:
PROS:
unlike many MLM's with legit products, everything is done online, so you're free to conduct your business anywhere as long as there is an internet connection.
If you already have internet marketing knowledge, you will already have an advantage.
There are a large amount of products – which, while are overpriced, you at least have the option of selling as a stand along product.
With such a large variety of products, you do have more of a choice what sort of products you'd like to sell and can focus on specific niches.
CONS:
The chance of being successful in this business is extremely low.
Overpriced products – it's said you can get identical items for considerably cheaper at other stores.
Despite their denial of being an MLM, that is undoubtedly what they are and therefore can be susceptible to all the regular criticisms of the MLM business structure.
Expensive to join – with the costs involved, you could very quickly plunge into debt.  On one forum, I read about one family who had all left their jobs, only for their Market America business to crumble around them.
Is Market America A *Hard Sell!?*
You need to be able to "sell" this company and in an age where anyone can just Google this opportunity and find a sea of negative reviews, selling this business will be hard.
you check out any of the Market America success stories talking on you tube, you'll see they're very good at sales, they're good at selling this business.
They try to claim that over time, your downline will just grow and grow and you don't have to worry, you'll get this amazing residual income build up over time.
But you do need to worry – people quit, people give up, the drop out rate will be extremely high.  
You'll constantly be on the hustle to bring people in and that will not end.
Someone leaves and you'll have to train your downline to find yet more eager hopefuls… and finding these hopefuls will be no simple task.
They try to make it out that this type of business is something that anyone can do and anyone can make a success – but in my opinion, you need to be a very specific type of person to succeed at an MLM.
To have a higher success at succeeding at this business, you should…
Have determination of steel,
Not care that most of your friends and family will dislike what you're doing.
Be a great sales person and a good marketer.
You need to be able to convince people that this is an awesome opportunity – even when there are so many sources out there putting it down.
You need to convince people to believe in their overpriced products.
You need to find people as determined as you are to join your team and believe that they will do the same.
You'll have to eat, sleep and breathe market America, everyone you meet is a potential customer, a potential "recruit."
If you can do all that, you may just have a chance – but even then, you cannot rely on your business being stable or long term.
Oh… And I haven't even talked about the Webinars….
Market America seminars are more like rock concerts for crazed fanatics and they play on this very well.
You can see what I mean in the video below… beware, the video is over three hours long, but you will see what I am talking about right away, check it out…
You'll need to pay to attend these glitzy OTT events and they make sure they get a tonne of new recruits in to watch the show – so they can get a motivational pep talk from James Ridinger.
Is Market America A Pyramid Scheme?
While I don't think Market America a Pyramid Scheme, since it does have plenty of tangible products on offer that people can sell solely with no recruitment involved, it is certainly an MLM.
A pyramid scheme can be distinguished from (some) MLM's, if they have a legitimate product involved and that the business is not solely a recruitment scheme.
It is tricky, because so many MLM's do appear to primarily just recruitment schemes and their products just an "add on" to escape being defined as one.
Even though Market America is not a Pyramid Scheme, nor an outright scam in my opinion – you do need to be aware of the true reality behind this business.
What I find dishonest about Market America, (and MLM's in general) are the marketing tactics they use to sell their business – as though being part of it will guarantee them the life of their dreams.
They claim that everyone that doesn't succeed, simply "gave up," and that the fault lies solely on their shoulders.
When, in reality, almost everyone who joins will fail and that the select few that succeed will struggle to maintain their business.
Does that sound like "living the dream" to you?
Have you had any experience with Market America?  I'd love to hear your stories!
If you're interested in building a business that does not entail signing up your relatives, nor recruiting others or direct sales….
There's a 10-part training program that you can start for free.
All the best… 🙂