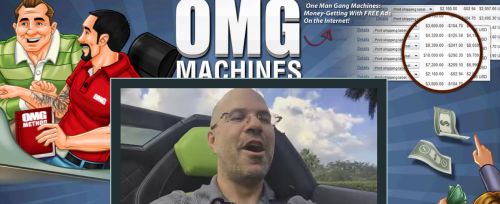 Hey everyone!  In my OMG Machines review today, I will discuss whether this program worth the hefty price-tag, w hat training is on offer for such a hefty sum and most importantly,  whether you go ahead and purchase it.  Let's dig in!
Product: OMG Machines
website: www.omgmachines.com
Owners: Mike Long, Greg Morrison
2016 Price: $7,999 or 12 x $699 each month
Overall score: I don't recommend it… Stick with me and I will explain why.
What is OMG Machines ABOUT?
OMG machines is a training program to teach you SEO techniques in order to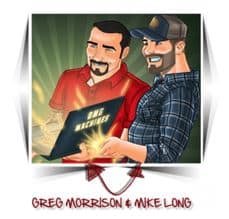 generate plenty of free traffic to your website, even in the event of a google algorithm change, such as Google Panda.
It also teaches you how to highly rank products in Amazon if you sell with them, or even books – if you've taken the self-publishing route.
It's worth noting that people do claim that it's changed their lives and produced incredible results for them, however the internet is also full of positive reviews from people who are trying to sell it themselves.
This program was created by Greg Morrison and Mike Long.
Greg Morrison is the mastermind behind it and he feel his methods work and can get any website to the top of the search engine – even if there are hundreds of thousands of competing websites, all competing for the same keywords.
He also claims that these sites will rank quickly and that they will stick in their position at the top of the search engine – despite any Google algorithm updates.
Strong claims indeed!  Right?
Well, both Greg and Mike have been around a long time, they're well respected and they know their stuff, so whatever training they are providing, you can certainly hope it's decent.
Good training as far as SEO is concerned is always going to be beneficial, the question is – are the techniques being taught really so incredible that they're worth this price tag?
What Training Is Available at OMG machines?
I know there was an initial training system you could buy with OMG machines for around $47 – but this seems to have totally disappeared.
This is a shame.  All I can see access too right now if the No-Holds Barred program – Assimilation 2016.
When you go to the landing page, it's very flashy and you can imagine someone could quite easily get sucked in by the hype.
Once you've seen this and entered your name/email address – you're sent a confirmation email that's full to the brim with more info to excite you – you can enter the free members area.
There is not much to this area at all, but it's meant to be there for people just to get a glimpse into how to get started, (presumably before you part with your eight grand).  Gee, thanks guys.
There's a magic bullets 7 video series:
The video series covers topics such as –
Registering your website.
Hosting your

website

.
Setting up WordPress.
There is also a beginners live training webinar, the OMG blog and a magic bullet video series, which has a few extra freebie videos explaining ways you can make profitable websites.
On the page for this magic bullet video series, there is currently a link to the "OMG shortcut mini coaching course."… but unfortunately, that link now goes directly to their main sales page for OMG no holds barred.
So, presumably they no longer have this mini course, but it would have been professional of them to let their customer know at this point.
Considering their no holds barred course costs almost eight thousand dollars, you'd think a small factor like that would have been dealt with, it doesn't add to a good customer experience if you're searching high and low for a course that appears to no longer exist.
There is also an additional product in the magic bullet video section – "Our done-for-you rocket website program."  Yet again, no explanation, but the link goes to a "404 not found" page.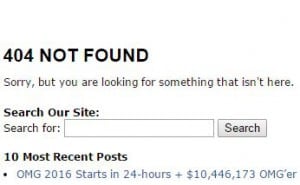 You'd think these guys making millions online and earning almost 8k per customer enrolling in this course could at least be bothered to keep their pages up to date!
But wait, there's more!!   Another link I went to took me to a page to tell me that no holds barred had now SOLD OUT FOR 2013!?
Seriously, has this dud link been live here on this site since 2013?   If I'd been a potential customer, I could have just left at that point.

So… If you manage to finally click through to the correct main sales page – there are a couple of convincing videos by Bob Proctor endorsing this program, at one point he looks practically close to tears, desperate for you to sign up for this program and change your life.
Pretty compelling stuff coming from someone seems so genuine…
He even suggests that, if you don't have the money, you should borrow the 8 grand from your Grandmother! No jokes :).
Mike long is very personable when he's on screen, he's friendly and completely convincing as someone who wants to help people find their way online.
The videos are certainly going to hit the mark for a lot of people who may be on the fence.
A big warning sign for me is….
This main sales page is all hype hype HYPE – it's promises of riches, it tugs at the heart strings, shows you evidence of people making their fortune, of customer gratitude, it promises you the world.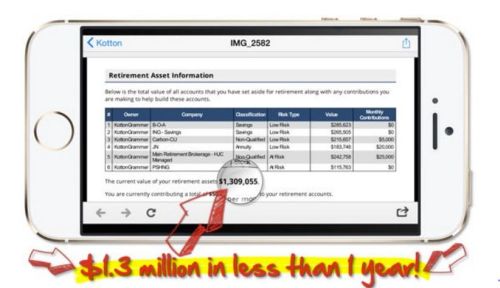 These are not uncommon sales tactics – but the extent to which they are laid on as thick as double cream, is a sign to me to RUN… close down that page and move on.
Oh and one more reason you may want to run… They offer NO REFUNDS and there is no trial or free peek inside the course.  Once you've clicked on the pay now button, you're locked in.
However, if you're not already put off by this point – you may want to know what's on offer now.
This is the no holds barred coaching Assimilation program for 2016.  They offer the following training opportunities…
 NO HOLDS BARRED – ASSIMILATION 2016:
6-figure a month coaching – weekly webinars hosted by Greg
Additional superstar coaching – coaching via some of OMG's high earners
Search engine marketing tutorials
Coaching on how to have an advantage with Amazon and Ecommerce sales
Training regarding local client consulting, including templates, training and role-playing videos.
Affiliate marketing and CPA training
Regular updated training
And you can receive all this training for the (gulp) price of $7,999.  Or if that seems a bit much, you can always go for the, (gulp) price of $699 in 12 monthly instalments, (um yeh, you'll also be paying $8,388 if you do it that way…nearly $400 extra for paying in instalments!!!).
What really rattles me about this program is it's blatantly targeting newbies online who are desperate to get started and just at that stage where they're willing to open their wallets and take a risk in the hope that this will pay for them.
Really, they're hoping for a quick route into wealth and this may appear to tick all the boxes for them.
$7,999 is one hell of a lot of money to pay out for something on faith alone.
There is not even any trial, no inside peek and no refund, no money back guarantee….  are any alarm bells ringing yet?
What are they so afraid of that they will not provide their customers with a refund?…if they're so confident that their customer is going to be satisfied, why do they not offer a money back guarantee?
This just sucks on every possible level!
Conclusion – Is OMG machines a scam?
If you sign up to OMG Machines, and you follow all the training to the letter, you may well make your make plenty of money.
Hey, it's possible!
There have been plenty of mixed reviews here, some people claim they got lots of value from it, others have claimed the content is in no way worth the crazy price tag – there is also the major issue of no refunds :/.
So, while I don't think OMG Machines is a scam – I do think they're dishonest how they go about trying to market this program and value it.
The reality is, there is plenty of worthwhile training available at a mere fraction of that price.
Why spend almost $8,000 on a course that you can't guarantee will even help you at all?
Worst of all, if you figure out it isn't for you, you will be thousands of dollars down before you even begin.
I totally agree it's worthwhile investing in training if you want to make money online, but you do not have to spend that much to get started.
Not by a long stretch!
OMG machines is not a scam product, but it is insanely over priced and the fact they don't offer a money back guarantee, a refund or at the very least a trial period –  is totally unacceptable.
If you're interested in learning about a training program that can teach you everything you need to get started online, there is a considerably better way.
An Alternative Option…
Imagine a membership program that has…
Hundreds of  hours of training
Weekly webinars on new topics to help you with your business
Unlimited websites and free web hosting, (or two free websites with a free membership)
A community of thousands of like minded members.
24 hour web support
Live Chat
…and much more!
You can even join for Free to check the place out and get started with a free 10 part course and two websites.
If you then choose to join the premium membership, you can join for just $19 for the first month and $49 each month thereafter – there is also a yearly option that provides a big discount.
$49 per month in comparison to $699 per month?  Quite a difference!
Plus the ability to see what this community is all about AND get started on your business for free, right now.
Do not part with thousands of dollars until you have checked this program out – there is some really superb training you can get without paying this sort of money!
You can read my full review here.
Alternatively, sign up here for a free 10-part training course.
I hope you found this OMG machines review helpful… have has any experience with them?  I'd love to know!
Leave me a comment below!
All the best….:)