You can find Premise App on Google Play AND the App store, but there are only a few reviews on App store and I also almost couldn't find it.
If you're with IOS, you need to search for "Premise Data," to find it.
On Google Play, you will find it just called "Premise," and it has thousands of reviews.
I've reviewed many money making Apps and with many, you will earn a small amount of money by doing tasks like taking surveys, or earning cashback.
Premise App is a little different and reminds me of something more like Field Agent, because with this you get paid for completing mini tasks in your community.
So, for example; it may involve a little detective work in your local area, at a restaurant, or a local store to you.
But is Premise App legit? – and how much money can you really make? Will it depend on your location and other factors?
I've downloaded this App on my phone and checked out feedback online and I'll let you know what I make of it.
If you're interested in extra income opportunities, you can get a bonus for joining this one, it's one I use on a daily basis.
If you're interested in earning more online long term – this Stop making peanuts and learn some skills!
Premise App Review In Brief:
Product: Premise – Or Premise Data on App Store.
Website: https://www.premise.com/contributors/
Cost To Join: FREE
Availability: You can download Wordwide – but opportunities are going to vary depending on location.
Overall Verdict: Legit! – but low income potential.
What Is Premise App About?
By completing mini tasks on this App, the goal is that it can help your community locally, or even your government, to improve issues that are currently causing a negative impact on your local area.
For example; one of the first tasks I was offered related to public transport in my area and how effective it was.
You might need to report on how much litter is in the streets – or perhaps the state of the pavements or road signs.
You do this through answers mini surveys, which include multiple choice answers and also by taking pictures with your phone and uploading them on to the App.
Prior to completing any tasks, you're told how long it will take and once it's complete, you will earn a small amount of money.
Downloading Premise App:
As I mentioned, you can download via Google Play or App Store and once downloaded, you can link up via Google, or Facebook.
Once I downloaded the App, a mini task popped up right away. It felt like this was more of a mini taster for me, rather than a real task – to show me the ropes and how it all works.
The task simply asked me how the weather was in my area and then I needed to take a photograph of the current state of the weather and upload it to the App.
For the task, which took a matter of seconds, I was awarded 5p. I'm located in the UK – but if you're in the US, I imagine it would be something close to 5 cents.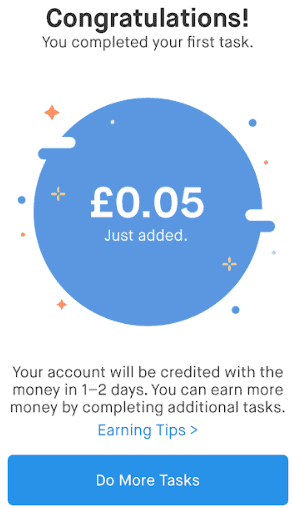 How much you get is going to vary on where you are in the World and also, how much time/effort the task takes.
Depending on your location, you may find that you have zero tasks available, but are going to have a better chance in certain locations in the US, (I imagine big cities in particular).
After this initial task, I was invited to complete a profiling questionnaire.
This asked simple questions relating to things like – my education level, location and work. This awarded me with an additional 5p.
Is Premise Legit – Or just a scam?
Yes – this App is legit.
However, for some people in the world, if they log on to discover zero tasks, or very limited amounts, they may be led to believe it's a scam.
This is not the case and they do have thousands of people all over the world that have benefited from the App, but how you will be able to do is variable.
Since it's free, there is no harm in downloading it and trying it for yourself. If there are no tasks available, you can just delete it.
As I mentioned, I am in the UK and so far reports from this area in the world show that people are able to complete tasks and cash-out.
How Much Money Can You Make?
I was pleased to see that this App has a super-low cashout threshold of only 19p, (in the UK).
So, presumably it's going to still be under 50 cents in the US and similar value wise in other currencies.
You can download whenever you like via PayPal, (my personal choice) or Coinbase.
How much you make for tasks, is going to depend on the task.
The mini ones at the start only awarded 5p…. But standard rates seem to be around 20p for many tasks.
But in this case, you'd need at least 5 tasks to make a single pound and some tasks are going to give you even less than this.
Consequently – this really isn't a way to make any sort of reasonable money.
Although, it is a way to make a very small amount, while still helping out your community.
How Do You Find Out About Tasks?
Different tasks will become available on your dashboard and if you're interested, you need to reserve your space.
Once you've reserved a task, you have a certain amount of time to complete it.
You will find your incomplete tasks in a section on the App labelled: "My Tasks."
Some examples of the type of tasks you could be doing is:
Giving feedback on public transport – this may be reporting on the availability of transport in your area, or be specifically about one area, such as the condition your local bus stop.
Feedback on restaurants in your area – this could involve going to a specific restaurant and taking some photos and answering a survey.
Giving feedback on how clean certain areas are in your community. Is there excessive amount of litter, for example.
You can see how some of these reports could have a positive impact on your local community and potentially your answers could make a real difference.
PROS VS CONS:
PROS
Low cashout threshold.
I noticed it was only 19 pence in the UK & it must be a similar amount in other countries – in your relevant currency.
You can cashout with PayPal, (or Coinbase)
Using this APP, you can have a positive influence on your local area.
Many tasks available around the world, (although some will be very limited).
You may not be able to cash out in some locations – but this will change eventually
CONS
No referral program.
Low income potential.
Activities/tasks are going to vary dramatically depending on your location.
Some areas you may still be unable to cash out – contact them and double check if you're unsure.
Premise App Tips:
One reason that some people could have a negative experience with this App, is because they don't correctly follow the guidelines and end up having their online reports rejected.
Therefore, it's important to ensure that you don't make these mistakes from the beginning.
Some things that will result in your reports being rejected, include the following….
If your photos do not fit the guidelines. When you're given a task, they will tell you exactly what you need to show in your image. You need to ensure the photo is clear and not blurred and that you can clearly see what is in the image. Ensure you read any other guidelines carefully and conform to these.
Photos are not your own. Don't just try and get an image off Google and pass it off as yours. Really take your own photos and you must use a unique photo every time. You can't submit the same photo to various tasks.
What do other people say about Premise App?
At the moment, this App has the most reviews on Google Play and actually has 4 stars at the moment, with many thousands of ratings.
I personally downloaded from App store, where there are only a few ratings and around 3 stars.
However, as you see below there are close to 30k ratings on Google Play.

Negative feedback?
Premise should make it clear when you connect your location, whether or not they provide payment in your area, which they don't seem to do.
There are some areas in America, where people have been unable to payout and it's wise to double check this – hopefully payment will be available in all areas soon.
Other complaints tend to relate to, having limited tasks, slow customer service, low pay, or just not receiving any tasks in their area.
Positive feedback?
In a majority of cases, the feedback has been positive.
People say the tasks are quick and easy to do and you can get paid out fast.
Some also have said it gives them a chance to go to new places they may not have otherwise.
While it doesn't pay well, it's still simple and doesn't take much time.
Yes, the income potential is definitely minor – but many people still enjoy the tasks.
Some people in addition have discovered that they haven't been able to payout after completing tasks.
Therefore, it's wise to just give Premise a quick message and ask them if they are currently providing payout in your location.
Better to do that, than risk wasting your time!
Concluding Thoughts:
I like the thought behind the premise App, which is positive and proactive.
By completing tasks in this App, you could actually make a difference in your local community and that's a Win Win for everyone.
However, with the pay being incredibly low — I'd imagine most people would just get bored or not bother with this App to begin with.
What a shame that they couldn't increase it a bit and actually attract far more people to participate…. (maybe they will in future!).
For me, I'm certainly not going to keep it installed to make extra money, but I WILL keep it installed just to check up on tasks and help out where possible.
There are some other Apps that struck me as being pretty similar to this….
As I mentioned before Field Agent, but some other Apps that pay you for small taks also include: Voxpopme, BeMyEye, Clic and walk and Streetbees.
I hope you found my Premise App Review helpful – let me know what sort of tasks you have done in the comments!
Beyond Just Apps — Making MORE Long-term?
I always wanted to make money being a writer when I was a kid.
Well, it has worked out that way, but not in the way I thought, (ugh…. being the next Roald Dhal, I guess David Walliams beat me to it…).
But, I do make money from writing on my website in an indirect way – by writing posts that I earn from via paid advertising an affiliate marketing.
I had zero, (and I mean zero) knowledge of any of it when I started.
But what I did have was dedication and time. You do have to have a willingness to learn AND be able to stick with it long term.
For example; I woke up this morning and saw that I'd made $100 commission while I was asleep from just one sale.
Not some earth shattering amount, but nice way to start the day?
Anyway! If you're interested in learning this sort of stuff – you can start learning for free.
I recommend you start with the free training here.
It's where I started learning myself & it was such a relief to learn that there was simple training out there for complete beginners.
Let me know how you find Premise App.
All the best,
Pin Me For Later 🙂
.