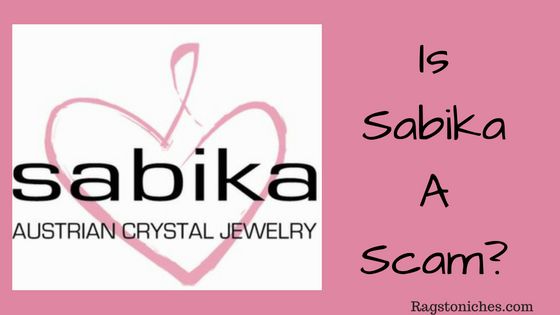 What is Sabika, a scam or great business opportunity?
Sabika is a multi-level-marketing, (MLM) business, founded in 2001 by Karin Mayr.
You can earn money from selling their Jewellery and earning a commission and also earn a commission from others you recruit below you.
So, is Sabika a legitimate business opportunity?  I will go over some of the facts for you and you can make up your own mind.
Sabika Review In Brief:
Business: Sabika
Price to join: From $250
Creator: Karin Mayr
Overall Score: Legit – But I don't personally recommend it.
Mini Review: Not all MLM's are created equal, but share many of the same downfalls and criticisms. Largely, the problem arises when you need to recruit other people on to your team in order to get anywhere within the business.
In addition, the fact-to-face sales element can be very challenging.  For a majority of people, MLM's will not be a successful venture.  This business is legit, but it's unlikely to become a successful career for most.
Read my full review for all the pros and cons of this program.  Alternatively, read about an opportunity for you to make money online, without involving face to face sales, throwing sales parties, or recruiting.
What Is Sabika About?
Sabika sells hand-crafted jewellery and started up in 2001 – at the time of writing, that was almost 16 years ago.
The company is also very much a family run business, with other family members playing a large role.
The Sabika Story:

Sabika are also an MLM style business.  With the focus on selling at Sabika Jewellery at home parties, you set up yourself as a consultant and eventually recruit a team of consultants below you.
Looking at the products themselves, I personally feel they have some very appealing and attractive products and I imagine plenty of other women would agree.
The products seem to range from around $30, to nearly $300 from what I can see online.
You can see an example of a few of their products below.
For the most part, the jewellery appears to be on the expensive side, in my opinion.
While I have no doubt that plenty of people with a bit of money wouldn't have any problem spending a couple of hundred dollars on a necklace – many people would consider this a lot to spend.
Especially when you could find similar products elsewhere for a much lower price.
If you take a look online, at other online stores, there are certainly products similar in nature that cost less.
This is an issue that a majority of MLM's face – they tend to have overpriced products, which makes them more difficult to sell to people directly.
sometimes they try and escape this by stating that their products are superior in one way or another – but ultimately, the mark up on these products will be high.
That being said, this is Jewellery and Sabika is a unique brand –  to a point you might say that it's worth whatever someone is prepared to pay.  As Jewellery goes, it's not outrageously expensive, but it's not cheap.
If you have passion for Jewellery and, most importantly, a passion for Sabika products then you will have a much better chance at giving a convincing sales pitch.
How Much Can You Earn With Sabika?
You need to initially sign up as a consultant.  This will cost you anywhere between $299 and $1750 – depending on what package you go for, (they also sometimes have promotions, where you can sign up for $199).
Now, $299 is not a lot to start your own business from home and if you wanted to try it out, I suggest you go for the lower price to start out and see if it works for you.
The way you sell your Sabika products is by holding "Sabika" parties, or hosting parties for others.  Initially, you'll be told to invite your friends and family and build your network from there.
You will earn 20% per item of Jewellery you sell.  You're also put on to their "success start program" when you join and you can see this outlined below.
You Can Also Earn Free Jewellery: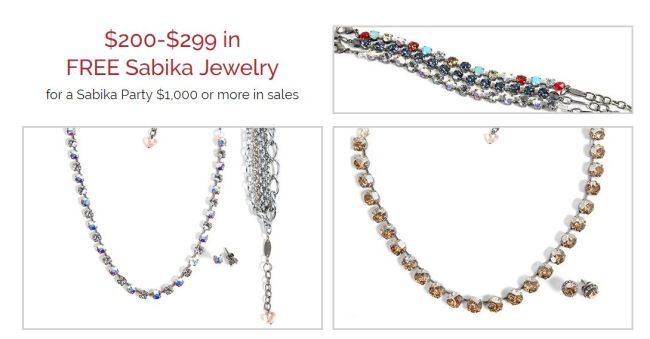 By hosting a party with $100 more in sales, you also have the chance to gain up to $299 in free jewellery.
I imagine plenty of people treat this opportunity as more of a part-time one, whereby they earn a small amount with the odd party and also make free jewellery.
For example, I used to know someone involved with Pampered Chef and the main reason they did it was for extra free cookware and discounts – plus a small amount of profit for few parties.
For those who sign up to this opportunity and actually make the steps of throwing a party – most will be involved in it on a part-time basis, rather than a full-time career.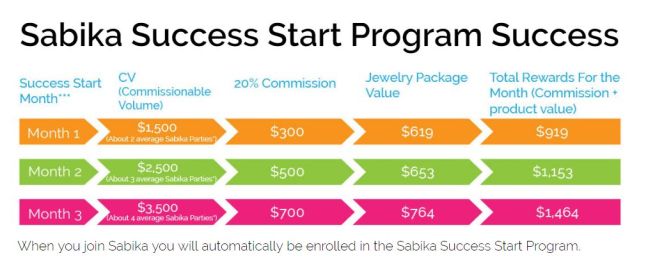 Now, you'd be forgiven for thinking by looking above that it all looks pretty easy to start making money, but if you break it down, you will see that it's not.
You will need to sell $1,500 worth of product in your first month in order to qualify for all the bonus rewards and this goes up in the following months.
They also encourage you right away to recruit others into the business and if you have your first recruit within 30 days, you get extra rewards and you will earn a percentage of all your recruits earnings also.
Are Sabika Parties "Average Sales," Realistic?
If you look at the program success package, they claim that $1500 in sales is the result of a couple of Sabika parties on average.  From that you make $300 commission.
That would mean, that if you invited 7 people over, all of them would have to spend over $100.
For it to be less, obviously you'd need more people and really, it seems more realistic that not everyone will buy something too.
Even if you DID reach their average sales amount per party  – $300 is not a brilliant commission for throwing 2 of these parties.  When you also have to factor in expenses, such as refreshments and food for your guests.
You also then continuously need to find new people to invite to these parties, or perhaps advertise yourself to feature at other peoples parties.
but ultimately to really make money long term from the business, you'd need to recruit others and build a team.
Sabika And Recruiting Others:
Building a team is one of the factors that a majority will find incredibly challenging within an MLM.
A majority of people would not feel comfortable in joining this type of business from the get go – most people are not happy doing face-to-face sales, let alone recruiting and managing a team.
Of those that decide to give it a go and join your team, a majority will quit.
Recently, while reviewing another MLM called "Clever Container"  – I also read one of their directors stating an interesting fact:
1/3 of your team is always on their way out!
This was a very telling industry statistic and something a lot of MLM's would not admit to.
Because, if a third of your team is constantly about to quit on you, you will be on the permanent hustle for new members – indefinitely.
So, you will be fighting to sustain your business, for as long as it exists and it's no easy ride, so that's an important factor to consider.
There is an extremely high drop out rate in MLM's, so know that if you do see any real success from this business, you will be very much in the minority.
Is Sabika For you?
Sabika don't have a way right now that you can sell the products online, or turn it more into an online business, so it's all about face-to-face sales.
That's OK if you really enjoy that, but it does require a mass amount of motivation, confidence and drive on your part.
In order to make even a reasonable amount of money selling products on your own, you'd need to be hosting a bunch of parties every month and of those people you round up to attend, a lot of them would also need to be buyers.
You need to think about how you're going to find several groups of new people every single month to attend these parties, (or find other peoples parties to attend).
How will you find these people?  You need to have a plan in place for that if you're going to be successful.
Do you have an extraordinary large social circle?  Would you be comfortable networking within that space – without fearing alienating your friends and family?  Are you exceptional at making connections?
A lot of questions, but they are all ones you should ask yourself before you consider signing up to this business.
All too often, an MLM will sell their opportunity as being very simple and straight forward, but the reality of being a part of the business is far from it.
Throwing Sales Parties – Getting Dated?
Having sales parties is becoming quite a dated idea these days and some MLM's are beginning to make the, (smarter) move to bring businesses online too.
This gives their members the opportunity to expand their reach, via things like online social media parties and their own websites.
Largely though, it still depends on building a team beneath you to ever really achieve decent money and that is where the MLM business will just not work out for a majority of people.
A small minority do succeed, but it does take unrelenting determination and drive.
You need to put everything you have into it- even then, there is no guarantees here, since it relies on so many additional factors that are out of your control.
PROS VS CONS
PROS
Some lovely, unique looking products.
Cheap option to get started.
Straight forward compensation plan.
A good variety of products available.
CONS
You need to recruit others in order to really grow your business.
Fairly expensive products, could make them harder to sell.
There is a high drop out rate.
Conclusion:  Is Sabika A Scam?
Sabika is definitely not a scam, but just like all MLM's, their rates of success are very low.
I think their jewellery appears decent and there is clearly some demand for their products.
However, if you want to create a full time business out of this opportunity, you will need to build a team and this is something that most people will not be successful at doing.
The most likely scenario is that you could make it a part time business and also earn free jewellery – and if you're a Sabika fan, you may be perfectly happy with that!
A couple of hundred dollars is a small amount to get started, which is distinct from many MLM's that cost a considerable amount – so, if you're think you're suited to the business, you won't lose out much by trying it.
Expanding Beyond Just MLM's:
If you want to start your own business, but are somewhat put off by the face-to-face sales and recruiting aspect – you could consider looking into affiliate marketing.
Since, that is something that does NOT involve direct sales, throwing parties, recruiting others into your business, holding inventory – or even customer service.
In fact, I personally now know of many people who were part  of multiple MLM's prior to getting into affiliate marketing.
It's even completely possible to do BOTH if you wanted, as it is 100% based online, so can be done from home.
It can also help you generate leads.
For example; if you have your own blog or website in a certain niche; you can promote various products, (including your MLM business, if you wanted).
Imagine if you had a blog in the jewellery, or fashion niche, (for example).  There are such a wide variety of programs that you could review and products you could talk about and showcase on your blog.
You can then earn money in a variety of ways – such as from sponsored posts, paid advertising, affiliate marketing and even multi-level-marketing.
Another good aspect to it to starting a blog – is it costs very little.  So, it is not a risky venture to partake in.
It certainly requires work, but at least it's solely dependent on you, rather than needing to rely on a team to make sales for you!
Have you had much experience with other multi-level-marketing opportunities?  Leave me a comment below!
All the best,